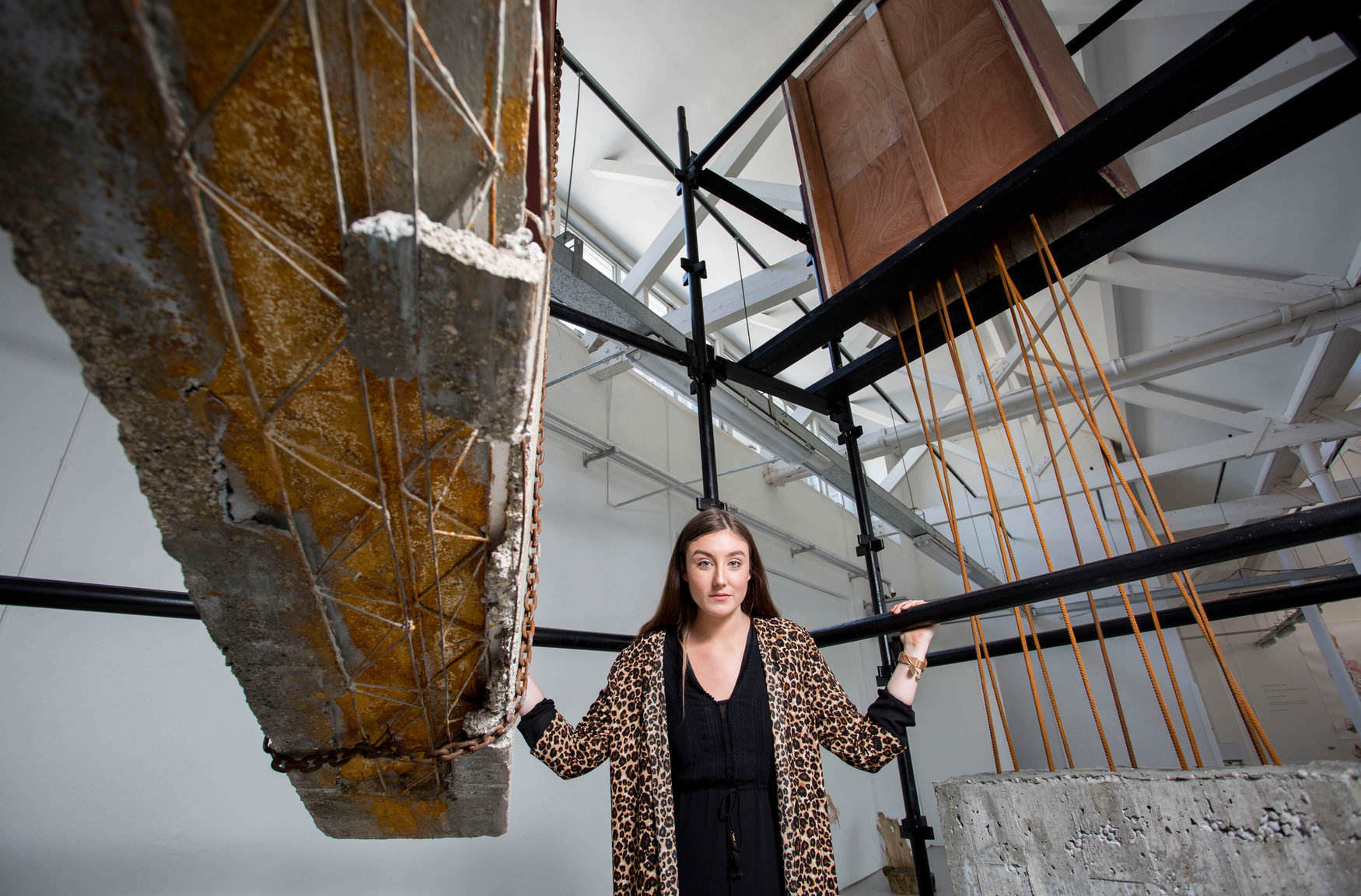 In-FLUX of visitors expected at Limerick School of Art and Design this weekend for LSAD Graduate Show 2018
Pictured before the opening of LSAD Grdauate Show 2018 and previewing their work was graduate student Phoebe McDonagh with her sculpture titled "I dwell in the city and the city dwells in me". FLUX encapsulates the movement and change from student to graduate. FLUX describes the dynamic movement in the Limerick city region as it overcomes significant issues to become a fulcrum of rejuvenation, vibrant culture, strong industry growth and a center of design. Picture: Alan Place
In-FLUX of visitors expected at Limerick School of Art and Design this weekend for LSAD Graduate Show 2018
The concept, branding and overall design of the LSAD Graduate Show 2018 – FLUX – is student-led, and begins this
Saturday, June 2
and runs until
June 10, 2018
.
FLUX encapsulates the movement and change from student to graduate. "The "X" in "FLUX" represents the students and how they have made their mark in their time at college," explains designers Cathy Hogan and Will Harte as they outline the thinking behind the concept.
FLUX describes the dynamic movement in the Limerick city region as it overcomes significant issues to become a fulcrum of rejuvenation, vibrant culture, strong industry growth and a center of design.
LSAD is also in a state of FLUX as it develops its enterprise potential and engagement with stakeholders across industry, public bodies, third level institutions and other partners overseeing a shift towards design, creativity, and connectivity that goes far beyond the walls of its main campus on Clare Street.
Mike Fitzpatrick Dean, Limerick School of Art & Design and Director Cultural Engagement said, "Good design impacts every aspect of our lives; from how we see and understand the world, from how we work and the tools we use to navigate our lives, from our social spaces and lives – to our private dwellings, from what we wear – to how we can create a virtual existence. Art, design and creative technologies play a significant role in the industry, education, community and our day to day lives."
"As alumni of LSAD, the 2018 graduates are part of a distinguished body that encompasses some of the best artists and designers operating nationally and internationally. Our graduates continue to have successful careers abroad, as the reputation of the school supports their talents and ambitions. Our ambition is to build more successful creative careers opportunities at home, contributing to a wide range of industries, while drawing on the skills and knowledge they receive at LSAD.
"Engaging with a wide range of industry partners in the Limerick City Region to connect our creative skill sets with their needs is a vital part of our mission. This aspect of design thinking will allow LSAD to have a relevance in this region to retain more and more of our graduates here in Limerick, Clare, and Tipperary and also attract further industry and investment," he added.
Speaking prior to the launch of the LSAD Graduate Show Mr. Fitzpatrick said, "LSAD is delighted the Chief Executive of the Design & Crafts Council of Ireland, Karen Hennessy, is officially opening this year's show. Karen and her team consistently encourage the development of new design products and promote Irish design at home and abroad. I cannot think of anyone more appropriate to open the show displaying the work of our next generation of designers."
LSAD Graduate Show 2018 – FLUX – will officially open at
3 pm
on
Saturday, June 2
in the Limerick School of Art and Design, LIT, Clare Street Campus, Limerick.
The work of more than 200 fine art and design graduates will be on display during the nine-day exhibition covering a range of disciplines including painting; photography and lens-based media; printmaking and contemporary practice; sculpture and combined media; animations and motion design; ceramic design; fashion design; fashion knitwear and textiles and visual communication.
The LSAD Graduate Show 2018 is open to all from
10 am to 5 pm
until
June 10
, is free to attend and attracts thousands of visitors over one week every year, since 1852.
For more stories about LSAD click
here
For more information about LSAD click
here