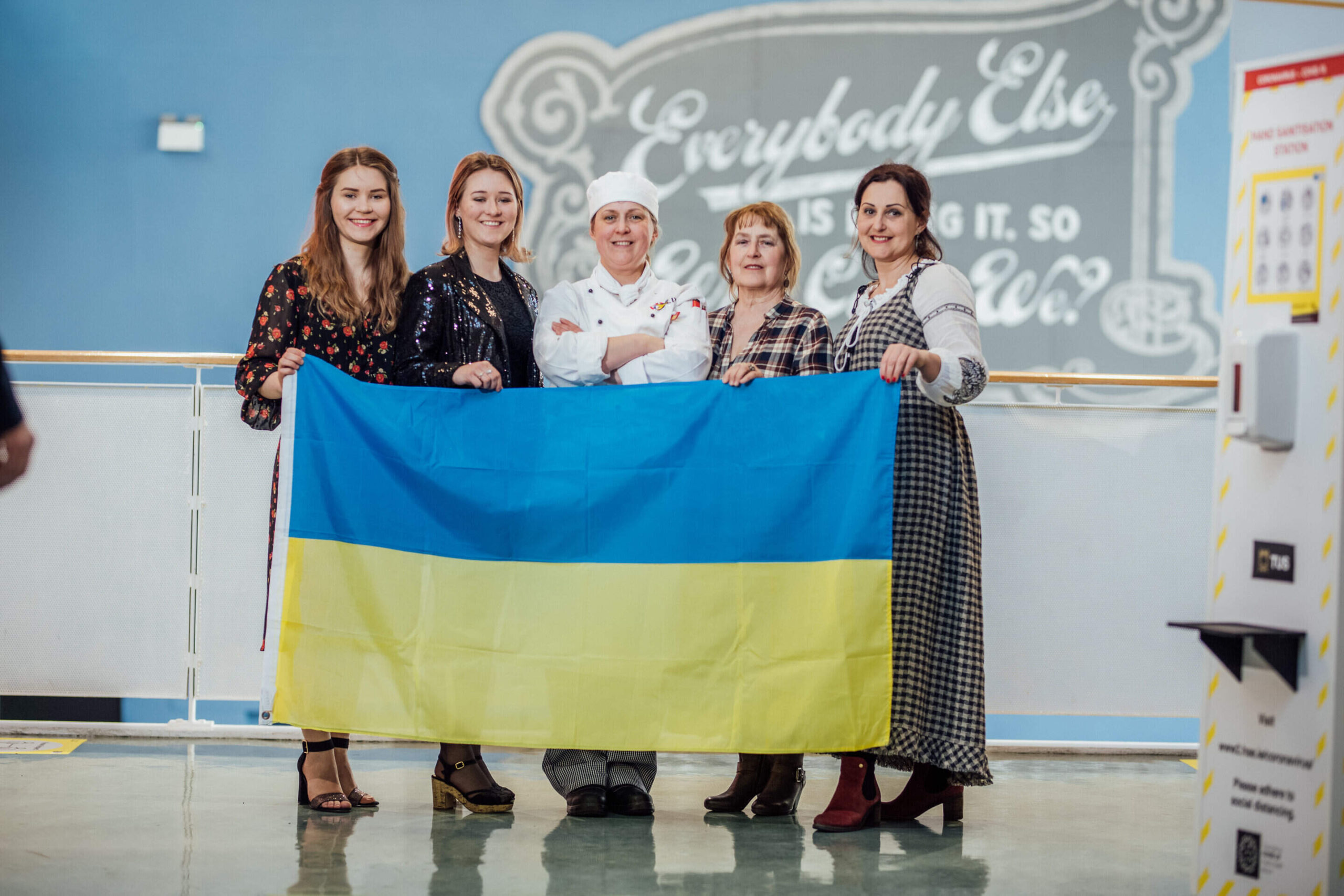 Ukrainian native Lyudmyla Kyrychenko and TUS Culinary Art Students raise funds for Irish Red Cross
Lyudmyla Kyrychenko (centre pictured above) was joined by her fellow TUS culinary and hospitality students in aid of the Irish Red Cross Ukrainian Fund. Picture: Brian Arthur.
TUS Students stand with fellow Ukrainian classmate
Ukrainian native Lyudmyla Kyrychenko was joined by her fellow TUS (Technological University of the Shannon) culinary and hospitality students on Thursday last, as they cooked up a seven course Ukrainian inspired tasting menu at the TUS Taste Restaurant Moylish in aid of the Irish Red Cross Ukrainian Fund.
Among the 40 guests in attendance was Lyudmyla's mother Halyna Dzuba, who fled the violence in Kiev and arrived in Shannon airport via Warsaw just one day prior to the event. Lyudmyla's partner and father of her children, as well as his father, remain in the Ukraine.
Congratulating the students for their work and their support for the Irish Red Cross Ukraine appeal, President of TUS Professor Vincent Cunnane also paid tribute to the Ukrainian people for their resilience during the unprovoked invasion of their country.
Speaking at the fundraising event he said, "I would like to welcome everyone to Taste, with a special welcome to our Ukrainian friends and families. I only wish we were meeting under happier circumstances. It is important that we show our support to the people of the Ukraine, and I would like to congratulate the culinary students for doing what they can to assist the people of the Ukraine and stand with their colleague Lyudmyla."
Lyudmyla Kyrychenko thanked the staff and students at Taste for helping to organise what she described as a "fabulous event", before reflecting on her family and life since she arrived in Ireland.
"I came to Ireland eight years ago with my children when the political and economic situation in Ukraine wasn't stable. One of my children now studies in UL and is a musician in the Boherbuoy Pipeband, while my second child attends Laurel Hill School and is also a musician in the CBS Pipeband," said the second year Culinary Arts student.
Lyudmyla learnt about Ireland and TUS from her sister Larisa who came to Ireland in 2002 and studied accounting in LIT (pre-cursor to TUS). Her son, and Lyudmyla nephew, is also a student in TUS studying first year computer science.
On Thursday night the TUS Culinary Art students supported by staff raised much needed funds for the Irish Red Cross.
Joe Mulcahy, Head of Section Culinary and Hospitality said, "People connect with their culture and ethnic identity through their food. It is also a great way to share your cultural identity with others. The fundraising event BY TUS Culinary Art Students was therefore not only a great way for our students to show their support for their Ukrainian colleagues and friends, but also an opportunity to learn about the unique Ukrainian culture through its national dishes and food."
For more info on the Technological University of the Shannon go HERE
For more stories on TUS go HERE