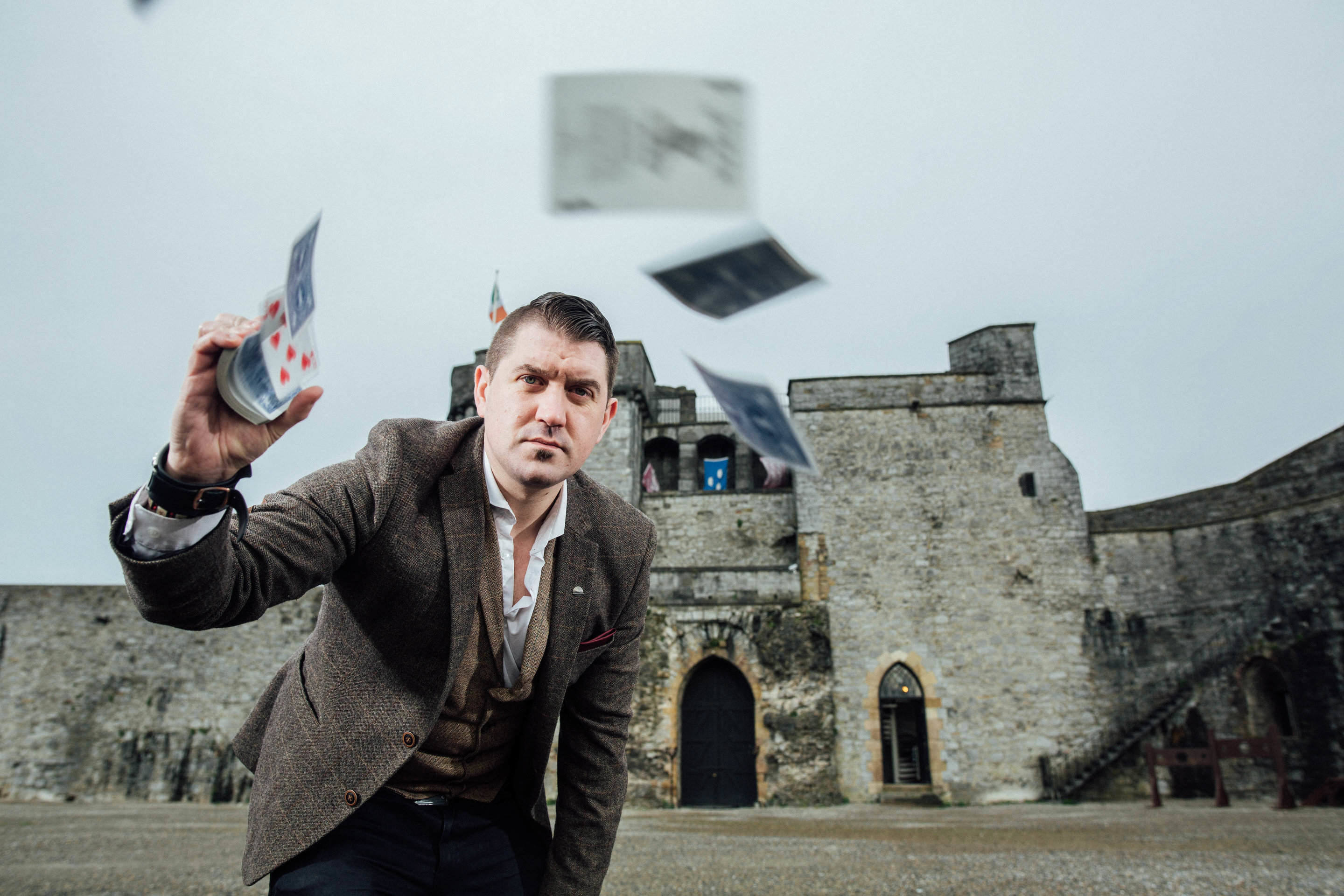 Magic of Easter on show at King John's Castle, Bunratty Castle and Folk Park and Craggaunowen visitor attractions
King Johns Castle, Magic of Easter Launch. Photo: Brian Arthur
The Magic of Easter will be dusted across the nationally renowned Shannon Heritage attractions of King John's Castle, Bunratty Castle and Folk Park and Craggaunowen as they are transformed into magical family playgrounds at the upcoming Bank Holiday weekend.
A spellbinding cocktail from magicians to medieval characters including Beauty and the Beast, Merlin and a young King Arthur, The Mad Hatter and of course, the Easter Bunny, will enthral young and old and have them smiling from ear to ear at three of Ireland's favourite visitor attractions.
King John's Castle will have that magic dust in abundance as the incredibly talented celebrity magician Steve Spade will host the Mad Hatter's Easter Party on Easter Sunday, April 16th from 1-4pm. Steve is an award-winning illusionist who delivers breath-taking and award winning performances.
Other activities for families to enjoy in this historic setting include water zorbing, climbing wall and archery. There will also be competitions for the Best Easter bonnet and best costume.
Over at Craggaunowen in Co. Clare, Easter Sunday from 1-5pm will see this magical site come alive as it hosts the annual Easter Family Fun Day: Magic of Easter. This will be a fun-filled day for all the family, with special guest Easter Bunny hopping in and topping it off by giving away hundreds of Easter eggs to mark the end of the Lenten period and the chocolate famine!
There will be plenty of novel children's games to enjoy also, including Hook a Duck, Connect 4, Milk the Cow & much more to keep those little fingers and creative minds busy. Beauty & The Beast will be making a special appearance and children will also enjoy face painting and balloon modelling as well as navigating a special treasure trail.
And if that's not enough, children can return to more Magic of Easter on Easter Monday to Bunratty Castle and Folk Park where Easter Fun and Games will run from 1-5pm.
Here there will be another chance to enjoy the magic of the amazing Steve Spade hosting the Mad Hatter Easter Party. Merlin and young King Arthur will also thrill with spells, illusions and magic shows in the iconic and historic surrounds of Bunratty Castle. There will be a stilt-walker, fire-eater and juggler on the village street and face painting, balloon modelling, Disney characters, princesses, train rides, fairy village activity and much more to keep the children entertained on this special family weekend.
To top it all off, the highlight of the day will be the Bunratty Castle and Folk Park Easter parade which will see visitors have the opportunity to don their best apparel and compete for the costume and best Easter bonnet award.
Ivan Tuohy of Shannon Heritage: "We have magical venues here in the Mid-West and they are the perfect canvas to create something really special for children and, indeed, the entire family for Easter. We've been doing it for years and Easter is now right up there with Christmas in terms of popularity.
"It's ideal for families who want to spend some special time together and create some special memories of that time. We've going the extra mile again this year and it will be really special for all our guests."
For bookings, contact 061 360788, email [email protected] or click here
To read more about events in Limerick click here