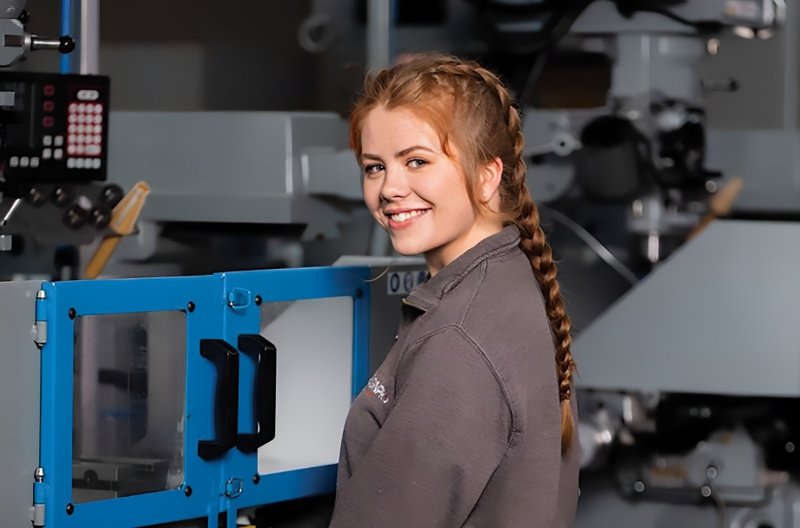 Mairide Bennis brings home finalist prize at Apprentice of the Year Awards for her contribution to the workplace
Mairide Bennis is now in the third year of her engineering apprenticeship.
Mairide is one of Ireland's 1500-strong female apprentice population
By I Love Limerick correspondent Ellie McCarthy
County Limerick native Mairide Bennis, from Castletown, has won a top finalist prize at the first-ever independently judged Apprentice of the Year Awards.
Mairide is a manufacturing engineering apprentice with Design Pro Automation in Rathkeale and received a finalist's award in recognition of the outstanding contributions she has made to her workplace.
Design Pro Automation is an Irish-owned company who prides itself on being at the forefront of technology and innovation in the automation industry. With an extensive range of in-house departments, they offer one of the largest machine build facilities in Ireland.
Mairide is now in the third year of her apprenticeship and is one of Ireland's 1500-strong female apprentice population.
Further and Higher Education Minister Simon Harris congratulated Mairide on her finalist's award, and paid tribute to the 11 other finalists who were selected out of 187 nominees from every county in Ireland.
Announcing the winners, Minister Simon Harris said, "I want to warmly congratulate each nominee this evening on their hard work and commitment to their apprenticeship, and also thank their employers, educators and families for their ongoing support.
"There is a huge amount of motivation and talent on show here this evening, and I look forward to many more years of celebrating success through the Apprentice of the Year awards."
Apprentices were nominated by their employers or educational partners, and judged on four categories – leadership, teamwork, creativity, and problem-solving.
Mairide Bennis said chose an apprenticeship because she knew she could get invaluable industry experience and earn a degree from a Technical University with no student debt. Describing it as a no-brainer decision, Mairide also made her choice due to the broad range of apprenticeships available today that go far beyond the traditional trade courses.
Over 180 apprentices have been nominated from around the country for the inaugural national Apprentice of the Year awards. 12 awards were announced with Brian Riordan, an electrical apprentice from Dublin, named the overall award winner.
More information on the Apprentice of the Year Awards
Related community stories