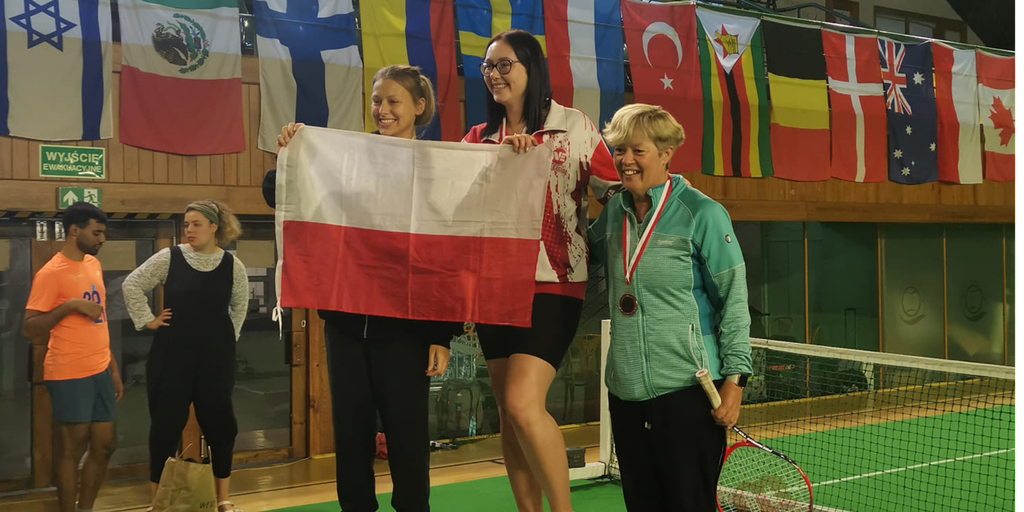 Limerick woman Marguerite Quinn makes huge achievement at the International Blind Tennis Tournament
Marguerite Quinn came third on the podium at the International Blind Tennis Tournament, pictured with Justyna Stopierzyńska in first-place and Alexander Karakula in second-place.
The former school principal has made countless people proud with her performance in Poland
By I Love Limerick correspondent Stella Gordon
Marguerite Quinn, from Mungret, has found a new sport in which she is currently excelling at, after suffering an aneurysm. Marguerite achieved a podium finish at her first international blind tennis tournament in Poland.
Marguerite Quinn was principal at St Nessans Primary School until she suffered a brain aneurysm while attending a camogie match in 2016. Marguerite then spent a year recovering from the shocking incident. However, the brave and determined woman did not let this stop her from achieving great things.
Marguerite suffered a brain injury due to the aneurysm which greatly impaired her vision. Instead of letting this put her life on hold, she enrolled in blind tennis lessons at St Annes School Killaloe with coach Wesley O'Brien. Wesley O'Brien also coaches at Killaloe Ballina Tennis Club. He has been involved with Blind Tennis for four years and has been using the indoor facilities at St. Anne's School.
She competed in the International Blind Tennis Tournament in Gdańsk, Poland which took place from September 8 to 10. Marguerite won her first two games, and She came third on the podium in the Women's B2 Category. Marguerite Quinn said on Facebook, "What a great week we had in Gdańsk, thanks to all who supported those that organised this event. Great to play but also great to make new friends, thanks again see you all soon."
Coach Wesley O'Brien set up the programme with Vision Sports Ireland and the Limerick, Clare and Tipperary sports partnerships. The blind tennis lessons are the first of their kind in the Midwest. Blind tennis is operated mostly with sound. A ping-pong ball is placed inside a foam tennis ball. Players listen closely to the sound of the ball, to decipher when to hit it.
Marguerite has been met with many kind words on social media, showing no shortage of how proud she has made those who know her. She has received comments such as, "A massive well done, you're some inspiration," and "Congrats and enjoy the experience, amazing achievement, be so proud of yourself."
For more information on Vision Sports Ireland, go HERE
For more sports stories, go HERE