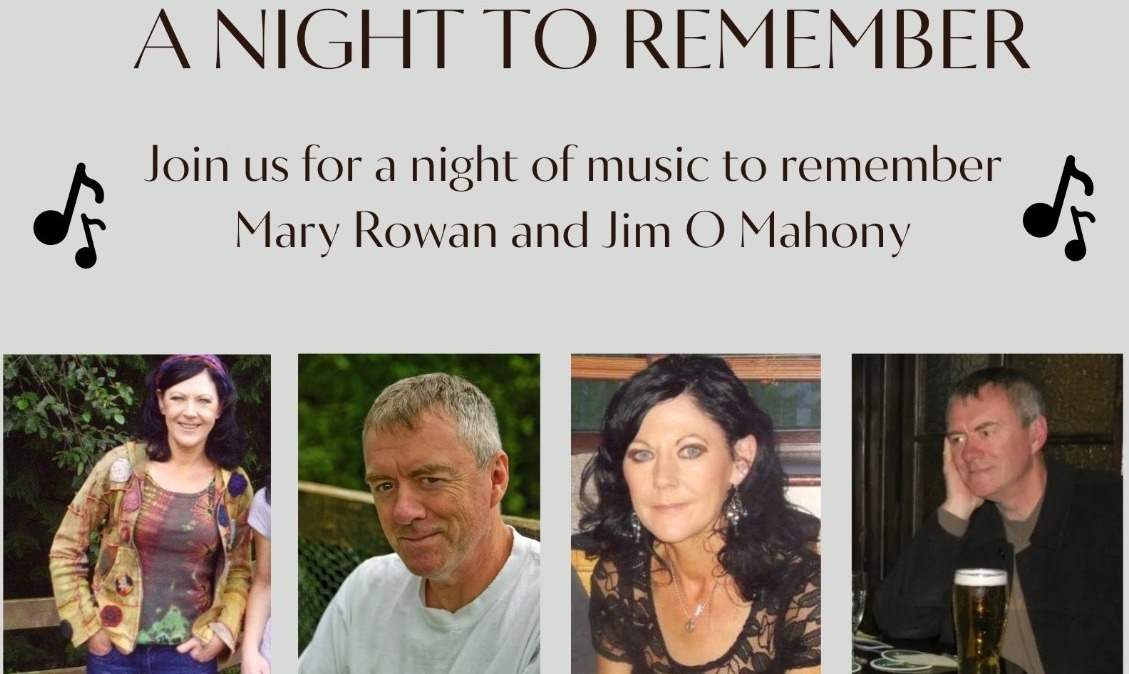 A night of music to remember Mary Rowan and Jim O'Mahony in aid of three deserving charities on February 3
Mary Rowan & Jim O Mahony were both avid concert goers and dedicated members of Limerick's music scene, known for their ready self-deprecation, dry sense humour and interest in those from all walks of life.
The Mary Rowan and Jim O'Mahony fundraiser will be in aid of Milford Hospice, Oesophageal Cancer Research & Parkinson's Association Limerick
Dolans Warehouse, Limerick is delighted to host 'A Night To Remember', a night of music to honour Mary Rowan and Jim O'Mahony on Friday, February 3rd, 2023.
The line-up will include The Malley's, Paul O Connor and Izzy Olsthoorn, Paul O Sullivan, Sean Kelly, Ian Harris, The Salty Dogs and Jenny McMahon.
A worthy night, not-to-be-missed will celebrate the lives of Limerick natives, Mary Rowan and Jim O'Mahony, lovers of their city and hugely loved by those in it. They were both avid concert goers and dedicated members of Limerick's music scene, known for their ready self-deprecation, dry sense humour and interest in those from all walks of life.
Any gig worth going to, they were at; so what better way to honour the lives and music of Jim and Mary.
Raffles on the night will include tickets for upcoming Madness and Kraftwerk concerts, original artwork from local artists Rachel Murphy Mannix and Emma Mullane, Hotel vouchers and restaurant vouchers.
There's Something About Mary Rowan:
Mary was born in Garryowen and attended school in St Marys. She held many jobs, from The Dainty Dairy bakery to Quinnsworth in William Street, and then Tesco in Arthurs Quay.
Music had always played a massive part in Mary's life. While she could not play an instrument herself, her house and her car were always filled with tunes.
She began going to local gigs at a young age. She was a regular at the Glentworth Hotel for her dear friend Tadhg Horan. The Shannon Arms for the Gaslight Club with Brian O' Connor and what became her lifetime love of The O' Malleys where she would go to see them in the Pitz at the old Savoy every Sunday night.
Tuesday nights and Sunday evenings were reserved for the great Joe Browne and friends.
Mary and her sister Catherine were a firm fixture on the Limerick music scene and you would rarely see one without the other !
Bob Dylan, John Martyn, Van Morrison and Boz Scaggs were her favourite artists and many more.
Mary loved Barcelona having travelled there all of 18 times with her sister. She loved anything vintage, clothes, jewellery and upcycling. She once turned an old toilet into a flower pot ! It has pride of place in her front garden.
She had a strange obsession with having a stockpile of batteries, nightlights and other peoples lighters. Her family was her greatest love. Her nieces and nephews but particularly Kenneth who she would unashamedly admit was her favourite and her best friend.
Let me tell you about Jim O'Mahony:
Born and bred on Bishop Street, Jim was always a proud Parish Man, a dedicated rugby fan and formerly of Irish Cement. Later Jim always had "An Office" for coffee or a cocktail, which usually was the best spot in town. Be it in his beloved Limerick, Novigrad or Tavira. One thing was always guaranteed Jim would be surrounded by a laughing crowd many of whom didn't speak English! It never mattered.
You cannot talk about Jim, without talking about music; especially with his famous allergy to bad music. He embodied the Limerick music scene and blessed many Treaty ears with the music of Tom Waits, John Prine, JJ Cale, Leonard Cohen and Bob Dylan.
Known to many as 'Just Jim' from his DJing days on Big L, he is remembered to this day by avid listeners anytime they hear 'Picking up the Pieces' by The Average White Band. He never lost his love of music, even making" the great escape" from hospital one night so he could go to the Villagers in Dolans. Luckily the nurses agreed to leave the door on the latch for him.
Always on the move, he loved to explore new places; so when he couldn't sail any more he bought a string of camper vans that took him all over Europe. He loved to travel to unusual places and would do hours of research. As a lover of food and cooking, it was mostly to find out where the locals ate and drank.
With a one-of-a-kind personality and brilliant ability to mock inoffensively, Jim made friends wherever he went. No matter your background or circumstance; he was there for a chat. Always to be found, on a Saturday morning down at the Milk Market, drinking coffee outside Maries where he always had a seat.
Mary and Jim were firm friends having met very aptly at a local gig many years ago. In 2017 the Rowans and the O' Mahony's headed to Vicar street to see Jackson Browne and in 2018 a convoy of Rowan/O'Mahony cars headed to Mullingar to see Emmet Tinley on Jim's recommendation. It was a very memorable night, mainly for Emmet Tinely himself.
Join on the night to celebrate the lives of these two special people.
Dolans Warehouse, Friday, February 3, 2023 at 8pm.
Tickets on sale NOW through Dolans.ie