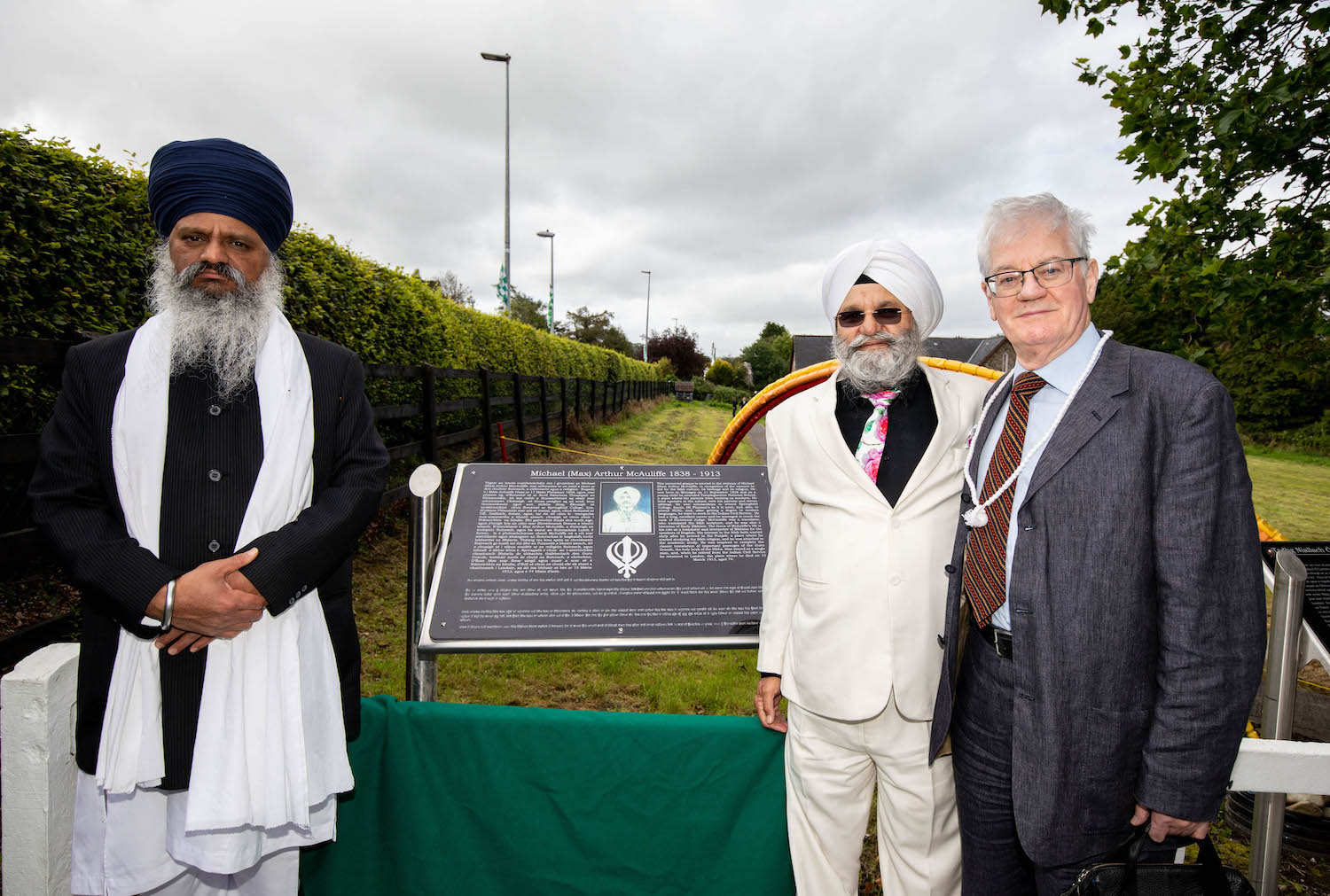 Limerick's Unsung Hero and Translator of the Sikh scriptures to be celebrated with a commemorative plaque
Plaque unveiled to West Limerick man honouring his contribution to Sikh Culture and Religion Max Arthur MacAuliffe credited with unveiling Sikhism to English-speaking world. Photo by Alan Place
Limerick's Unsung Hero and Translator of the Sikh scriptures to be celebrated with a commemorative plaque
Limerick man Max Arthur Macauliffe who is renowned for his Sikh scripture translation will be celebrated with an unveiling of a commemorative plaque on Wednesday, September 11 in Templeglantine Community Centre.
Max Arthur McAuliffe completed his classic translation of the holy book of the Sikhism religion, the Guru Granth, in 1909. Oxford University Press published the first edition of his renowned work of art, 'The Sikh Religion: Its Gurus, Sacred Writings and Authors', in six volumes and running over 2,000 pages. Since the first publication, it has never been out of print.
The unveiling of the plaque follows representations from the Dublin Interfaith Forum including members of the Sikh community and historians to Limerick City and County Council on how best Max MacAuliffe could be remembered in his homeplace.
Cllr Jerome Scanlan, Cathaoirleach of the Newcastle West Municipal District, said, "It is important that Limerick remembers and honours its own, to celebrate those who have made an important impact on the lives of others. And Max deserves this for his work in bringing knowledge and understanding of the Sikh religion to the English Speaking world. From his humble beginnings in Monagea and later Templeglantine, Max became an important conduit in developing a deeper understanding between entire communities in Europe and India."
Sikhism now has some 28m followers worldwide, 2,000 of whom live in Ireland, 500 of whom live in the Mid-West region.
Gordon Daly, Director of Community Development with Limerick City and County Council, who funded the project said, "We are delighted to be involved in the honouring of Max MacAuliffe. Who would have known that 181 years ago a boy from West Limerick would grow up to become arguably one of the most influential people in the Sikh community. He was a man of extraordinary intellect, whose seminal work The Sikh Religion: Its Gurus, Sacred Writings and Authors remain as relevant today as it was when it was initially written."
"Limerick City and County Council is delighted to be part of this ceremony, in honouring this famous West Limerick man," he added.
The focus of Macauliffe's life is in his work as a translator and interpreter of Sikhism to the English-speaking world. Sikhism is a monotheistic religion that has an estimated 28 million followers, making it the ninth-largest religion in the world. It has been largely influenced by Macauliffe and his translation work.
Born in Newcastle West in September 1841 as the eldest of 11 other siblings, his parents moved their family to Templeglantine national school when he was eight-years-old after his father took the position of principal at the school.
He lived in the upstairs of the school with his family and won scholarships to attend Springfield College, Ennis (now St. Flannans College) and NUIG, eventually choosing to study at Queen's College in Galway, graduating with a B.A degree with first-class honours in Modern Languages.
He was then selected in 1862 for the Indian Civil Service and was then assigned to the state of Punjab in 1864. He served for almost twenty years, during which he was promoted to deputy commissioner and divisional judge.
After retiring in 1893, he then developed his interest in the Sikh faith by undertaking writing, leading him to complete the classic translation into English the major parts of the Guru Granth, the holy books of the Sikhs.
Max remained single, and on his retirement from the Indian Civil Service, he returned to live the remainder of his life in London, where he died on March 15th, 1913 aged 74 years.
Sikhism was founded in the 16th century in the Punjab district of what is now India and Pakistan. It was founded by Guru Nanek Dev Ji and is based on his teachings and those of the nine Sikh gurus who have followed him.
The three duties of a Sikh are keeping God in mind at all times, earning an honest living and giving to charity and caring for others.
For more information on Sikh(Limerick) click here.
For more stories click on here.