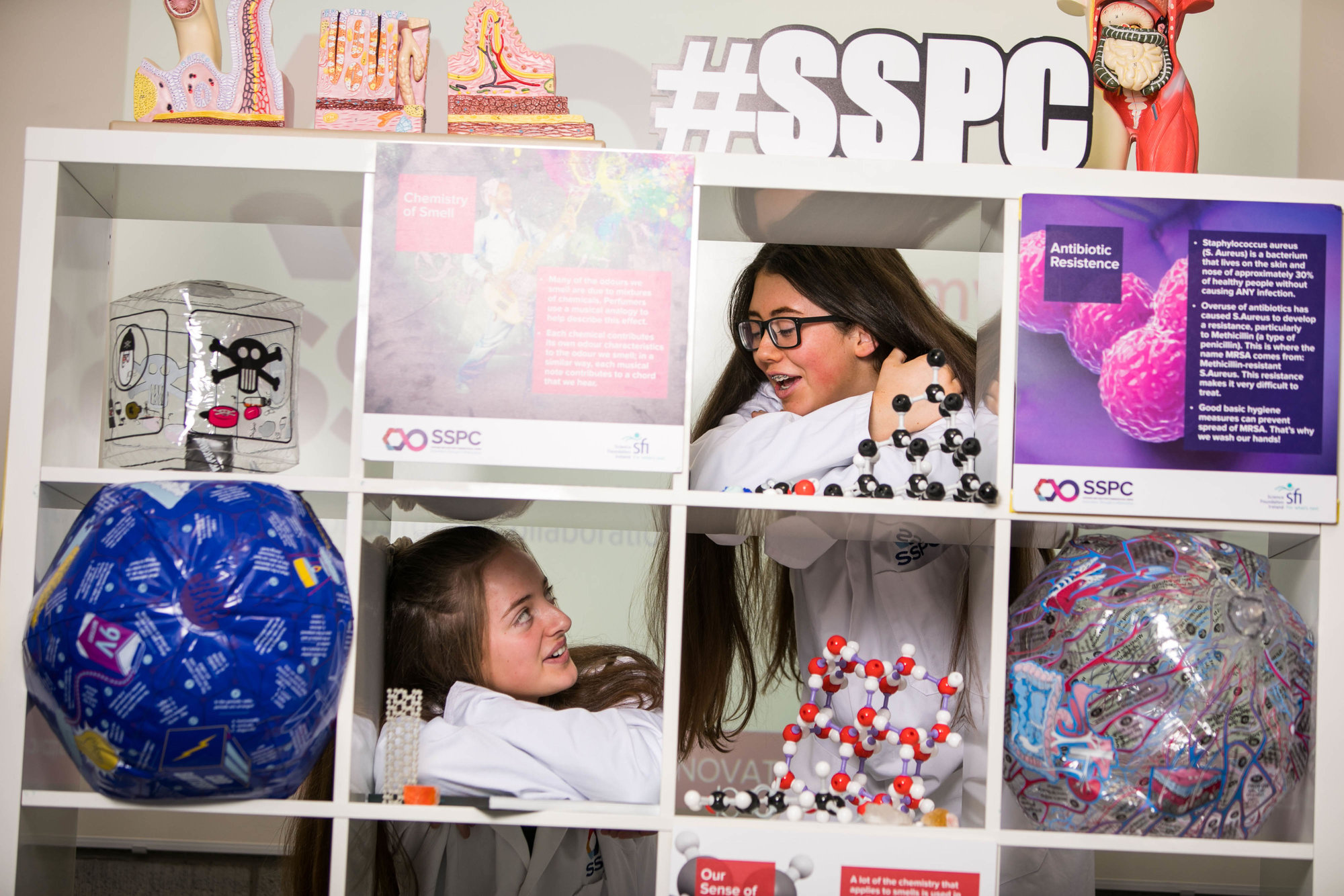 Medicines In My Life initiative Website launch introduces secondary school students to real world science
Pictured at the Medicines In My Life initiative Website launch students Lizzie Donovan and Molly Durack from Castletroy College, Limerick. Photo: Oisin McHugh True Media.
The Synthesis and Solid State Pharmaceutical Centre (SSPC) funded by Science Foundation Ireland (SFI) and based in the Bernal Institute at the University of Limerick (UL) has launched their Medicines In My Life initiative. The purpose of the initiative, which includes a website and resources for teachers and pupils, is to support the SSPC's innovative educational programme for post-primary teachers and pupils, entitled 'Innovation in Medicines', a module designed to introduce students to the world of medicine.
Pupils taking the module in their Transition Year will take the knowledge learned through the module and website and translate this into an exhibit for a science centre/museum/art gallery/library or public space. The exhibitions should be interactive and approach different aspects of medicines in our lives, and the development of medicine through advances in scientific research and in industry. 'Medicines In My Life' supported teacher training and development of materials to enable Transition Year Science Teachers to teach 'Innovation in Medicines' (the SSPC's Transition Year module) to their pupils.
Dr Sarah Hayes, the European leader in the field of education and outreach, said:
"The purpose of this scheme is to connect groups to STEMM with classroom-based education, as well as informal education that occurs outside the classroom. A goal of this project is to shed light on the relationship between scientific research, to provide educational experiences and take STEMM to the wider community".
The SFI discover funded initiative, closely linked to the SSPC molecule, material and medicine research programme, introduces Transition Year and Senior Cycle pupils to real world science and research in the area of pharmaceutical manufacturing, development and innovation.
Speaking at the launch, Senator Maria Byrne and Dr Mary Shire, Vice President Research at the University of Limerick, not only highlighted the importance of such initiatives for Science, Technology, Engineering, Mathematics and Medicine (STEMM) education but also how they support and encourage females early in their careers. The programme designed to engage students with material and activities, will explore students' thoughts on medicine, shows the possibilities and the opportunities available in an ever growing setting in Ireland, and globally.
In addition, the project addresses Science Foundation Ireland's goal to have an engaged and scientifically informed public in Ireland and addresses promoting STEMM career pathways.
The SSPC continues to navigate the best methods of engaging all of its internal and external members, including those at the centre of education and training activities and programmes. The exceptional Education, Outreach and Training programme fosters a culture of inclusivity and equity of sharing across all domains. Over the past 12 months, SSPC has participated in over 96 such events.
For more information on SSPC click here
To read more stories about technology in Limerick click here