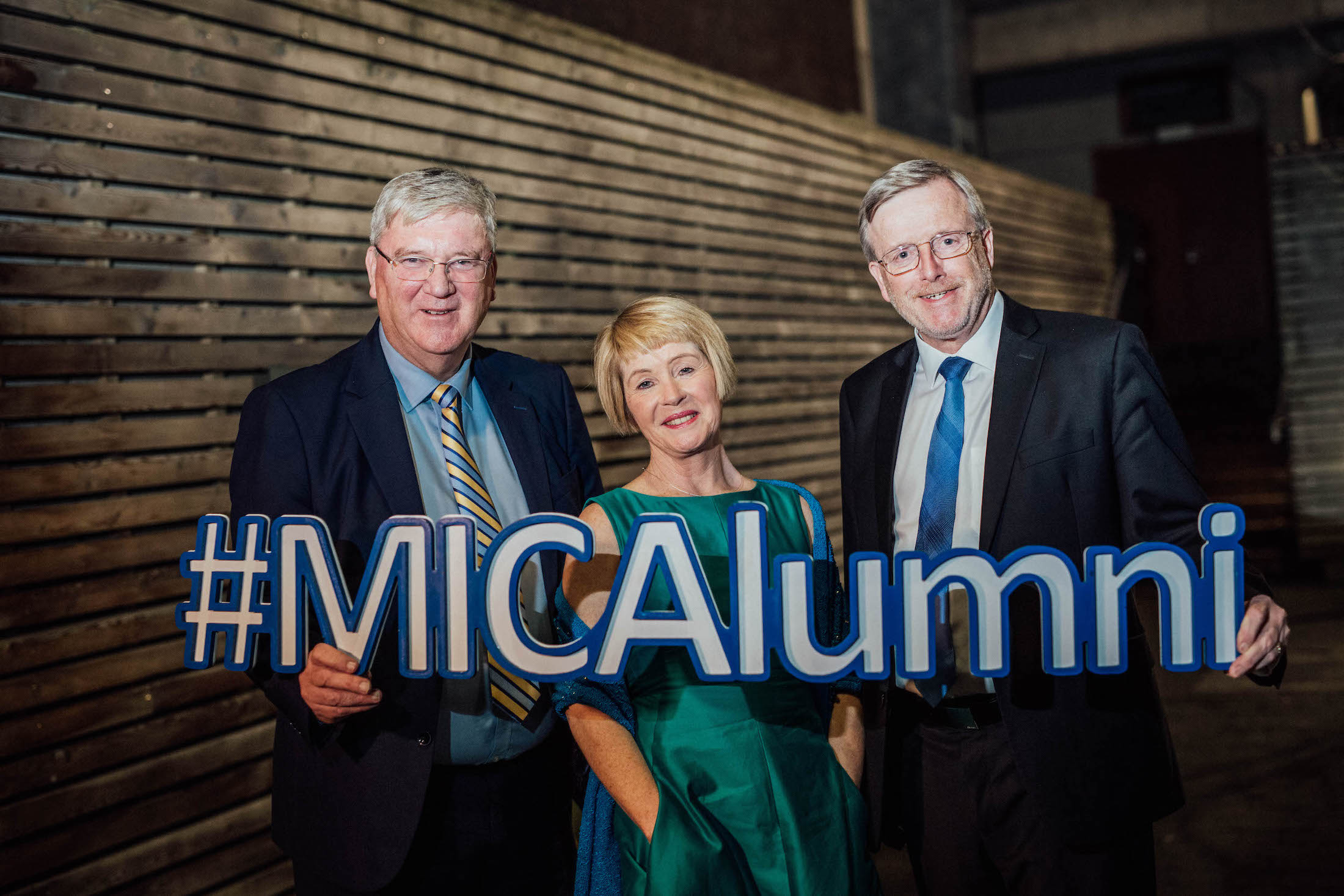 Supermac's founder Pat McDonagh and Author Roisin Meaney honoured at MIC Awards Ceremony 2019
MIC Awards Ceremony 2019: Pictured with Professor Eugene Wall, President of MIC. Pic. Brian Arthur
Supermac's founder Pat McDonagh and Author Roisin Meaney honoured at MIC Awards Ceremony 2019
The MIC Awards Ceremony 2019 saw 130 students, graduates, and alumni from Mary Immaculate College recognised for their academic and other notable achievements, with over €100,000 being presented in scholarships and bursaries at the annual College Awards Ceremony.
Among those receiving awards at the MIC Awards Ceremony 2019 was the founder and Managing Director of Supermac's, entrepreneur Pat McDonagh, who was awarded the MIC Alumnus of the Year Award 2019, in recognition of his notable business achievements.
Having graduated from MIC as a primary teacher in 1973, Pat identified an opportunity for a fast food outlet whilst teaching in Kilrickle, Co. Galway resulting in the first Supermac's opening its doors in 1978 on Main Street, Ballinasloe.
Since then Supermac's has become a firm fixture in Irish towns and cities with over 116 restaurants throughout the country including the Barack Obama Plaza, Tipperary Plaza and the Galway Plaza and, the latest one to open, the Kinnegad Plaza at the junction of the N4 and N6.
Accepting the award Pat said, "I am delighted to be receiving this award here this evening, particularly as Mary Immaculate College is my own Alma Mater. It is a special feeling to be recognised by the place that I spent some of my most formative years. The importance of Mary Immaculate College to Limerick is immense. In these uncertain times, education is the great equaliser and the importance of Mary Immaculate College's contribution to the welfare of our society in a national context is vital."
Also receiving an alumni award was Limerick author Róisín Meaney who graduated from MIC as a primary teacher in 1980. Three weeks before she was due to enter MIC as a first-year student, Róisín won a car by completing a sentence that began with 'I would like to win a Ford Fiesta because…'.
This was the first stepping-stone in a journey that has lasted over two decades and has led ultimately to her transition from primary teacher to author.
Róisín, who was born in Listowel but is based in Limerick, taught in St Mark's Junior School in Dublin for two years following her graduation from MIC. After this, she travelled to Zimbabwe where she worked as a high school English teacher in a township outside Harare for two years before returning to Ireland where she began teaching in her old primary school.
In the meantime, she was entering other competitions, all with the same tie-breaker element, and winning many other prizes.
In 2008, with three published novels under her belt, she opted to leave the classroom to focus solely on her writing. To date, Róisín is the author of 16 novels for adults and two children's books, and her works have been translated into several languages.
She is currently working on her next novel, which is due for publication in June 2020. Twice a month Róisín tells stories to children in libraries, and she also visits schools through Poetry Ireland's Writers in Schools programme to talk about the joys of being a writer.
Accepting her award Róisín said: "I'm absolutely delighted to be honoured in this way by MIC; the smile has hardly left my face since I got the news. It's a wonderful and generous gesture by my Alma Mater, and I'm very thankful."

The MIC Awards Ceremony 2019 also saw 50 CAO Undergraduate Scholarships valued at €2000 each, awarded to first-year students on the basis of CAO points obtained in the Leaving Certificate Examination; while Liam Lenihan, Vice-Chairman of Munster GAA, presented GAA bursaries valued at €750 to nine very deserving MIC students.
Professor Wall also announced details of MIC's recently launched Sports Scholarships, including two elite scholarships valued at €4,000 each.
For more information on MIC click here.
For more stories on MIC click here.