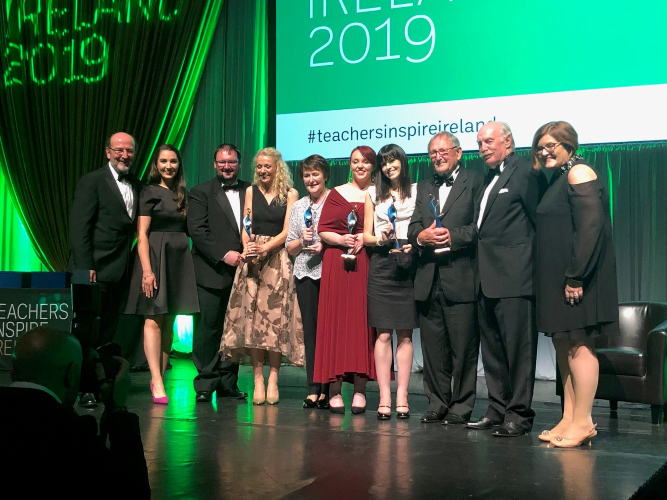 MIC Dell VEX Robotics awarded by Teachers Inspire Ireland for their efforts to integrate robotics
MIC Dell VEX Robotics team being awarded by Teachers Inspire Ireland.
MIC Dell VEX Robotics awarded by Teachers Inspire Ireland for their efforts to integrate robotics

The MIC Dell VEX Robotics team, led by Dr Maeve Liston, Director of Enterprise and Community Engagement and Senior Lecturer in Science Education at Mary Immaculate College (MIC), has been awarded by Teachers Inspire Ireland for their efforts to integrate robotics across the Primary School Curriculum.
Dr Maeve Liston together with Anthony Bayle and VEX Mentors from DELL Technologies in collaboration with the Limerick Education Centre and Professional Development Services for Teachers (PDST) work with teachers in primary schools in over 50 schools in Limerick, Clare and Tipperary to integrate STEM effectively into the curriculum using robotics.
The Vex Robotics programme was one of four programmes across the country to be shortlisted by the Teaching Council as part of the inaugural Teachers Inspire Ireland initiative. The projects were recognised for being innovative, collaborative and change-making in teaching. The MIC-Dell Vex Robotics project scooped the Teaching Council's Teacher Inspire Award at the ceremony in Dublin City University (DCU) on 4 October and was chosen by the Council as an exemplar of the transformative role that teachers play in our communities and society through collaboration.
Dr Maeve Liston said, "I am delighted to accept this award on behalf of the MIC-Dell VEX Robotics team. The key to this project's success is collaboration and partnerships. The project is an example of a unique collaboration between scientists and engineers from industry, schools and a higher educational institution with experts in the field of STEM education all working together towards a shared vision in delivering high quality, pedagogically sound STEM education programme to schools, teachers and children. It involves a process of collaborative design, reinforcing what is being taught in the curriculum and extending learning beyond the curriculum into real-world contexts."
She continued by saying, "The VEX Robotics project helps in alleviating barriers and challenges to STEM engagement by creating a 'third space' in science education, connecting curriculum content with the reality of science. This project is one of many STEM and STEAM educational outreach projects MIC is managing and running across the region and nationally as part of our NextWave initiative which involves developing bespoke STEM education strategies and projects aimed at providing opportunities for conceptual and practical engagement with next-generation technologies."
Anthony Bayle, eServices Program Manager at Dell, said "We are delighted to be part of the team receiving this award that recognises the inspiring work of teachers who have championed the integration of the Vex Robotics programme into the classroom. This programme started in Cork with CIT and Dell and has since expanded to the Mid-West with the partnership of Mary Immaculate College and Limerick Education Centre, which continues to drive collaboration between education and industry. This award recognises the benefits of integrating Vex Robotics into the primary school curriculum, which enables us to introduce young children to technology subjects (STEM) through a fun and interactive programme. We look forward to expanding this program and our continued partnerships."
The VEX Robotics project involves the delivery of a CPD (continuous professional development) summer course for teachers every July, as well as workshops with children throughout the year delivered by Dr Liston, Anthony Bayle and Dell mentors. Dervilla Kelly from St. Mary's NS, Limerick and Bernie Kinsella from St. Nessans NS, Limerick are two of the teachers who deliver the CPD summer courses, which aim to equip teachers with the knowledge, skills and confidence to integrate STEM effectively into the curriculum using robotics.
Speaking about her involvement in the project, Dervilla Kelly said, "The MIC-DELL Vex Robotics programme is an essential part of my school year. The programme has provided the foundation and building blocks for teachers and students in robotics by carefully bringing it from teacher workshops into classrooms around the mid-west. For students, the STEM project approach allows children of all abilities to demonstrate their skills in communication, designing and engineering to name a few. As a teacher, the supportive approach to learning about and implementing the project is essential. The Teacher Summer Course and the local network of teachers, academics and industry professionals mean there is always someone to bounce ideas off. Recent developments with DEIS teacher networks supports collegiality for those Implementing in challenging contexts".
MIC and Dell also host the annual VEX Robotics Challenge in Dell Technologies, Raheen where over 700 children, aged from 9-12 years old, work in teams on a specific challenge to design, build and program a robot. The competition involves school teams and robots battling it out against each other allowing children to put their robotics skills into action.
The MIC-Dell Vex Robotics programme in the Mid-West is funded by Mary Immaculate College, Science Foundation Ireland, Dell, the Professional Development Services for Teachers (PDST) and the Irish American Partnership.
For more information on MIC Dell VEX Robotics click here.
For more stories on MIC click here.