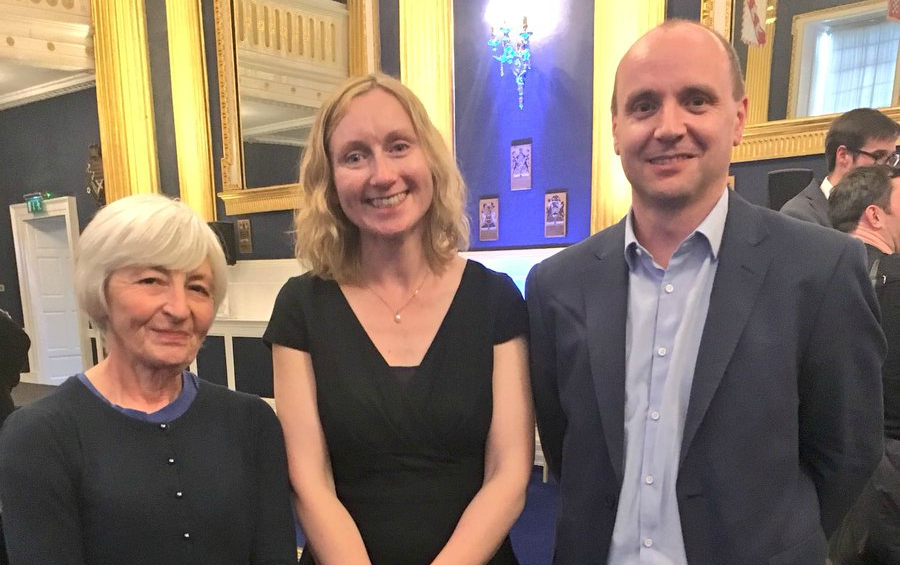 MIC lecturers key contributors to landmark survey of Irish history from c.600 to the present day
Pictured (L-R) at the launch ceremony MIC lecturers, Dr. Maura Cronin, Dr. Clodagh Tait and Dr. Liam Chambers all members of MIC's Department of History.
MIC lecturers key contributors to landmark survey of Irish history from c.600 to the present day
by ilovelimerick correspondent Chloe O'Keeffe
Three MIC lecturers in history are contributors to what is the most comprehensive and authoritative history of Ireland yet attempted. Dr. Liam Chambers, Dr. Maura Cronin, and Dr. Clodagh Tait have all contributed chapters to the Cambridge History of Ireland, edited by Thomas Bartlett, and written by a team of more than 100 leading historians from around the world. The book was officially launched by President Michael D Higgins at a ceremony in Dublin Castle on Monday night.
Vibrant, comprehensive, and accessible, The Cambridge History of Ireland presents the Irish story – or stories – from 600 to the present. Four comprehensive volumes bring together the latest scholarship, setting Irish history within broader Atlantic, European, imperial and global contexts.
According to Dr. Liam Chambers, Head of MIC's Department of History, "I am delighted to be a part of this landmark publication. My chapter looks at Irish migrants to France, Spain and other parts of continental Europe between 1691 and 1815. This reflects one of the ambitions of the book: to place Irish history in European, Atlantic and global contexts. The chapter is also a reminder of the importance of migration in Irish history, a feature of our past which is very relevant to twenty-first-century debates."
Dr. Clodagh Tait's contribution looks at Irish Society 1550-1700 and deals with social status. Dr. Tait says of her chapter "I was especially concerned to say something substantive on members of 'lower sorts', who are often neglected in studies of early modern Ireland. I sought as well to show that all sections of society were involved in 'politics' broadly defined, and might robustly defend their rights and privileges by the use of tactics of petitioning and even riot. I hope that in the process I have caught something of the variety and vibrancy of Ireland's communities in this period."
Dr. Cronin's contribution examines 'Popular politics 1815-1845'. Dr. Cronin says the aim of the chapter was to "set out the ever-changing political outlook among the cosmhuintir, focussing on attitudes to leadership, the fluidity of sectarian and economic animosities, and the impact of place and memory on popular political involvement. "
Overall the work benefits from a strong political narrative framework and is distinctive in including essays that address the full range of social, economic, religious, linguistic, military, cultural, artistic and gender history, and in challenging traditional chronological boundaries in a manner that offers new perspectives and insights.
Each volume examines Ireland's development within a distinct period and offers a complete and rounded picture of Irish life while remaining sensitive to the unique Irish experience.
Speaking at the launch President Higgins said, "Today, we celebrate an important addition to the tradition of history-writing in Ireland, one that I have no doubt will be a reference work for many years to come. In time, if we continue to provide new opportunities for historians, amateur and professional, and if we continue to advocate for history as a crucial element of participatory citizenship, if we keep the study of Irish history alive and vibrant, a new generation – indeed, perhaps some of the younger historians in this room will come to revise anew these volumes."
For more stories on the Mary Immaculate College go here.
For more info on the MIC lecturers go here.