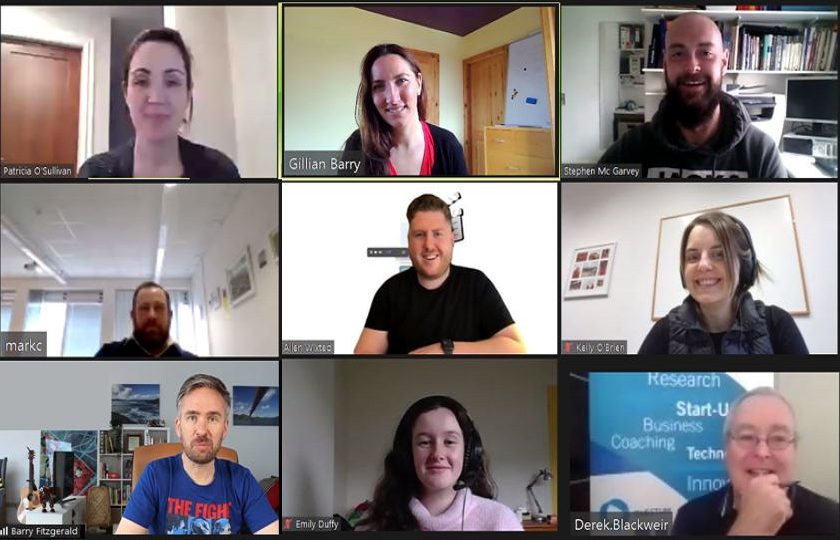 MIC LIT EMPOWER programme for Post-Primary Students Empowers Next Generation of Entrepreneurs 
MIC LIT EMPOWER programme participants pictured above
MIC LIT EMPOWER programme for Post-Primary Students Empowers Next Generation of Entrepreneurs
A skills programme for post-primary students, designed and developed by Mary Immaculate College (MIC) and Limerick Institute of Technology (LIT), recently brought together post-primary students and entrepreneurs in an effort to inspire students and enable them to build creative, innovative and entrepreneurial skills for life.
We just finished our week-long Empower programme for aspiring #innovators & #entrepreneurs It has been an inspirational week! Thank you to everyone who took part! I am so fueled up right now! #impossibleisnothing These kids will change the world! Totally inspired! pic.twitter.com/HrIMZo0odG

— Gillian (@GillianBarry) October 30, 2020
The MIC LIT EMPOWER programme funded by the Higher Education Authority (HEA), is designed to support young innovators and entrepreneurs. While this year's programme took place online, it didn't lessen its impact with one of the facilitators, Allen Wixted, founder and CEO of NoPlaceLike, and winner of the Limerick Best Young Entrepreneur in 2019, commenting, "Even in this virtual environment we managed to capture this high level of energy where everyone was inspired to work on something that could have a real impact."
Now in its fourth year, almost forty students from Limerick, Clare, Cork, Tipperary, Laois and Offaly participated in this year's MIC LIT EMPOWER programme event. Over four days entrepreneurs and innovators including Allen Wixted of NoPlaceLike, Kelly O'Brien of CDK, Emily Duffy inventor of the Duffily Bag, Barry Fitzgerald of BWScience, Stephen McGarvey from FoodConnect and Mark Culleton of iDyslexic, shared their entrepreneurial journeys with the students, as well as supporting them throughout the week as they worked on some of the most pressing challenges society is facing today, such as those climate change, mental health and the impact that isolation and COVID has had on society.
According to Patricia O'Sullivan, Enterprise and Community Engagement Manager at MIC, "We need our future population to be able to apply skills within and across disciplines and in real life situations. Therefore, it is of critical importance that both formal and informal educational experience at all levels are innovative, relevant and prepare students with real world skills that are transferrable to the workplace. Empower was a fantastic experience for all involved."
One of the students who participated in the programme said, "Empower has helped me so much in terms of improving my teamwork, creativity and presentation skills, which will be really beneficial for my project in the BT Young Scientist competition this year."
During the four-day programme, students formed teams of six to compete for the titles of 'Overall Winner', 'Best Innovation' and 'Most Creative Pitch'.
Lucy Flaherty from Desmond College in Co. Limerick; Ali Ryan from John the Baptist Community School, Co. Limerick; Ava Carroll from Laurel Hill Coláiste FCJ, Limerick city; Claire Hendy from Sacred Heart School in Tullamore, Co Offaly; and Muireann Duffy from Loreto Clonmel in Co. Tipperary scooped the title of 'Overall Winner'. Blending technology, science and an understanding of eating disorders, they created a device called 'Bounce Back', an AI driven wearable device designed to help tackle the challenges vulnerable people face during times of stress when the risk of relapse can occur.
The title of 'Best Innovation' was awarded to Aisling Cahill and Claudia Lynch from Laurel Hill Coláiste FCJ, Limerick city; Alexandr Arbuzov from Coláiste Mhichíl (CBS), Limerick city; Ayushi Mahajan from Christ King Girls' Secondary School in Cork city; and Julia Wiechcinska and Rebecca Inayat from Coláiste Muire in Ennis, Co. Clare. Their innovation was based around taking UV and UV-C sterilization, a technology currently only accessible in industry and scaling it down so that we can all use it to sterilize our environments each day. The team designed a key ring version of the tool which would beam sterilising ultraviolet light (specifically the UV-C wavelengths) on a surface destroying all viruses and bacteria on it. Their device was designed to make sure this is safe also for the user. This could be used in school or any environment to sterilize door handles, tables and staircase banisters for example helping to reduce the spread of COVID19.
Aisling Clohessy from Coláiste Muire in Ennis, Co. Clare; Anna Graham, Emma Dineen and Eva Mullen from Laurel Hill Coláiste FCJ, Limerick city; and Tommy Rice from Villers School in Limerick city took the title for 'Most Creative Pitch'. They developed the concept for an app titled 'Well Nest', which aims to address the issues of anxiety and isolation amongst young people. Through embracing nature, users of the app can grow their own personal wellness tree, as well as access support tools and a like-minded community of other young people.
Gillian Barry, Head of Innovation and Enterprise at LIT, said, "Most startups fail because they do not meet a market need. We believe that quality of the solution you generate is in direct proportion to your ability to identify the problem you hope to solve. This is key to impactful innovation and was a core focus during the week."
Adding "It was fantastic to see teams, who for the most part did not know each other beforehand, forming and bonding throughout the week with many of them planning to continue to develop their ideas together. Their enquiring minds and ability to question the norm was inspiring and we were delighted to see so many strong ideas forming during the week."
According to Kelly O'Brien, an award-winning innovator and entrepreneur who is also a researcher in LIT, "It was great to support these students as they developed their ability to formulate questions and carry out research." Mark Culleton, COO and co-founder of iDyslex added, "It was a powerful week full of inspirational future business leaders."
For more on LIT go HERE
For more on MIC go HERE
For more stories on education, click HERE