Mid West Bridal Exhibition 2014 Photos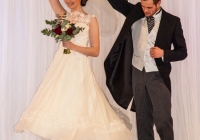 The Mid West Bridal Exhibition 2014 took place on Saturday 4th & Sunday 5th of January at the University Sports Arena, University of Limerick. This wedding event of the year showcased the best of wedding service professionals, with fashion shows throughout the day by The Holman Lee Agency. New this year style workshops "The Style Booth" with Celia Holman Lee and other wedding professionals. For More info visit www.facebook.com/MidWestBridal or www.holmanlee.ie. 
Photos by Dolf Patijn for www.ILoveLimerick.com 2014.