Milford Hospice Memorial Walk 2016  takes place at the end of this month and preparations are under way for the annual fundraiser.
Milford Care Centre is a voluntary, not-for-profit organisation and registered charity. The Milford Care Centre aim to provide the highest quality of care to patients or residents, family and friends, both in the areas of Palliative Care and Services to the Older Person. Because they are a charity some of their funds come from fundraising. The 'History of Milford' started with the Little Company of Mary establishing the nursing home in 1928. Milford Care Centre is not just a Hospice Inpatient Unit, they provide multiple services to our community.  These include Hospice at Home services, a Nursing Home, Day Care for both the Older Person and people with palliative care needs. They also offer Bereavement Support for families. The staff work in conjunction with other health care professionals in the community.
On Sunday 29 May 2016 the Milford Hospice Memorial Walk 2016 will take place at the University of Limerick Sports Arena and finish on the grounds of Milford Hospice. 
The walk will start at 12 noon although participants will be expected to be there at 11:30 a.m. The memorial walk will congregate on the UL Plaza prior to starting and will wind its way around parts of the campus before arriving at a special Memorial Tree on the grounds of Milford Hospice. Personal hand-written tributes by friends and family, in memory of loved ones who have used the services of Milford Hospice will be placed on the tree in coloured ribbons.
Refreshments will also be provided after the walk at Milford Hospice. The walk is open to all levels of fitness and ability. This is a sponsored walk and by taking a sponsorship card or pledging a donation, you will be assisting to fund the new Hospice for the future serving Clare, Limerick and North Tipperary. 
All of the monies raised through the fundraising event will go towards the construction of a state-of-the-art purpose-built 34-bed singled roomed hospice unit serving Clare, Limerick and North Tipperary
Work on the new multi-million euro Hospice is due to start later this year.
Participation in the memorial walk is free of charge but those taking part must register in advance at www.eventmaster.ie.
For more information and for sponsorship cards contact the fundraising department at Milford Hospice at (061) 485589 or email [email protected]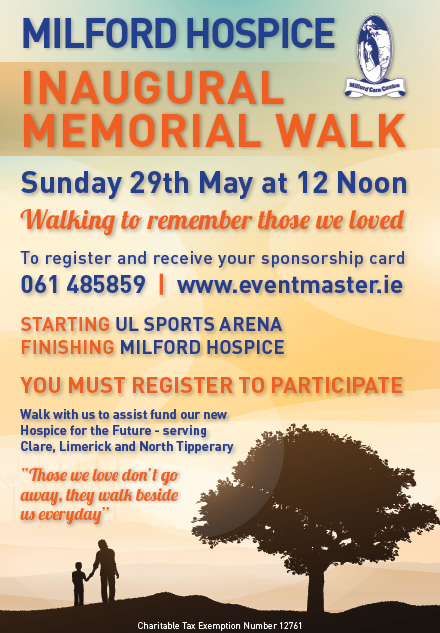 To register and receive your sponsorship card visit the EventMaster website here
Check out the Milford Care Centre website here
Check out their Twitter here
Check out their Facebook here