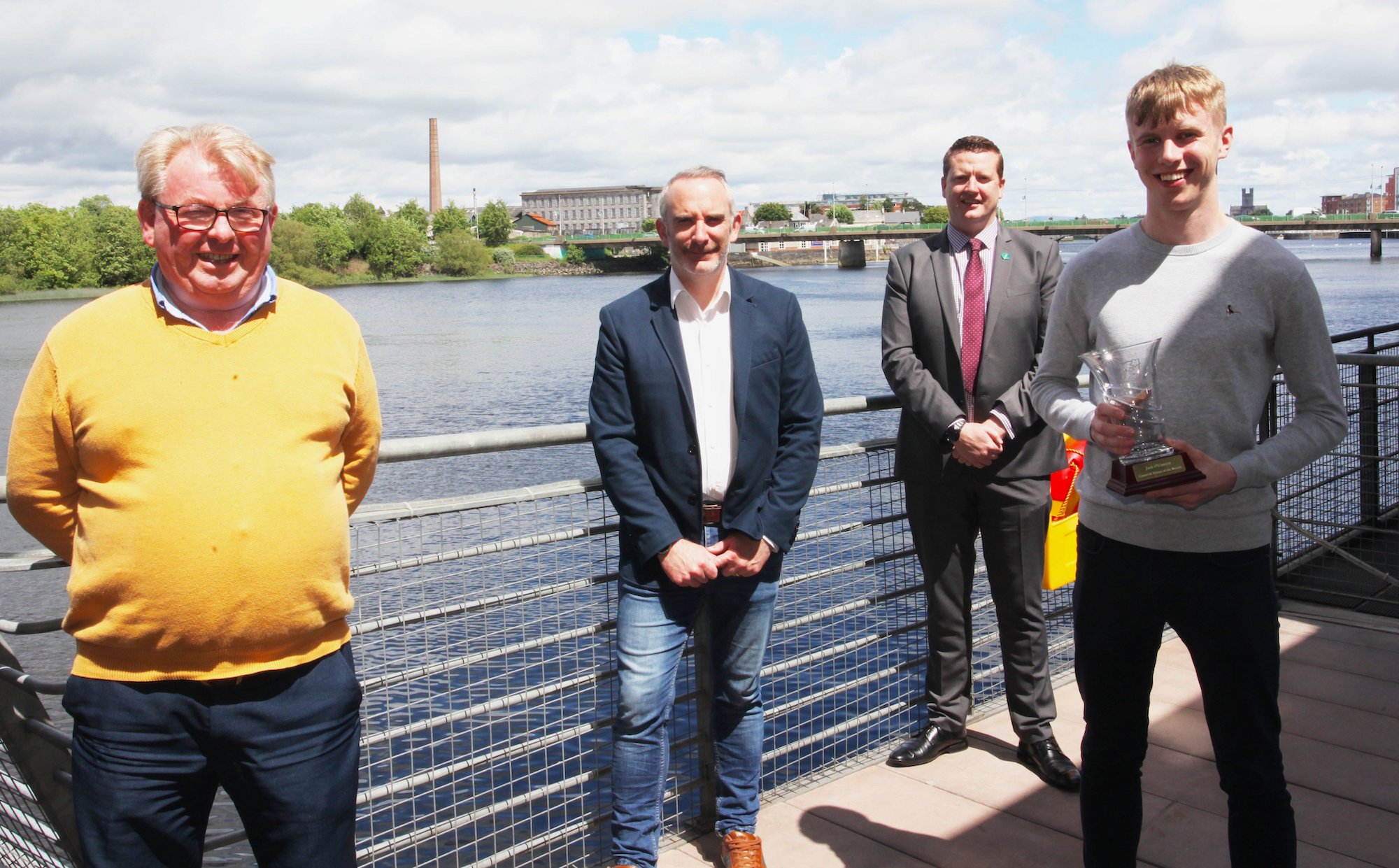 Moyo Nua set up by student social entrepreneur Jack O'Connor to solve agricultural problems in Africa
Moyo Nua founder Jack O'Connor (pictured above) won Limerick Person of the Month for June 2021.
Moyo Nua set up by student social entrepreneur Jack O'Connor to solve agricultural problems in Africa
By I Love Limerick Correspondent Tara Byrne
Jack O'Connor, 22, is a bright young entrepreneur that has received numerous awards and has represented Ireland at an international level. His greatest success to date has been his establishment of the social enterprise start-up Moyo Nua, which has won international business awards and featured on Forbes magazine.
Moyo Nua is a social startup focusing on improving the agricultural practices of smallholder farmers in rural Africa. Its main focus is improving the productivity and effectiveness of hand farming while reducing the labour intensity for the farmers themselves. Jack said, "It's quite an abstract concept, especially coming from west Limerick – but the image I use to illustrate the issue is that of the female farmer that is doubled-over all day using a hoe to plant crops for her family. It's a practice that hasn't been effectively solved yet, and in today's society with all of the innovations and development globally, simply should not be an issue anymore".
"In a nutshell, Moyo Nua makes farming tools that eliminate this issue. The tools are all made in the local region that we operate in, with locally sourced materials. The tools are manufactured by local blacksmiths, which ensures that all value created remains local, rather than be imported from a mass-producer. The tools are distributed out to farmers through our local development partners, who then use them while planting their crops each season. We have just finished up our pilot programme, where we worked with 100 smallholder farmers in the southernmost region (Chikwawa) of Malawi, in collaboration with GOAL Global. The project was funded by the UL Foundation and Citibank Europe, and thankfully we have had enough positive feedback and results to start bringing Moyo Nua to the next level of scale and impact," he added.
The whole project started when Jack entered it as a Young Scientist project in 2017, and won the Science for Development Award sponsored by Irish Aid. A 10-day research and development trip followed, in which he got to see first-hand the potential impact that Moyo Nua could have. From there, Moyo Nua entered Enactus – a global third-level social enterprise competition.
Moyo Nua is involved in the Social Impact Ireland incubator. Jack said, "Being surrounded by people also trying to develop social enterprises is a great environment to be in – even just to ask questions and learn from others' perspectives, experiences, and sometimes mistakes! It's been the makings of Moyo Nua as it transitions from a student enterprise into a fledgling start-up, and has a lot more grounding and knowledge in how best to take it into the next phase of its journey".
Jack from Kilcolman in West Limerick has been shortlisted for the Ten Outstanding Young Persons of the World (TOYP) Award by Junior Chamber International which includes John F. Kennedy as one of its past winners. Last year he was United Nations Youth Delegate for Ireland.
@MoyoNua features on @Zeeko_Education's 'Magical Leaders' education programme, supported by @Entirl!

The programme has been created for 5th and 6th class students, to help foster 21st century skills for problem-solving and innovation. pic.twitter.com/uukX7Ml62P

— Moyo Nua (@MoyoNua) April 30, 2021
He is one of this year's cohort on the Washington-Ireland programme due to take place across June and July. Sadly, due to the Covid-19 pandemic, the University of Limerick international business student will not be able to travel to the American capital to take part as all sessions this year are taking place virtually.
It's no surprise that young University of Limerick student Jack won Limerick Person of the Month this June 2021. Speaking on this, he said, "It was a great honour to receive this award, to be honest, I was shocked when I received the call! It's great to have the support from the county for the work that's been done over the years; Limerick has always been home for me – it's where I've grown up and developed – so having this recognition really is a great honour to have".
For Jack, the biggest thing that he has learned along the way is that everything takes time, and to be patient and cut yourself some slack. For a very long time, Jack found that he was driving himself into the ground by working too hard and on too many things, which gave him his fair share of harsh lessons around burnout and the importance of self-care along the way.
He said, "A big one for me that I've learned is the importance of chasing your curiosities and being open to going down rabbit holes and routes that may be non-traditional or not something that is done frequently. Moyo Nua is a great example of this. I can safely say that if you asked me 5 years ago when the first planter design was made if I would be leading Moyo Nua to a post-pilot scale-up I would have wholeheartedly disagreed with you and thought you were crazy for even suggesting it! It's important to follow your interests and your passions, which can and will change as you develop and progress yourself, but it's also important to work hard on ensuring that if you want to turn these passions into a livelihood, that you make sure it can be financially sustainable and will be able to support you and your goals as things move on".
For more stories about Jack O'Connor go HERE
For more information about Moyo Nua go HERE