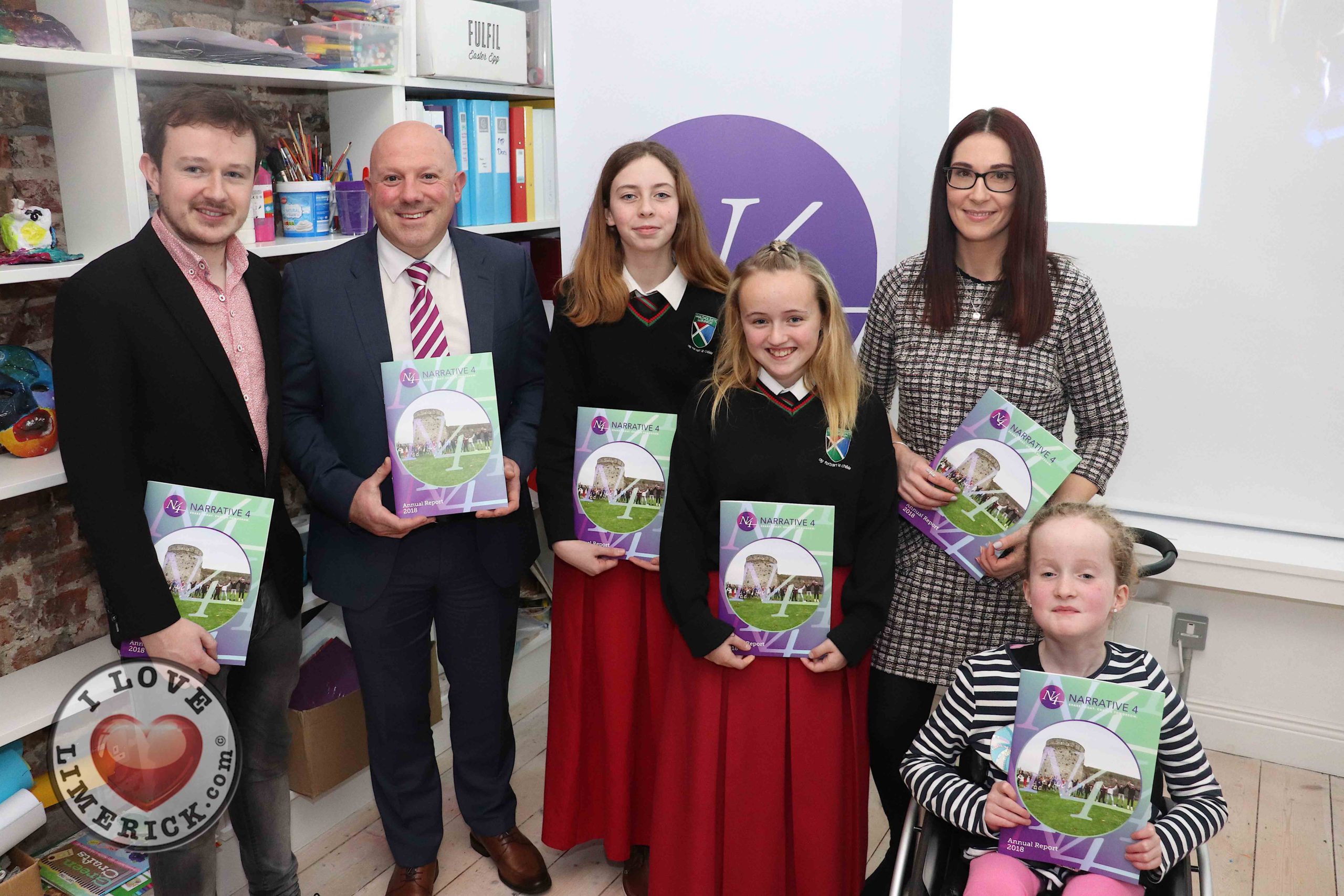 PHOTOS: Narrative 4 Ireland's Annual Report 2019 shows huge progress made in the past year
Narrative 4 Annual Report: Pictured at the Narrative 4 Annual Report on Thursday, November 28. Picture: Kate Devaney/ilovelimerick.
Narrative 4 Ireland's Annual Report 2019 shows huge progress made in the past year
We are here @narrative4 for their annual report! James is filling us in a little on the project & why we're here this evening! #ilovelimerick #lovelimerick #lovinlimerick pic.twitter.com/MzyeZzg1Ff

— #LimerickTilliDie (@ilovelimerick) November 28, 2019

Narrative 4 Ireland launched its Annual Report in Limerick on Thursday, November 28. The national youth organization, based in Limerick was celebrating its success in establishing a new program in secondary schools across Ireland that promotes social and emotional skills in youth.
James Lawlor, the Regional Director of Narrative 4 Ireland said, "In the 2018/2019 academic year we trained 46 secondary school teachers and 53 youth workers to deliver the Story Exchange program in schools across Ireland. The Story Exchange is an evidence-based teaching method that addresses poor youth mental health and coping skills. Our plugged-in high-pressure culture is taking its toll on young people; the Story Exchange is a tool for teachers to build peer support and a culture of empathy amongst young people."
Donncha Ó Treasaigh, the Director of Schools with Limerick and Clare Education & Training Board, launched the report stating, " The Story Exchange is a powerful toolkit for schools in complimenting the wellbeing element to our programs on offer to students. Our schools have noted a marked transformation of attitudes amongst the young people who have undertaken this program where they demonstrate a greater awareness of their own feelings and empathy for others. I'm delighted to launch its inaugural report"
The Narrative 4 program was developed in the USA and now operates in schools across 18 USA States. The organization opened in Limerick in 2016 with the assistance of J.P McManus Benevolent Fund and Limerick City and County Council. The program recently won the Youth Mental Health Award for the innovation of its approach to youth wellbeing.
About Narrative 4
Today, Narrative 4 is working on four continents, twelve countries, and 18 US states. Their work is rooted in the N4 story exchange – equips people to use their stories to build empathy, shatter stereotypes, break down barriers, and – ultimately – make the world a better place. If we share today, we'll change tomorrow. Their global headquarters are located in New York City and we opened our first physical space in Limerick, Ireland in September of 2016.
For more information about Narrative 4 and to access the report, click here.
For more stories about Narrative 4, click here.
Picture: Kate Devaney/ ilovelimerick