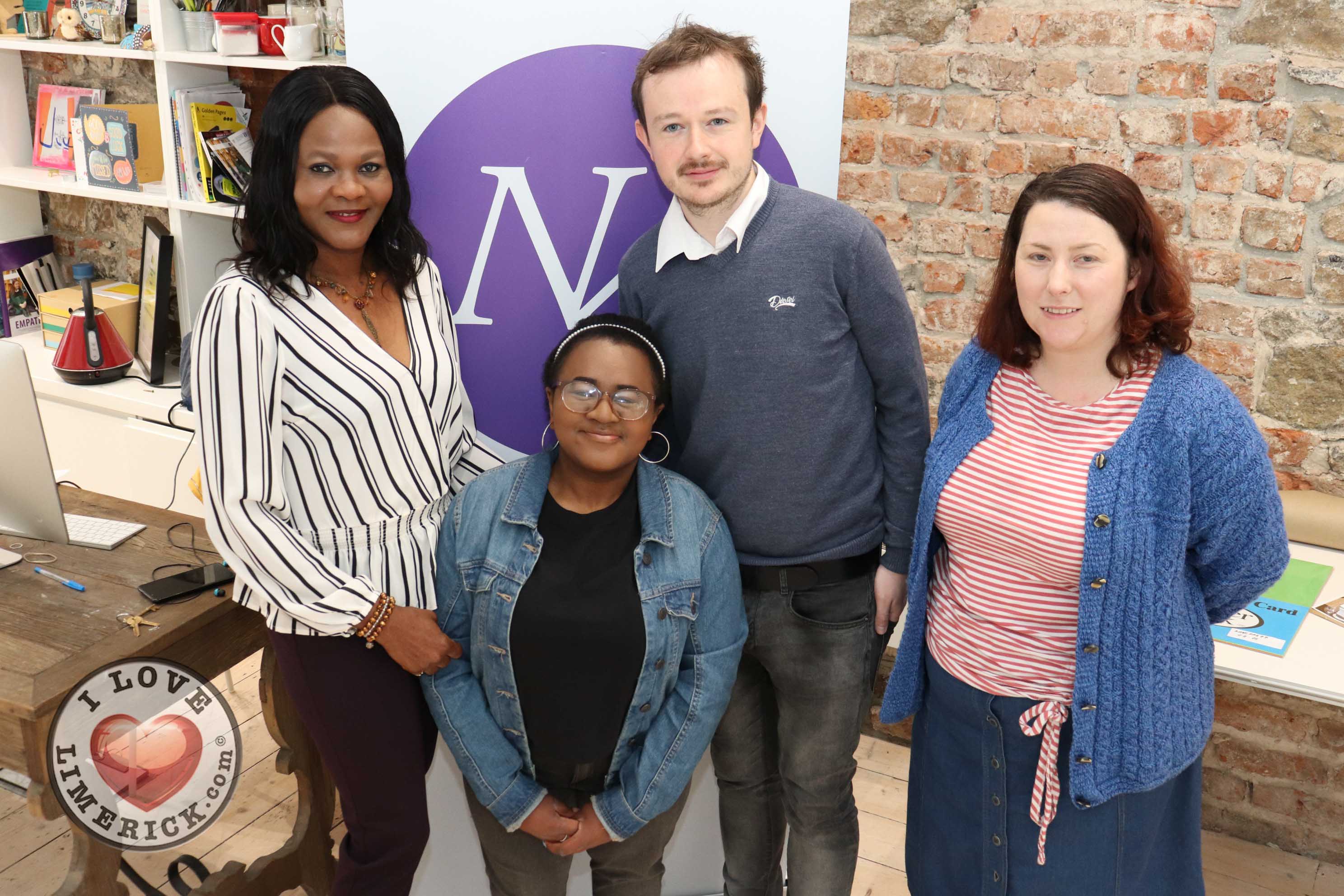 PHOTOS & VIDEO – Two Limerick Students set to bring their stories to New Orleans for Narrative 4 Global Summit
Pictured at the Narrative 4 Office on O'Connell Street are Jumoke Oyewo, Mercy Oyewo, winner of the Glucksman N4 2019 Scholarship James Lawlor, regional manager of Narrative 4 Limerick and Bernadine Carroll, program and development officer. Picture: Conor Owens/ilovelimerick.
PHOTOS & VIDEO – Two Limerick Students set to bring their stories to New Orleans for Narrative 4 Global Summit
Two young people from Limerick have been chosen to travel to New Orleans to represent Ireland in the Narrative 4 Global Summit for change-makers. The Narrative 4 Global Summit will bring together young people who are involved in the organisation from around the world, including South Africa, Palestine, Israel, Mexico and the United States over 5 days from June 20th to the 25th.
The two young people, Alex McCarthy and Mercy Oyewo, are the recipients of the Loretta Brennan Glucksman Summit Scholars award which recognises youth leadership in Limerick.
Alex finished secondary school in SMI Newcastle West in 2017 and has previously attended the Global Summit last year. Mercy is currently a student of Gaelcholáiste Luimnigh and is travelling to the Summit for the first time. Mercy's teacher at the Gaelcholáiste Luimnigh Paula O'Sullivan commented "Narrative 4 empowers my students to engage and understand real people while feeling listened to and understood themselves. Building empathy is instrumental in the development of our young people, they are the leaders, teachers, doctors and legislators of tomorrow."
This is the eighth annual Global Summit for Narrative 4, which acts as a capstone of the organisation's yearly progress. The Summit will focus on empathetic youth leadership and will bring together young people from across the globe.
Narrative 4 Ireland opened its doors in Ireland in 2016 and is supported by J.P McManus Benevolent Fund, Creative Ireland, SIFI, Limerick City and County Council and other donors. Currently with a reach of 20 schools, and a busy programme of workshops and events in its city centre story-telling hub. Narrative 4 harnesses the power of story to build empathy in society, with the belief that the leaders of tomorrow will be created by instilling empathy and emotional resilience at a young age.
Regional Director of Narrative 4 in Limerick James Lawlor said "We empower young people with skills to develop empathy. These are vital skills that are needed for the 21st century. We have a growing evidence base and an ongoing CPD programme that teaches secondary school teachers and youth workers how to deliver Narrative 4 Story Exchanges"
The core methodology of Narrative 4 is called the 'story exchange.' In a story exchange, individuals are randomly paired together and each participant shares a story that in some way defines them. Afterwards, each partner is responsible for telling the other person's story, taking on the persona of their partner, and telling the story in the first person. Narrative 4 uses these story exchanges, in tandem with creative writing and the visual arts, to foster empathy among diverse populations and to turn that empathy into action.
Today, Narrative 4 is working in four continents, twelve countries, and 18 US states. Their work equips people to use their stories to build empathy, shatter stereotypes, break down barriers, and ultimately make the world a better place.
For more information on Narrative 4, click here
For more stories featuring Narrative 4, click here
Photos: Conor Owens/ilovelimerick.