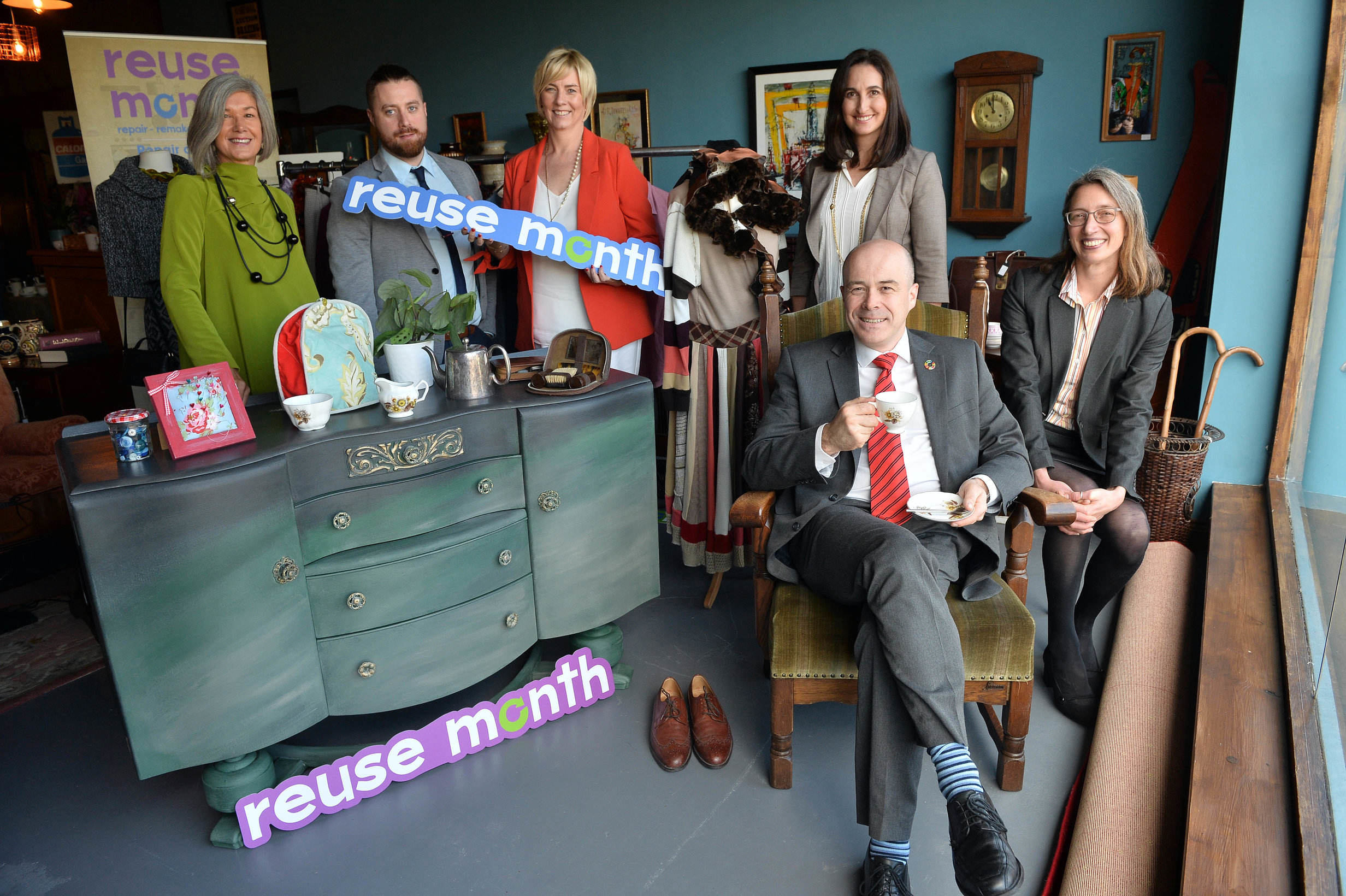 People of Munster are encouraged to Reuse at Home, at Work and at Play this October for National Reuse Month
At the launch of National Reuse Month 2018 in Roscommon, Denis Naughten TD, Minister for Communications, Climate Action and Environment pictured with from left, Pauline McDonogh, Regional Waste Prevention Officer, Southern Region Waste Management Office, Declan Breen, Regional Waste Prevention Officer, Eastern-Midlands Region Waste Management Office, Sinéad Ní Mhainnín, Regional Waste Prevention & Resource Efficiency Officer, Connacht-Ulster Region Waste Management Office, Christine Costelloe, Campaign Coordinator, PR and Media Liaison, Community Reuse Network (CRNI) and Claire Downey, Executive, Community Reuse Network (CRNI). Picture: Ray Ryan
People of Munster are encouraged to Reuse at Home, at Work and at Play this October for National Reuse Month
More than 20 events will take place across Munster and the South East of Ireland this October as part of National Reuse Month 2018, including a seminar which will discuss how businesses in the region can benefit from a Reuse policy and a circular economy.
Ireland's three Waste Management Offices (Connacht/Ulster, Eastern/Midlands, and Southern) supported by Ireland's 31 local authorities and assisted by the Community Reuse Network Ireland (CRNI) are encouraging people to reuse more in their everyday lives at home, at work and at play this October.
Reuse at work will take centre stage at a special seminar, Moving Towards a Circular Economy, hosted by Tipperary Green Business Network on Wednesday, October 17, 2019, in the Horse & Jockey Hotel, Thurles, from 9 am to 1 pm. Businesses from all over Ireland will hear from experts and practitioners working in the circular economy.
Businesses will hear from experts and practitioners who are working in the Circular Economy and Reuse, including Jean Clarke from the Department of Communications, Climate Action & Environment on the topic Circular Economy: Focus on Plastics, and Claire Downey of Community Reuse Network Ireland who will be speaking about Reuse Everyday: How businesses can join the circular economy.
An office display demonstrating reuse in the workplace containing items from Back2New Upcycling, Camara, and Irish Charity Shops Association will also be at the event, with attendees invited to bring second-hand office supplies and business books to trade in the "office swap shop".
Speaking ahead of the seminar Tipperary Green Business Network Chairperson Sean O'Farrell highlighted the many benefits of Reuse in business and the circular economy.
"Successful circular initiatives reduce dependence on dwindling natural resources and creates value for businesses and their stakeholders, as well as bringing enormous benefits to the wider society," he said.
Pauline McDonogh, Waste Prevention Officer with the Southern Region Waste Management Office said, "Reuse is about valuing what we have, by using and reusing it for as long and as often as possible. We are delighted that so many businesses and voluntary organisations across the country have come on board to showcase how easy and cost effective it can be to reuse goods.
"Here in the southern region, we have a variety of events, from a "Best Recipe to Prevent Food Waste" competition taking place in secondary schools in Waterford and Wexford, to a community-based event that brings life to old handbags in Co Carlow, entitled "A new life for the Auld Bag". In Cork, there will be a number of events including a special Glitz & Glamour Fashion Show, with many more exciting and innovative shows, demonstrations and information points across Clare, Limerick and Kilkenny."
Claire Downey CRNI Executive paid tribute to all the event organisers throughout National Reuse Month 2018 and encouraged those who cannot attend an event in their locality to check out some easy Reuse tips here.
"Most people reuse items on a daily basis, whether it is borrowing a book from a library or a friend, shopping for a special present in an antique shop or passing on a school uniform from one child to the next. Reuse Month is about building on that good work, and becoming more aware of how we can reuse even more everyday items rather than just disposing of them."
A full list of National Reuse Month 2018 events can be found here on the National Reuse Month Website.
For more information on National Reuse Month go here.
For more stories on the environment go here.