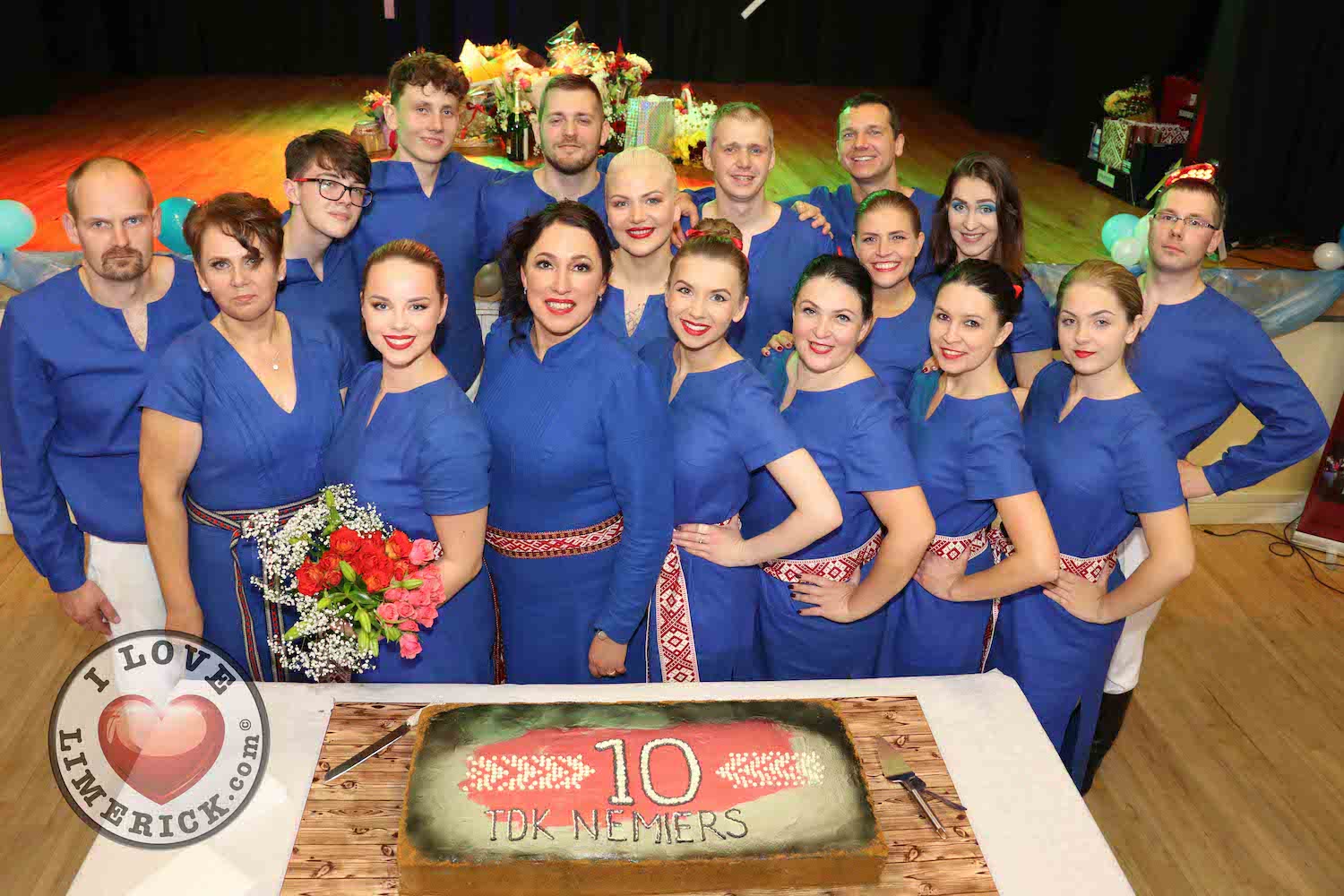 Nemiers Latvian Folk Dance Group celebrate a decade of bringing communities together through dance
Nemiers Latvian Folk Dance: Limerick Latvian dance group Nemiers celebrated its 10th anniversary at the Millennium Centre in Caherconlish on Sunday, October 27, 2019. Pictured with the dance group is Aiga Kunicka (4th from left, front row) who was the group's Artistic Director until August 2019 and the event also served as her farewell party as she and her family were moving back to Latvia. Picture: Richard Lynch/ilovelimerick.
Nemiers Latvian Folk Dance Group celebrate a decade of bringing communities together through dance
By I Love Limerick correspondent Kate Devaney
Nemiers Latvian Folk Dance group recently celebrated its ten-year anniversary at Millennium Centre in Caherconlish on Sunday, October 27.
The founder of the group is Aiga Kunicka, who at the beginning would search for people with dance experience between circles of friends and the Latvian community in Limerick, and just like that, the group was formed. Aiga has recently decided to return to Latvia and her work was also celebrated at the anniversary.
Agnija Suplinska, a member of Nemiers, said, "She is an amazing teacher and such a lovely person, the dance group will truly miss her. We have all learned so much from her and are very thankful for all of her hard work and dedication throughout the years. I don't know how she put up with us over the years!".
The dance group has been bringing Latvian communities together for the past ten years, with their aim being to hold onto their Latvian roots and to give people a taste of home. They also want to share their culture with Ireland and show people their traditional dance.
Agnija Suplinska said, "When I moved to Ireland at the age of 11 I thought I would never dance again, luckily in my teens, I stumbled across the dance group and I was over the moon to be dancing again. All in all this group has allowed me to reignite my passion for dancing and to show the world what Latvian dancing is all about."
They consist of 16 members are to become a member, all you need to have is an interest in dancing and an eagerness to learn. They practice twice a week all year round, only taking a short hiatus over summer. They attend events all throughout the year, including culture and street festivals, fundraisers, and on occasion have danced at nursing homes.
One of the biggest events they attend is the Latvia Dance Festival called 'Dziesmu un Deju Svetki', which takes place every four years in Riga, Latvia and can be described as the Olympics for Latvian dancing. Over 40,000 thousand people attend and it all takes place in a stadium where the participants elaborate shapes and symbols through the art of dance. Nemiers performed there in the summer of 2018.
Aiga Kunicka said, "My time with my dance group Nemiers has been the most interesting time that I've spent while living in Ireland. Having the chance to travel all around Ireland to participate in a variety of events, has been a truly wonderful experience. We introduced Latvian dancing to Irish society which has been amazing. Even though we are living outside of our country, we've always tried to hold onto our culture. I am so thankful to all of my dancers for their perseverance and determination throughout these years. I am hopeful that the dance group will continue the traditions we have started.''
For more information on Latvian Folk Dance, click here.
For more stories on communities, click here.
Pictures: Richard Lynch/ ilovelimerick