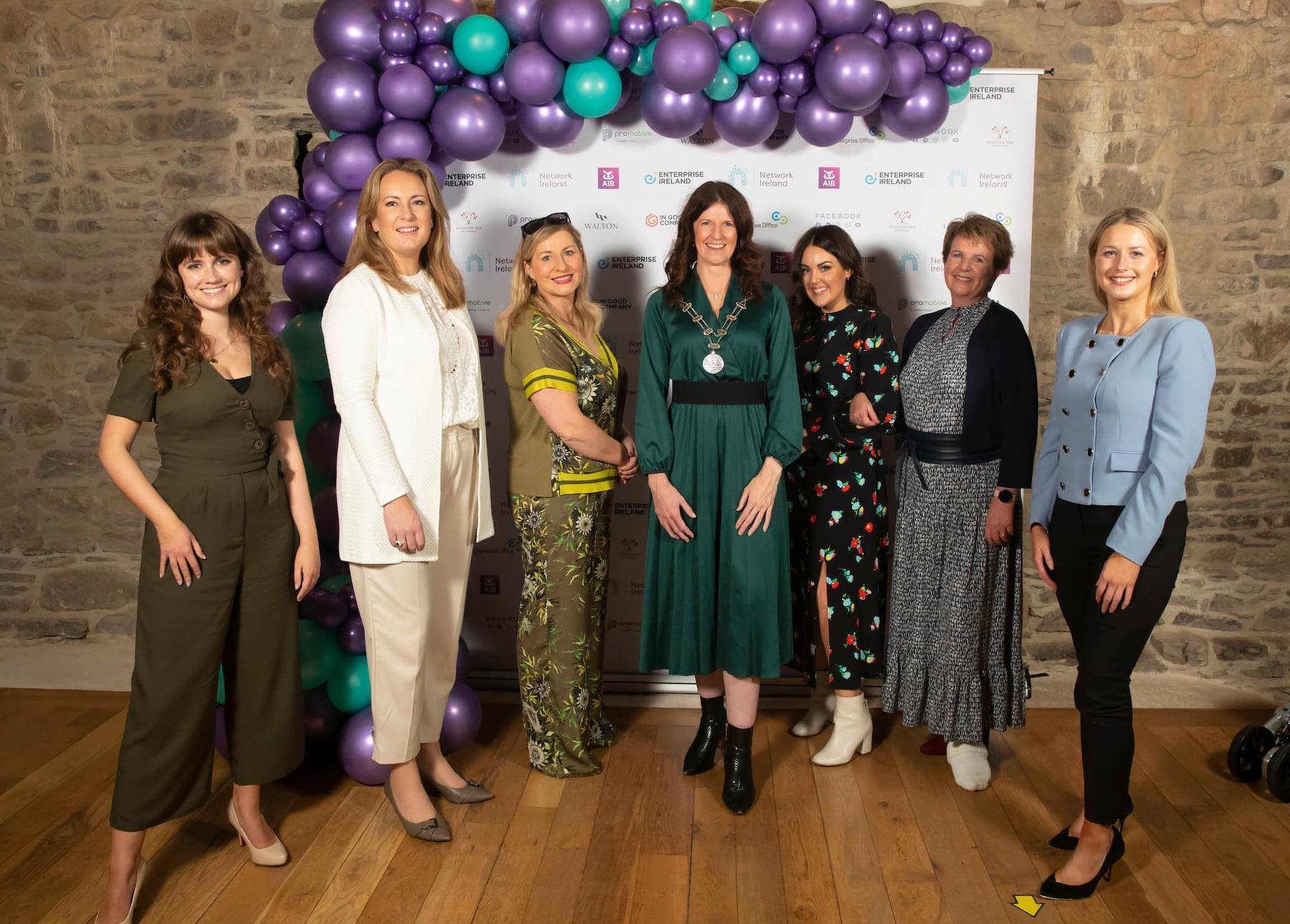 Network Ireland Limerick and Clionas Foundation partnership sees over €1k raised for the charity 
Network Ireland Limerick and Clionas – Pictured above are members of Network Ireland Limerick with winners of the Network Ireland Limerick Businesswoman of the Year Awards 2021
Network Ireland Limerick and Clionas Foundation partnership sees over €1k raised for the charity
By I Love Limerick Correspondent Ann Mc Donald
Network Ireland Limerick is delighted to announce that they have raised €1,355 throughout 2021 for their charity partner Cliona's Foundation.
All funds raised will go directly to Cliona's so that they can continue alleviating families who have a child/children with life-limiting or chronic complex care needs with their financial, non-medical costs while looking after their sick child.
Network Ireland Limerick would like to thank both their members and non-members for their support and donations throughout the year.
While fundraising has been difficult to do due to the pandemic, Network Ireland Limerick managed to raise funds through ticket sales for events such as their Business Woman of the Year Awards, Awards Celebration Evening, their virtual Christmas Cook-Along with Eoin Sheehan, and more.
The year-long partnership between Network Ireland Limerick and Clionas Foundation began in January 2021. Caragh O'Shea, the President of Network Ireland Limerick, chose Cliona's as their charity partner for 2021 after having worked with the Limerick-based charity on several events in the past.
Speaking at the launch of the partnership last year, Brendan Ring, Co-founder and CEO of Cliona's Foundation, said, "We are absolutely delighted to have been selected as Charity Partner by this fantastic network for a platform to raise awareness of the work we do. The Limerick Network, led by their President Caragh O'Shea and committee, is a very dynamic and proactive group of professionals and we are really looking forward to working with them for the next twelve months."
Delighted to announce NIL raised €1,355 throughout the year for our Charity Partner @clionasfoundation ??
Funds raised will go directly to a family to help alleviate their financial, non-medical costs while looking after a sick child. Thank you to our members and non-members! pic.twitter.com/vDsgBfVqzR

— Network Ire Limerick (@NetworkLimerick) December 18, 2021
"Covid has been challenging for everyone and in particular Charities. Partnerships like this generate awareness but also funds that are extremely important to enable us to continue helping families of seriously sick children."
Network Ireland Limerick was established in 1983 and is a progressive, dynamic organisation supporting the professional and personal development of women.
Network Ireland Limerick is a non-profit, voluntary organisation that aims to provide a forum where professional women can exchange ideas and increase business contacts.
Cliona's Foundation is a national Charity with their office in Limerick that provides financial assistance directly to parents of children with life-limiting or chronic complex care needs across Ireland to help with the non-medical expenses related to caring for their child.
The foundation was set up by Brendan and Terry Ring, following the death of their daughter Cliona, from an inoperable brain tumour in 2006 aged 16.
For more about Network Ireland Limerick go HERE
For more about Cliona's Foundation go HERE
For more stories about Network Ireland Limerick go HERE