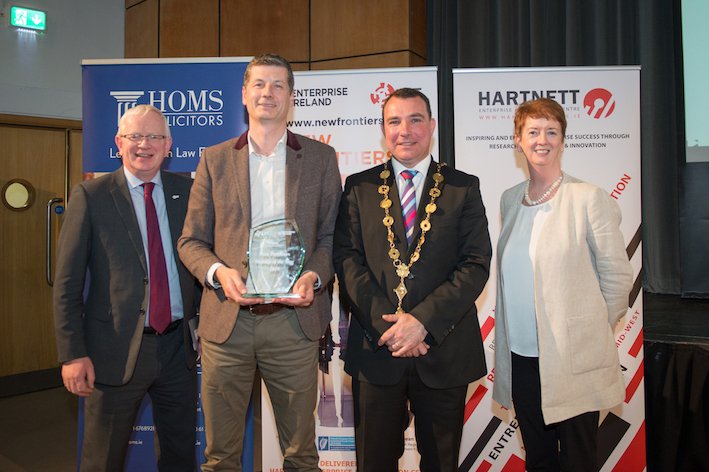 Four of the MidWest's Most Promising Start-Ups win prestigious New Frontiers Awards 2019 at ceremony in LIT
New Frontiers Awards 2019, ceremony which took place on 15th May in LIT – LIT Startup of the Year, 2019 – from left to right: Prof Vincent Cunnane – President LIT, Ivan Touhy, CEO & Founder, Great Ireland Experience / Winner, Councillor James Collins, Mayor of the City & County Limerick, Paula Carroll – National Programme Manager / Enterprise Ireland.
Four of the MidWest's Most Promising Start-Ups win prestigious New Frontiers Awards 2019 at the ceremony in LIT.
New Frontiers Awards 2019, A software solution for visitor attractions, a wine with a distinctly Irish flavour, a company that grows Cannabis Sativa and a company aimed at providing professional development to teachers were the big winners at the New Frontiers Awards 2019.
A total of 14 new business leaders from the acclaimed New Frontiers programme showcased their start-up companies at a ceremony in the Millennium Theatre at LIT, Moylish Campus on Wednesday, May 15, 2019.
New Frontiers is the national entrepreneur development programme funded by Enterprise Ireland and delivered by LIT at the Hartnett Enterprise Acceleration Centre.
The programme focuses on developing core entrepreneurial and leadership skills and opening up networks for promising entrepreneurs who have ideas with international potential.
Popular among entrepreneurs who have an innovative business idea and plan to establish a company in Ireland, the New Frontiers programme is already accepting applications for Phase 1 of its next Entrepreneur Development Bootcamp Programme. The closing date for all applications is noon on Monday, July 8, 2019.
Vice President for Research Development and Innovation LIT Dr Liam Brown described New Frontiers as a truly national programme with a significant regional outreach.
"LIT is delighted to be the lead partner in this region but we cannot do it alone – it takes a community. We had more than 70 people supporting the participants for this year's New Frontiers Phase 2. Mentors, guest speakers, guest facilitators, workshop hosts, advisors, members of the professional service organisations in Limerick and beyond and more."
Speaking about the benefits to the entrepreneur Dr Brown said, "The results from this elite programme for startups is rewarding, and is recognised as a huge driver of success by many of the prosperous indigenous companies in the Mid West. It provides help and support to accelerate business development and equips participants with the skills and contacts required to successfully start and grow their company.
Previous New Frontier participants have told us time and time again, that being accepted onto and then completing the New Frontier Programme is like wearing a badge of quality in the business world. It means you have been recognised as a viable business, you have the skill set to succeed, and there is a willingness for other businesses to meet and negotiate with you after the successful completion of the New Frontiers programme."
According to Paula Carroll, Enterprise Ireland New Frontiers Programme Manager, "New Frontiers is a critically important programme within Enterprise Ireland's offering. It is the national entrepreneurial development programme and helps start-ups on their journey, with expertise and funding. I am very impressed with the 2019 LIT cohort, which is a particularly strong group and I wish them well on the further development of their companies"
The New Frontiers' end of year ceremony further recognises the entrepreneurship and innovation through awards for Startup of the Year, Finalists of the Year and Showcase Winner.
New Frontiers 2019 Winners:
Startup of the Year 2019
The 2019 New Frontiers Startup of the Year is Ivan Tuohy.
Ivan Tuohy set up Great Ireland Experiences as a software solution for Visitor Attractions. It has a frontend App for the visitor and is smart, intelligent, automated software for the attraction. This innovative app enables attractions to load all content to a single space, capture rich customer data and customise and personalise their sales offerings.
Finalist 2019
The judges named Ciara McGuane as Showcase Winner 2019.
Ciara McGuane is making professional development accessible for teachers – anytime, anywhere with her company Rahoo.
Finalist 2019
Finalist 2019 was also awarded to Laura Jayne Foley.
Laura Jayne Foley is the founder of Canabaoil Ltd. Canabaoil is an Irish company growing Cannabis Sativa under licence from the Department of Health and producing legal, non-psychoactive cannabinoid-rich resin for the National and International wholesale ingredient market.
Showcase Winner 2019
Brendan Reddin and Trisha Kelly are named as 2019 Finalist.
Brendan Reddin and Trisha Kelly founded BT Wines with a view to creating a range of premium wines which have a distinct Irish aspect. Their introduction of Irish Peat to the process brings a unique and distinctive Irish element to grape varieties everyone knows and loves.
Congratulating the New Frontiers graduates Prof Vincent Cunnane, President of LIT, emphasised the important role played by New Frontiers entrepreneurs in Irish business.
"Through innovation, dedication, hard work and newly acquired New Frontiers skillsets, these entrepreneurs will develop sustainable businesses that are driving the economy forward and impacting on society.
It is homegrown businesses like these that are the bedrock of our local economies, rural and urban, while also positively influencing our national economy.
At LIT we want to facilitate, support and grow that sense of leadership, that sense of innovation, that entrepreneurial instinct, that passion. We want to help businesses succeed. LIT looks forward to continuing our support as these businesses grow and prosper."
Congratulating the entrepreneurs on their passion and bravery, Dr Brown said, "LIT has been fortunate to be part of your journey supporting the hard work you have put into your businesses through the New Frontiers Programme. You are indeed a group with global ambition and we look forward to continuing our support as you start and grow your businesses."
The 2019 New Frontier Graduates included:
Ciarán Lohan & John O'Keeffe
Ciarán Lohan & John O'Keeffe made it to the New Frontiers Programme with their company Kelo Technical Solutions. The company focuses on innovative tattoo technologies, to ensure a better experience for artists and customers.
Cristiona Ni hIcí
Cristiona Ni hIcí remained close to her county Clare roots when she set up Céile. Céile specialises in Broth's and Kombucha using locally sourced organic ingredients. No stranger to award success Cristiona won Best Start Up Clare IBYE 2017.
Emer Flannery
Emer Flannery founded Kocoono, a company that produces weighted blankets that support mental wellness, naturally, by utilising sensory stimulation and deep touch pressure, optimising restfulness and the physical and mental benefits of a great night's sleep.
James Moriarty & Cian Conway
James Moriarty & Cian Conway's company ProActive Stats provides amateur sports teams with the digital platform to crowdsource the capture of player's actions in training sessions and matches. The collaboration between coaches, players and supporters gathers the information necessary to improve decision making, performance and fan engagement.
John Carr
John Carr founded Offerre Limited to provide supply chain services to companies in the Irish Business Sector, focusing primarily on companies in the Healthcare and Health Tech sectors. The company delivers supply chain design and setup throughout the product journey from product design to delivery.
Kevin Walsh
With his company, Fuel For Fitness, Kevin Walsh creates 60-second Tasty & Low-Calorie Video Recipes for active people. The company is best known for its fakeaway recipes, which includes a 400 calorie pizza, communicated through a 60 -Second Video Tutorial.
Kieran Kyne
Kieran Kyne founded Blade Check Ltd, which ultimately checks the blades used in wind farms using drones to carry out inspections and developing innovative software to automate the process. This method of checking the blades eliminates much of the danger associated with the process, while also being very economical.
Laura Enache
Laura Enache is on-point with her company UpPointe Creations – a digital dance coach. The company offers an AI wearable shoe insert and a coaching app that help dancers to be physically healthier, avoid foot and ankle injuries, perform correct movements and become better at their art.
Stephen Mc Garvey
The Food Connection is a market-based solution for commercial food waste established by Stephen Mc Garvey. Fast, casual and Food on the Go restaurants who want to become sustainable food businesses can use this food tech platform to sell their surplus food at discounted prices to target customers nearest to their restaurant in real time.
Thippeswamy Sannaveerappa
Thippeswamy Sannaveerappa has an Innovative solution to single-use plastics. His company EcoEat introduces the edible cutlery range that helps everyone to reduce global plastic pollution in small steps.
New Frontiers Awards 2019 New Frontiers Awards 2019
For more information, click
here
For more stories on business in Limerick, click
here