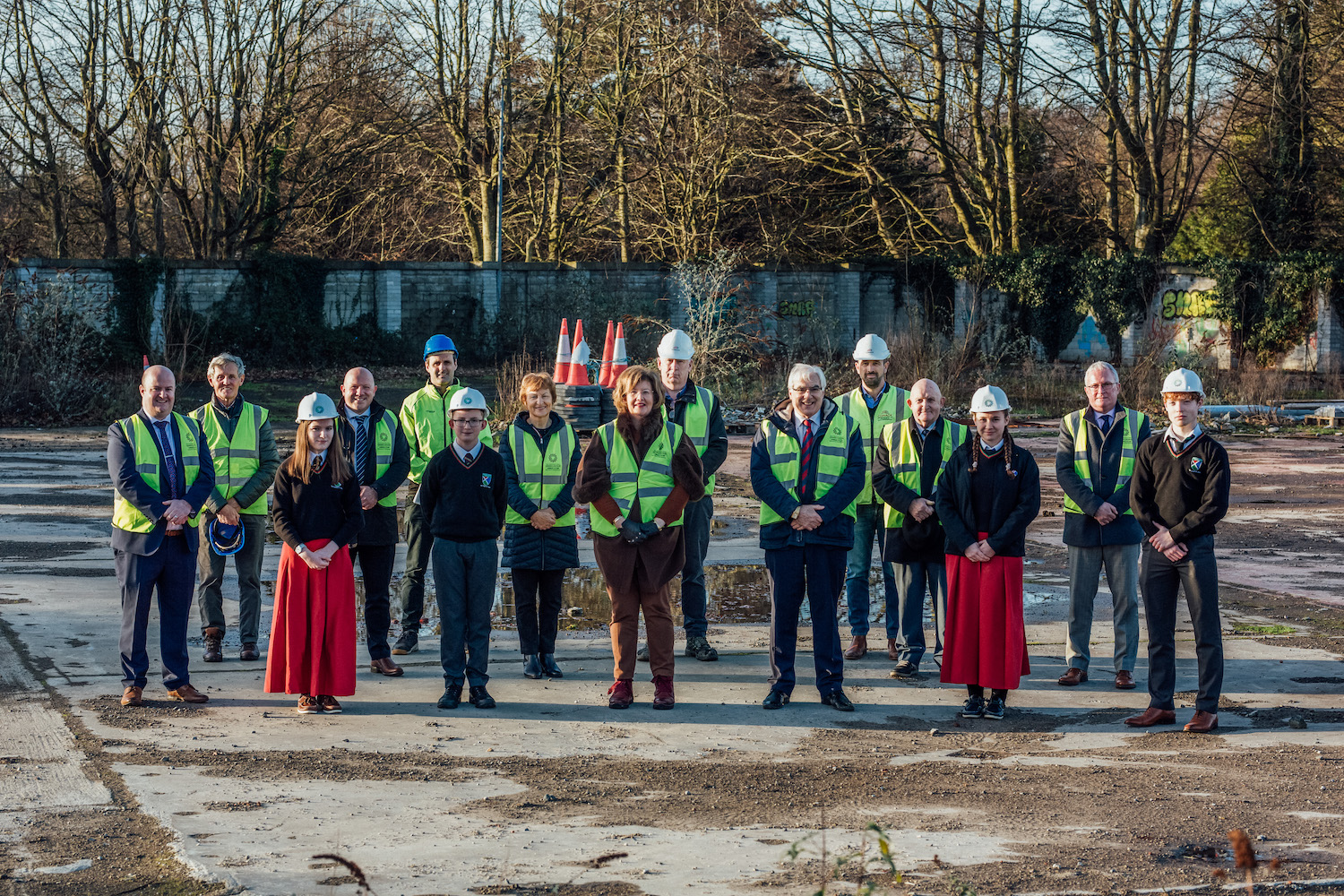 New Year Welcome for Commencement of Construction at Site of Multi-Million Euro New Gaelcholaiste Luimnigh School Campus in Limerick City
New Gaelcholaiste Luimnigh School Campus – Pictured at the commencement of construction of the new campus at Clare Street in Limerick: GCL Students Mary O'Callaghan, Fionnán Ó Morlaí, Ríona Furlong and Eoghan Griffin; Kevin Ó Raghallaigh, GCL Principal; Senator Maria Byrne, Chair of GCL Board of Management; George O'Callaghan, ETB Chief Executive; Donncha Ó Treasaigh, ETB Director of Schools; Shelagh Graham, ETB Director of Organisation Support and Development; Eamon Murphy, ETB Head of Capital and Procurement, Kieran O'Hanlon, ETB Chairperson; David and Mark Thompson, Thompson Architects; and Tom O'Connor and Michael Forde, Conack Construction. Picture: Brian Arthur
New Year Welcome for Commencement of Construction at Site of Multi-Million Euro New Gaelcholaiste Luimnigh School Campus in Limerick City
Limerick and Clare Education and Training Board today marked the commencement of the multi-million euro development of the new Gaelcholaiste Luimnigh school campus on Clare Street in Limerick City. The commencement was marked by Gaelcholáiste Luimnigh students at the site on Clare Street. Also in attendance was George O'Callaghan, ETB Chief Executive, along with the Chair and senior management of the school's patron, as well as the Principal and the Chair of GCL's Board of Management, the project design team and the main contractor.
Gaelcholáiste Luimnigh is an All-Irish co-educational secondary college where all subjects are taught through the medium of Irish. Its current enrolment is 680 students and it is an inclusive, modern and dynamic school with a clear emphasis on creativity and innovation, with technology a central theme of its teaching and learning environment. Gaelcholáiste Luimnigh was recognised as the first Apple Distinguished School in Ireland and is regarded as a centre of leadership and educational excellence with a clear vision for how technology-rich environments support learning. Physical Education and sports also play a pivotal role in Gaelcholáiste Luimnigh with many talented athletes like Irish Paralympian Swimmer Róisín Ní Riain, attending the school.
Speaking at today's commencement, Chief Executive, George O'Callaghan, said: "Limerick and Clare Education and Training Board is delighted that work can commence on the construction of a new Gaelcholaiste Luimnigh school campus on this landmark site. The modern architectural design of the new school will provide a fitting backdrop to the excellent educational reputation that the Gaelcholáiste has earned." He continued: "I would like to thank all those involved: staff, students and their parents, members of the Board of Management, and local public representatives for their commitment to ensuring that the project would reach this point."
The new 8,000m² school to accommodate 750 students involves an investment of more than €20m by Limerick and Clare Education and Training Board, funded by the Department of Education's Capital Programme for Post-Primary Schools. The Design Team for the state-of-the-art new building is headed up Thompson Architects and includes Rogerson Reddan, Downes & Associates, Don O'Malley & Partners and Integrated Risk Solutions.
Also speaking at today's commencement, Gaelcholáiste Luimnigh Principal, Kevin Ó Raghallaigh, said: "Today is a fantastic day for the school. The location of the new campus has been very warmly welcomed by parents and students given its proximity to the current school location, in one of the oldest parts of Limerick City. We are very much embedded in the local community, working closely with local businesses and services, and we look forward to continuing these strong links from our new campus. Gaelcholáiste Luimnigh takes great pride in placing our students at the centre of our school, to ensure that each student reaches their full potential. Students and staff work extremely well together to achieve this and our wonderful new ultra-modern campus will further strengthen this by providing state-of-the-art facilities."
Located on the former Kerry Group site on Clare Street, the campus will comprise seventy teaching spaces including five Science Laboratories, two Home Economics Rooms, Art and Textiles Rooms, Technical Graphics, Construction Studies, Engineering and Multimedia Rooms, together with a PE Hall, General Classrooms, Staff Room and a range of External Play Areas, Ancillary and Support Facilities.
The main contractor for the project is Limerick company, Conack Construction, with work now commencing on site. Construction is slated for completion in 2023.
About Gaelcholáiste Luimnigh
Established on July 1, 2013, Limerick and Clare Education and Training Board is the state education and training authority for the Limerick and Clare region in Ireland. It is one of 16 statutory regional education authorities established by the Education and Training Boards Act 2013. The authority delivers educational services to over 34,000 students and learners annually. It also employs 2,500 staff across the region. Gaelcholáiste Luimnigh is one of 18 post-primary schools under the authority's patronage.
Gaelcholáiste Luimnigh was established in 2006 with 32 students enrolled in first year and has grown to 680 students over the past sixteen years. The school is currently located at Sir Harry's Mall in the city. Gaelcholáiste Luimnigh is the only co-educational All-Irish Post-Primary college in the Limerick City region, and is the only second-level college to offer boys the opportunity to learn through the medium of Irish at post-primary. The school is renowned for its excellent Leaving Certificate with nine students achieving maximum points and two students receiving eight H1s in their Leaving Certificate in 2021. 46% of the 2021 sixth years received over 500 points. Gaelcholáiste Luimnigh is a school of many firsts including being selected as a pilot school for the new Leaving Certificate subjects Physical Education and Politics and Society. The role of PE and sports within the school was also highlighted when two of last years' Leaving Certificate students, Leah Keogh and Eoghan Burke, received sports scholarships with universities in the United States, while Seoda Ní Chaoimh was awarded a very prestigious Naughton Scholarship. Current Transition Year student Leagh Moloney is on the Irish Athletics team.
For more stories on Gaelcholaiste Luimnigh go HERE
For more information Limerick and Clare ETB go HERE