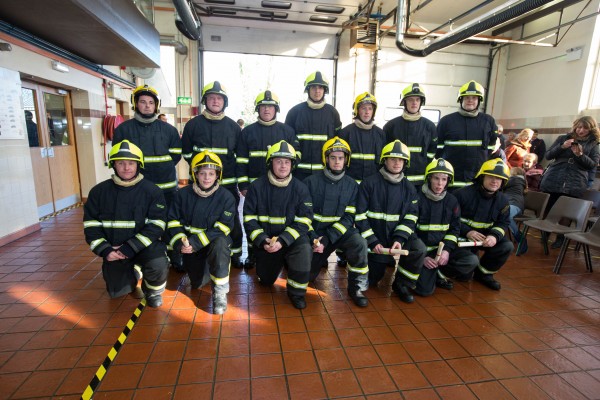 Newly commissioned Firefighters to take up positions in Limerick, Cavan, Waterford, Kildare, Kerry & Meath
Following completion of an 3-week intensive training course, 14 newly commissioned Firefighters have been recognised at a passing out parade attended by public representatives, local authority officials and members of the fire-fighters' families in Foynes, County Limerick.
Having already secured employment with Fire & Rescue Service units in counties Limerick, Kerry, Kildare, Cavan and Waterford, the Firefighters' training included more than a dozen different modules covering all aspects of the service's work responding to emergencies. 
Some of their newly acquired firefighting skills were displayed during the passing out ceremony at Foynes Fire Station, where Limerick Fire and Rescue Service has hosted the training since late October.
The newly qualified Firefighters (Fire Station) are John O'Carroll (Foynes), Anthony Russell (Foynes), William O'Connor (Foynes), Paschal Keane (Abbeyfeale), Gerard McCarthy (Abbeyfeale), Stipe Kolic (Newcastle West), Damian O'Neil (Maynooth), Paddy Macken (Maynooth), Megan Harper-Smith (Lismore), Myles Nixon (Lismore), Andrew O'Reilly (Cavan Town), Laurence Farrell (Nobber), Gary Cassidy (Killarney), Jonathan O'Connor (Kilorglin)
Commenting on the Firefighters' training, Paul McMahon, Course Director and Senior Assistant
Chief Fire Officer with Limerick Fire & Rescue Service stated: "The course covers all the basic Firefighter training to enable the recruit to start work with their respective Fire & Rescue Service units. The topics covered included all fire-fighter basic skills, ladder and pump drills, hydraulics, working from heights, Road Traffic Collisions, occupational first aid, legislation, and health and safety."
Mr. McMahon explained that the course was run in Foynes due to the availability of suitable and modern training facilities at the Station.
He continued: "As well as available facilities to undertake such training at Foynes, we have huge scope to host drills and exercises around Foynes Port and the Shannon Estuary which helps prepare the recruits for the real life calls they will encounter throughout their new careers. There is also a great level of co-operation from the people in the Foynes area to facilitate this training."
Mr. McMahon said the 14 new recruits, while now qualified to commence their work at their allocated Fire Stations, will participate in a number of additional courses over the coming months starting with a 2-week Breathing Apparatus course in Bray, Co. Wicklow, in February 2016. Hosted once again by Limerick Fire and Rescue Service, the course will see the Firefighters being trained how to wear the breathing apparatus kit and negotiate the unknown layout of buildings in dark, hot and humid conditions, as well as how to both extinguish fires and rescue casualties.
The passing out parade was attended by Elected Representatives and Chief Fire Officers from Limerick, Kerry, Meath, Kildare, Cavan and Waterford, Directors of Services from each of the local authorities, and the course instruction team comprising Station Officers John Mulready (Cappamore) and John Lyons (Rathkeale) and Sub Station Officer Michael McNamara (Limerick City).
For more information please visit Fire-Ireland here
 For more related stories by I Love Limerick click here