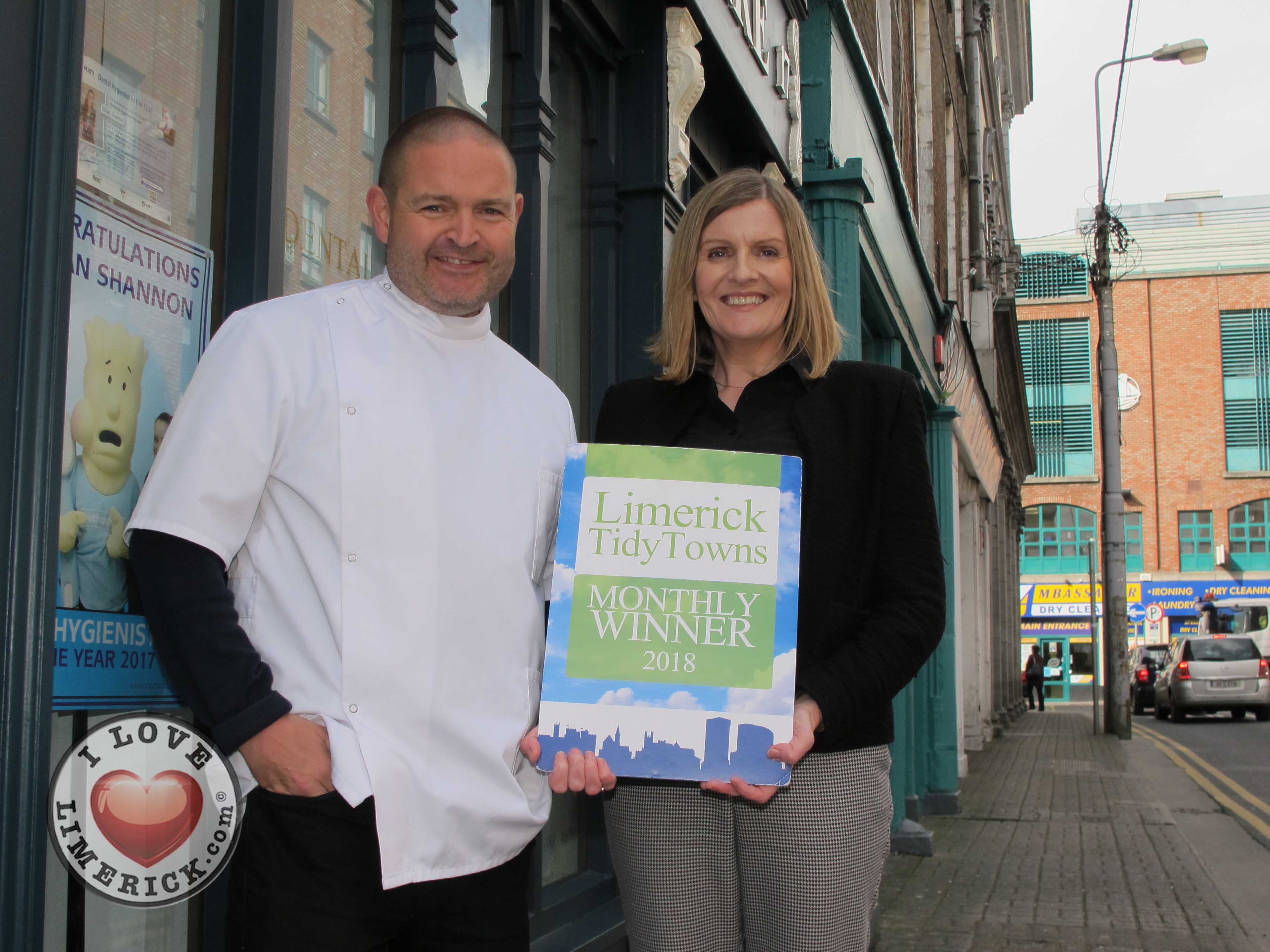 Limerick City Tidy Towns' Monthly Award for September 2018 won by Noonan Dental Care on Ellen Street
Limerick Tidy Towns Monthly Award September 2018 was presented to Noonan Dental Care at 17 Ellen Street. The award was given to the dentist Dr Eamonn Noonan by Tidy Towns very own Maura O'Neill. Picture: Baoyan Zhang/ilovelimerick
Limerick City Tidy Towns' Monthly Award for September 2018 won by Noonan Dental Care on Ellen Street
Limerick City Tidy Towns have presented their monthly award for September 2018 to Noonan Dental Care for their beautifully presented premises at 17 Ellen Street. Pictured outside the clinic being presented with the award by Maura O'Neill of Limerick City Tidy Towns is the owner Eamonn Noonan.
Maura says "This well-known dental clinic has recently been repainted and its exterior looks wonderful, with striking grey and white contrast paint and immaculately clean windows. Not only have our Tidy Towns volunteers remarked on how well it looks each time we clean up in the area, but we have also noticed the premises being regularly cleaned so as to maintain this fabulous new exterior, which has kept all the original features of the building and enhanced them, including the beautiful clock in pride of place. It really is a great asset in a street that is often overlooked, which is a shame given that Ellen Street is a main thoroughfare to the Milk market so gets plenty of footfall".
Noonan Dental Care was first established in 2001 and provides both emergency and preventative dental care to the people of Limerick and the Mid-West. Their reputation is well known and many of their clients join by word of mouth, due to the care received by others and the wonderful staff at the clinic. For clients' convenience, they offer extended opening hours as well as lunchtime and Saturday appointments and pride themselves in listening to the individual needs of clients and planning treatment accordingly.
They are equipped with modern, state of the art technology providing quality generally, preventative and emergency services in a comfortable and friendly environment.
To book an appointment call them on 061 468765 or email [email protected]
For more information on Limerick Tidy Towns, go here
For more stories on Limerick Tidy Towns, go here