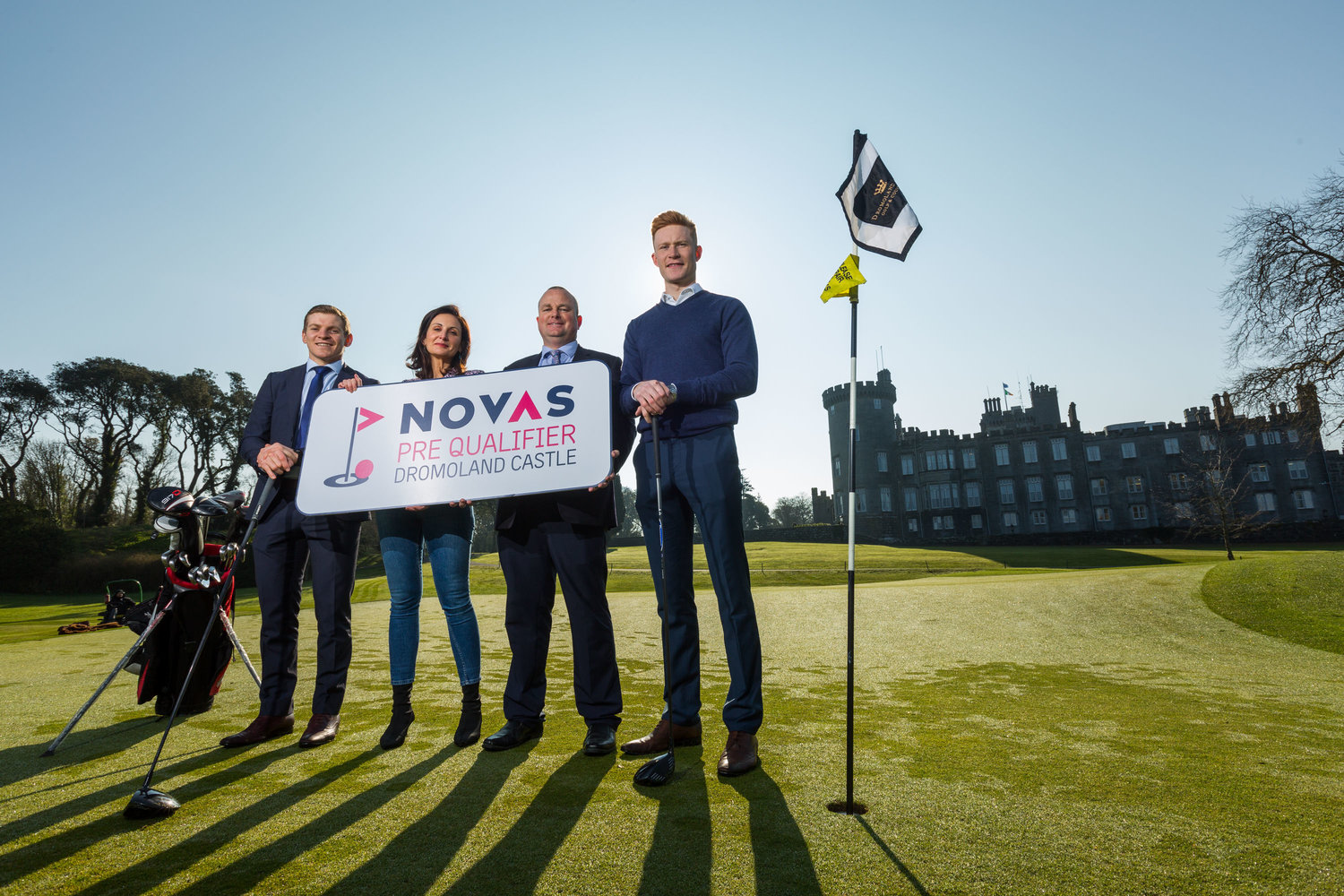 Limerick and Clare hurlers support the launch of Novas JP McManus Pro-Am Pre-Qualifier Golf Competition
Podge Collins, Clare hurler, Una Burns, Novas, Mark Reynolds, Dromoland Castle Golf Club Manager and Will O' Donoghue, Limerick hurler at Dromoland Castle to launch the Novas' JP McManus Pre-Qualifier Golf Competition. Novas jpmacmanus
Photo: Oisin McHugh True Media
Limerick and Clare hurlers support the launch of Novas JP McManus Pro-Am Pre-Qualifier Golf Competition
Limerick hurler Will O Donoghue and Clare hurler Podge Collins have officially launched Novas' Pre-Qualifier Golf Competition for the JP McManus Pro-Am. The competition will take place in Dromoland Castle on Thursday 26th of September.
Novas is the largest provider of homeless services in Limerick and Clare, providing a range of accommodation and support services across both counties. Having been chosen by staff of the castle as their preferred charity for 2019, Manager of the Golf Club Mark Reynolds said they 'were delighted to host the event and hoped it would raise vital funds for the extension of services in the region.'
Both Will O'Donoghue and Podge Collins have supported Novas for a number of years, having first participated in The Gaelic Voices for Change Sleep-Out in December 2017, which raised more than €20,000 for Novas services in the Mid-West at the time, and were thrilled to lend their support to this event.
Novas' Head of Policy and Communications, Dr. Una Burns, is calling on all golf enthusiasts in the region to book a tee time and participate in the event. She explained that 'this is the second time that Novas can potentially benefit from the proceeds of the Pro-Am. Following the 2010 event, Novas received funding to redevelop and extend Brother Russell House. The service is now home to 33 formerly homeless individuals. It is the only service in the state that provides dedicated accommodation for homeless people with sensory, intellectual and physical disabilities and was awarded Best Homeless Project in Ireland by the Irish Council for Social Housing in 2015. Services like this are needed now more than ever and the proceeds of the Pro-Am provide a unique opportunity for new development.'
The cost of entry to the pre-qualifier golf competition is €125 per person or €375 for a team of three. This includes a round of golf in Dromoland Castle, dinner in the Golf Club, a Pro-Am cap which permits entry to the Pro-Am Golf Classic and prizes for the winners. It also provides an opportunity to play in the Pro-Am in July 2020. For further information on the event, people can contact [email protected]
About Novas
Novas set up its first service in Ireland in 2002. Funded by the HSE and the Department of Housing it provides services for people who are homeless or at risk of homelessness. Working with families, children and single adults who are disadvantaged or socially excluded, it offers client centred services and promotes social justice. It provides services in Limerick, Dublin, Kerry, Tipperary, Clare and Cork. Novas jpmacmanus Novas jpmacmanus Novas jpmacmanus Novas jpmacmanus Novas jpmacmanus
For further information contact Una Burns on 061 370325, 083 1083726 or click here.
For more stories about Novas, click here.