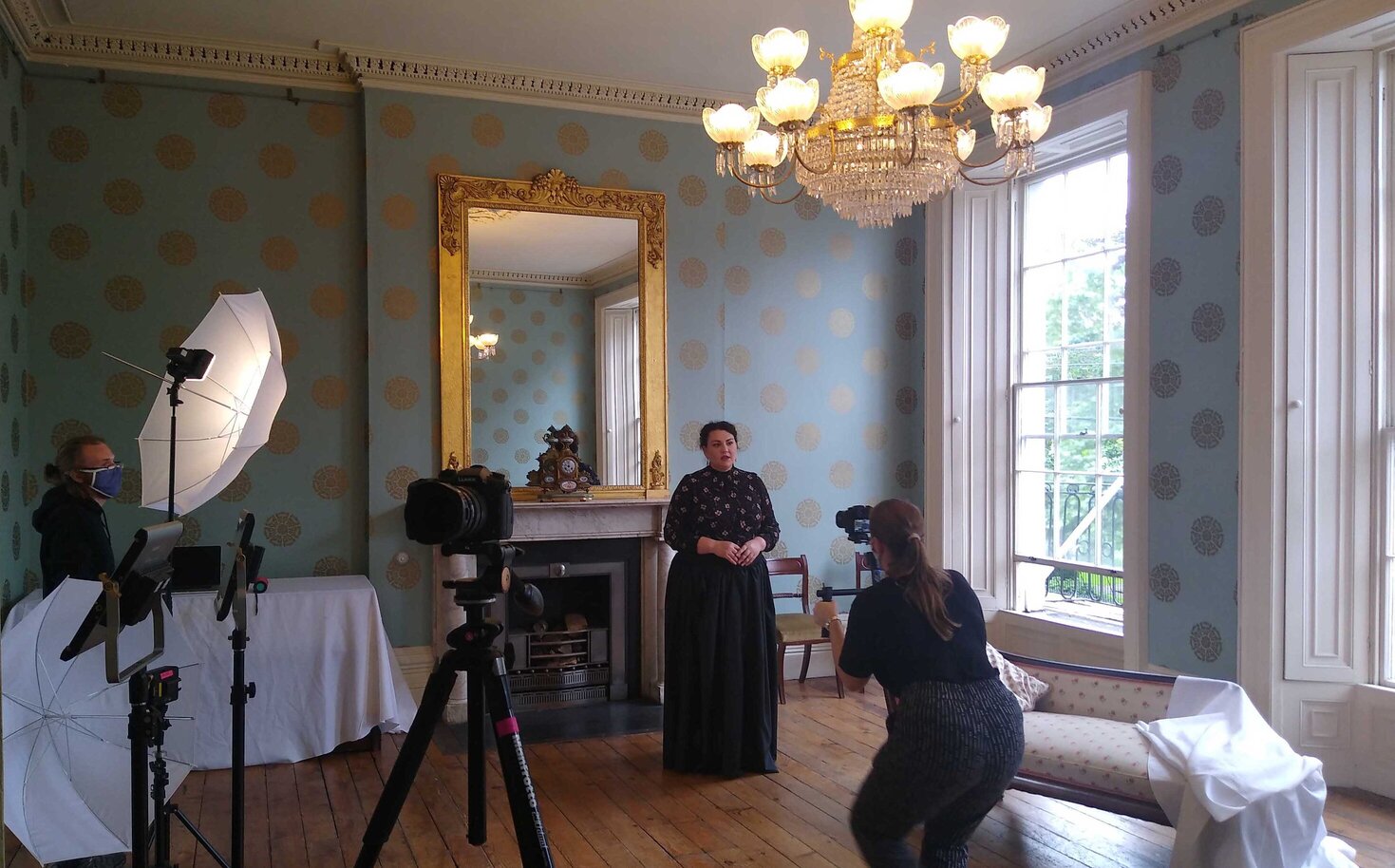 Limerick Opera Workshop online brings the first phase of a new Limerick opera to audiences on Culture Night
Opera Workshop Limerick online was filmed earlier this year. Pictured above in July 2020 during filming was singer Triona Walsh and film-makers Lucy Dawson and Shane Vaughan in the stunning Blue Room at No 2 Pery Sqaure.
Limerick Opera Workshop online brings the first phase of a new Limerick opera to audiences on Culture Night
Opera Workshop Limerick is delighted to present the first scenes from their new opera-in-progress at No 2 Pery Square, on Culture Night 2020. It was a work that almost did not happen due to the unprecedented events, or non-events, of the last few months, but thanks to the drive and enthusiasm of cast and crew the work that should have been presented live in April 2020 has been transformed into short films and are ready to share.
As part of Limerick Culture Night on Friday 18 September you can join Limerick Opera Workshop online from 8pm for the first view of four short workshop scenes set in and inspired by the Limerick Civic Trust maintained building at No 2 Pery Square.
Produced by Opera Workshop in association with production partners, Honest Arts, this research and development project, was funded by the Arts Council of Ireland and the Limerick City & County Council Arts Office with support from Limerick Civic Trust, the Irish Chamber Orchestra and Lyric FM.
The cast of four singers, Limerick composer Fiona Linnane and director Shirley Keane, met in January 2020, spending time devising characters and researching stories connected with No 2 Pery Square. The restored Georgian House is now home to The People's Museum of Limerick and is a much loved Limerick landmark. Originally planned as an exciting site-specific work that would see audiences moving through the stunning and fascinating house, encountering the new opera in various rooms the aim was to present a workshop performance to a live audience in April of this year. It was incredibly disappointing when all their preparations had to be put on hold in March 2020. Like many organisations, they have had to do a lot of adjusting and adapting. If the audience could not come to the opera, then the opera had to reach out to the audience and the most immediate solution was to record and film the work.
From suddenly being on hold, things moved very fast once the restrictions eased in the Summer. The cast of Limerick singers, Sarah-Ellen Murphy, Kevin Neville, Roisin Walsh, Triona Walsh, pianist Eoin Scanlon and violinist Roisin McMullin all jumped at the chance to embrace the new turn the project would take in film. Called in like the cavalry, Dave Keary at Red Door Productions and Limerick-based film-makers Lucy Dawson and Shane Vaughan suddenly found themselves involved in the production of some new Limerick opera scenes.
The hope for Opera Workshop is to continue to work with Fiona Linnane to develop No 2 Pery Square, creating a more detailed, longer work from this first phase project. Neither have they given up hope of sharing the work with a live audience, but are delighted that in the meantime they can share this early stage exploration with audiences through the medium of film. Viewers will find that an old house is never empty, as members of the Opera Workshop ensemble squabble over heirlooms, court controversy and discover that a wonderful inheritance comes with just a few snags…
The scenes can be viewed on YouTube. Search for Opera Workshop Limerick.
Click HERE for information on the film link which will go live at 8pm on Culture Night, Friday 18 September 2020.
For more stories about Opera Workshops in Limerick, click HERE