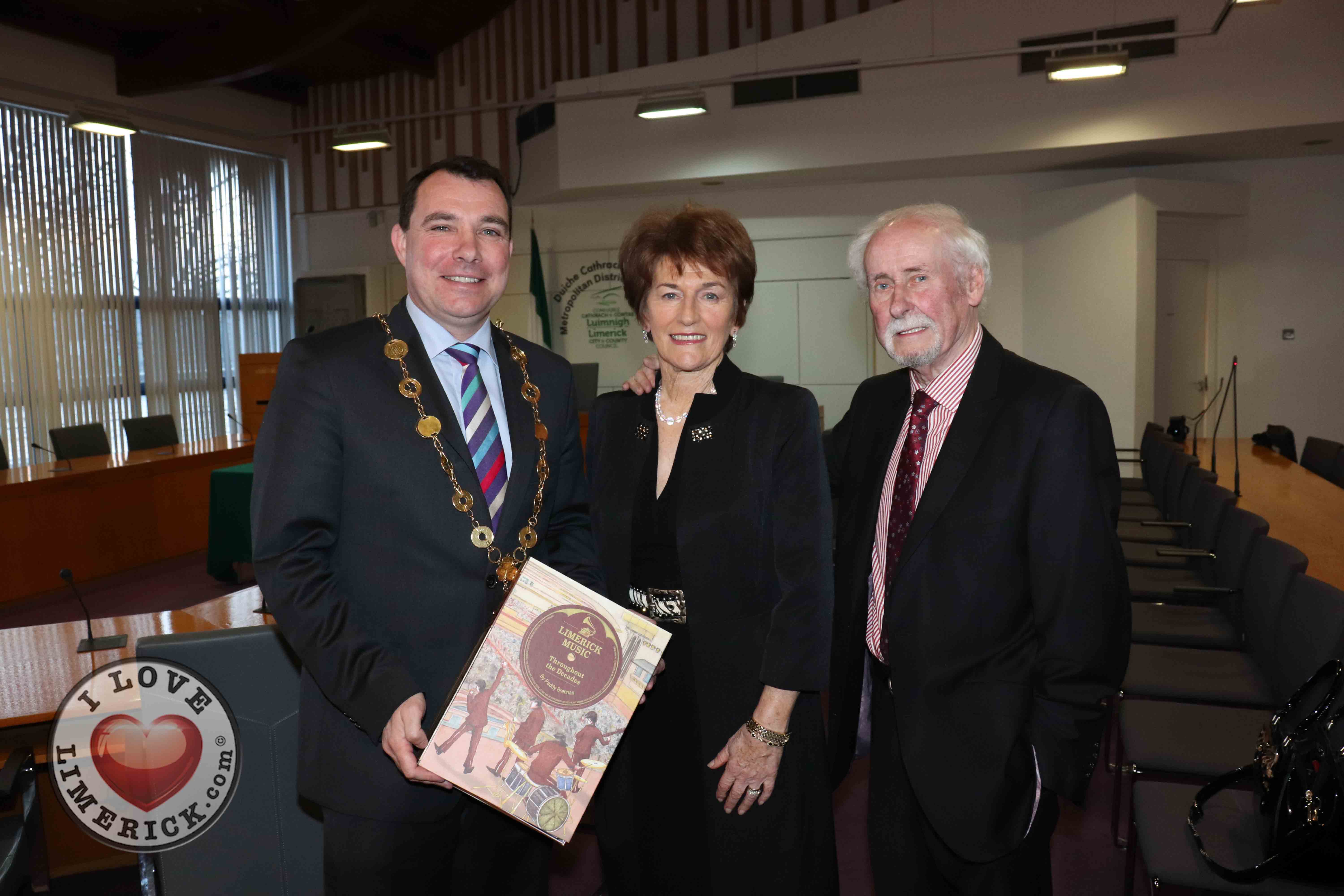 PHOTOS – Paddy Brennan receives Mayoral Reception for new book 'Limerick Music throughout the Decades'
Cllr James Collins, Mayor of Limerick City and Council, Geraldine and Paddy Brennan at the Mayoral Reception for Paddy Brennan's new book 'The History of Limerick Music from 1800 – 2018' in the Council Chambers. Picture: Conor Owens/ilovelimerick.

PHOTOS – Paddy Brennan receives Mayoral Reception for new book 'Limerick Music throughout the Decades'
by ilovelimerick correspondent Conor Owens
Paddy Brennan of Limerick Rock n Roll Club received a Mayoral Reception in the Council Chambers on Wednesday for his critically acclaimed book 'Limerick Music throughout the Decades', which explores the history of music in Limerick from the 1800s to 2018.
Limerick Music Throughout the Decades celebrates and showcases Limerick's musical history, featuring articles on important local musical figures and bands and is a record of Limerick's fine musical heritage.
Speaking at the reception was Mayor of Limerick City and Council James Collins, as well as Cllrs John Costello and Marian Hurley, singer Denis Allen, Tommy Brennan and John Daly, who all congratulated Paddy on his achievement.
During the reception, Mr Brennon said "This is a great occasion for me personally. I thought it would never come to this. You see other famous people receiving Mayoral receptions and you wonder how does it happen? It's a great feeling and I am delighted."
When asked what inspired him to compile the book, Mr Brennan said, "The idea for the book came after I released a 62-song collection of songs by Limerick artists a few years ago. I felt that all this music and the stories behind its creation needed to be put down in print. It took three years of research to compile the entire book."
The book has a total of 556 pages that speak of the Limerick music memorabilia and also contains rare photographs from the same period, with over 1400 photos in colour and black and white.
The book consists of an extensive section devoted to the works of The Cranberries. The pages also include articles and photographs on classical and opera music from the 1800s.
The book focuses a great deal on the era of the Showbands, and Ceili bands that used to perform in the dance halls across Limerick City and County. It features stories of the recording studios, the venues and even talks about the time when pirate radio stations were the most popular thing in Limerick in the 1980s.
For more information on Book Launches in Limerick go here
For more stories on Music in Limerick go here
Pictures: Conor Owens/ilovelimerick