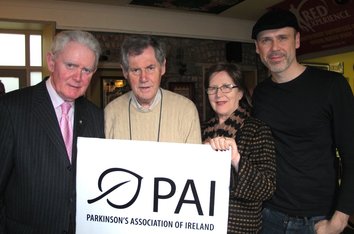 Mid West Branch of Parkinsons Association of Ireland promotes Parkinsons Awareness Week 2018 – April 9th to 15th
Parkinsons Awareness Week 2018 – Richard Lynch pictured with Eddie Butler, Billy Rice and Una Anderson Ryan of Parkinsons Midwest
Mid West Branch of Parkinsons Association of Ireland promotes Parkinsons Awareness Week 2018 – April 9 to 15
Parkinson's disease (Parkinson's) is a progressive neurological disorder and is classified as a Movement Disorder. It is variable in its progression, i.e. some people progress more slowly than others, and the symptoms can be effectively controlled with medication for many years. The following are symptoms that may be present in a person with the illness. Tremor, difficulty in walking, movement coordination, rigid facial expression and slowness in speech. Parkinson's disease is caused by a loss of a chemical called dopamine in the brain. We all lose some of this, as we get older, however, it is only when we have lost about 80% of our dopamine we start to have symptoms. People with Parkinson's have lost this chemical at a faster rate than others.
Kathleen Conran, Chairperson of Parkinson's Midwest said, "Here in the Mid-West, we have an active Branch of the Parkinsons Association of Ireland, which, with the support of local contributions and volunteers, has achieved a great deal. We are primarily concerned with the provision of information, helping people to manage their own illness, and encouraging people to keep active and independent. We stress the value of information exchange and moral support that comes from a lively social interaction. We hold regular monthly meetings where specialist speakers share their knowledge expertise. Our Parkinson's Nurse Specialist also attends and is available to speak to people after the formal part of the meeting."
Members have taken part in and continue to participate in research projects and work with medical departments at the University of Limerick, where programmes have provided great benefit to the members such as the movement to music based on set dancing at the Department of Physiotherapy.
Ms. Conran adds, "We also participate in and have regular voice exercise classes and in regular hydrotherapy sessions. Many social activities follow from these exercises. We also promote activities at National level and support other branches."
The purpose of the Parkinsons Awareness Week is to highlight the condition and enhance the efforts to support people with Parkinson's' through fundraising and advocacy with the HSE and politicians
To coincide with Parkinson's Awareness Week, the Midwest Branch will hold a Fundraising Coffee Morning at Bobby Byrne's Wolfe Tone Bar, O'Connell Avenue, Limerick on Thursday 12th April next from 10 am to 11.30am. Please come along and bring family members and friends.
Further information on Parkinson's Disease can be obtained from the Branch Officers – Kathleen Conran (Chairperson) 087 6344023; Aidan O'Connor (Vice-Chairperson) 086 8828304; James Broderick (Hon. Secretary) 085 1241240936; Edward J Butler (Hon. Treasurer) 087 6776446.
More information on Parkinsons Awareness Week 2018
For more stories related to Parkinsons, go here.
For more information on Parkinsons, go here.