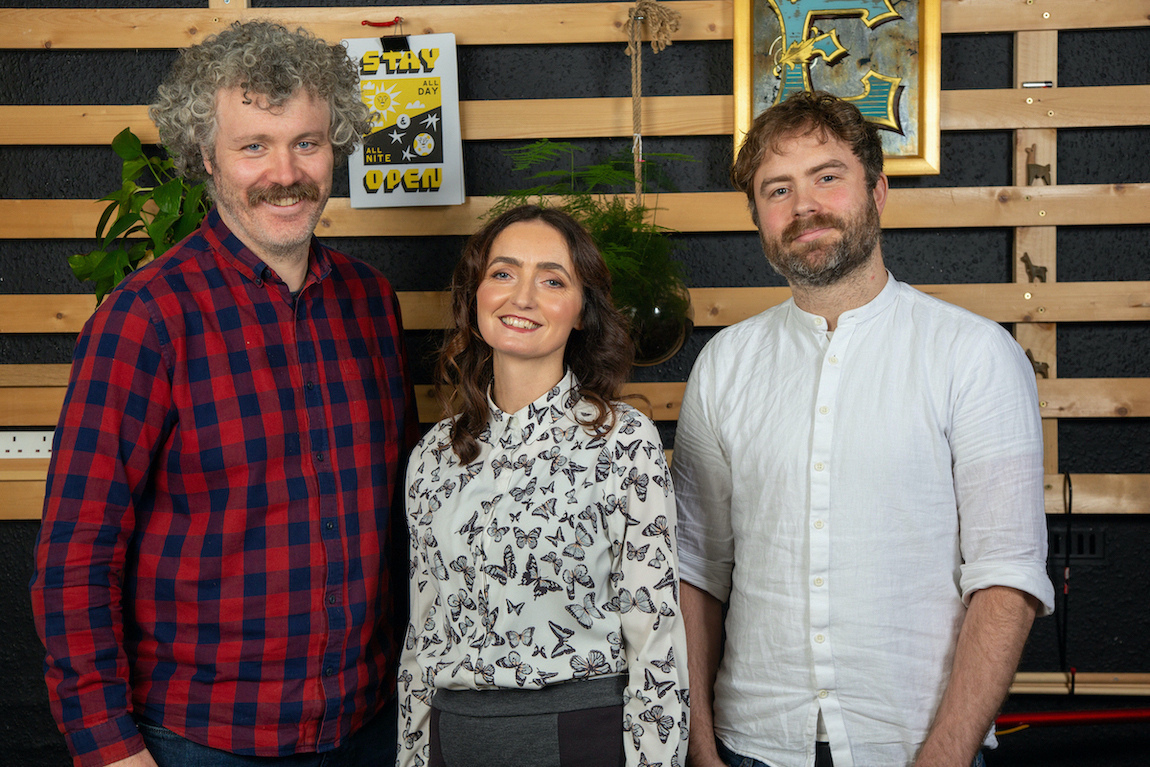 Limerick Media Company Announces Commitment to Reduce Carbon Emissions by 10% Within a Year
Piquant Sustainable Operations Policy – Pictured above are company directors Conor Buckley, Roisin Buckley and Kevin King
Limerick media company announces commitment to reduce carbon emissions by 10% within a year
The findings from the UN report on climate change, released just this month, conclude that human activity is causing climate change and carbon emissions are having an irreversible destructive impact on our climate and biodiversity. Media and design agency Piquant Media has developed a Sustainable Operations Policy that commits to reducing the company's carbon emissions by 10% within 12 months.
Piquant's Sustainable Operations Policy was developed by the company's directors over the course of the last 6 months and included a comprehensive energy audit which revealed that data storage was responsible for the largest percentage (37%) of the company's annual carbon emissions.
Company director Róisín Buckley says, "we were surprised to learn that data storage was responsible for such a high percentage of our emissions. It is a hidden polluter really, and something that you don't see, so is easy to forget about".
Sustainability is one of Piquant's core values, and is something everyone on the team believes in.

But belief alone won't help reverse climate change. This year, we committed to developing a Sustainable Operations Policy – read more from @Rothelady about the journey.

— Piquant (@PiquantMedia) August 20, 2021
Data centres are where data, photographs and music are stored. They are a vital component of the global economy, for individuals, businesses, cities and countries. Data centres in Ireland are coming under greater scrutiny due to the vast amount of energy and water needed to power and cool them. In recognition of the carbon emissions from data storage Piquant Media is developing a data storage best practice that identifies steps and processes that reduce the amount of data stored, ultimately reducing carbon emissions.
Other reduction initiatives that the company is taking include 'switching off' where everyone in the company is responsible for switching off lights and technology when not in use. 'Supplier switching' which involves switching to greener electricity, food and equipment suppliers, and implementing a companywide waste reduction policy. Active Travel which includes supporting the 'bike to rent' scheme, car-pooling, taking public transport and accommodating remote working to reduce commuting.
In addition to the reduction initiatives Piquant is also committed to undertaking the restorative action of planting native trees. Forests act as carbon sinks that store carbon removed from carbon dioxide in the atmosphere. While tree planting alone is not the answer to climate change, behavioural change is vital, tree planting is one part of the solution and is a positive step that individuals and companies can take in the fight against climate change.
Company director Róisín Buckley says, "While we recognise that a small Irish media and design agency is not the biggest contributor of carbon emissions, we also recognise that we are all part of the problem and so we all need to make changes in how we live and how we work to try and slow down climate change."
Piquant is committed to reviewing their Sustainable Operations Policy and their carbon reduction targets every year.
Further information on Piquant's Sustainable Operations Policy can be found HERE
For more stories on Piquant go HERE