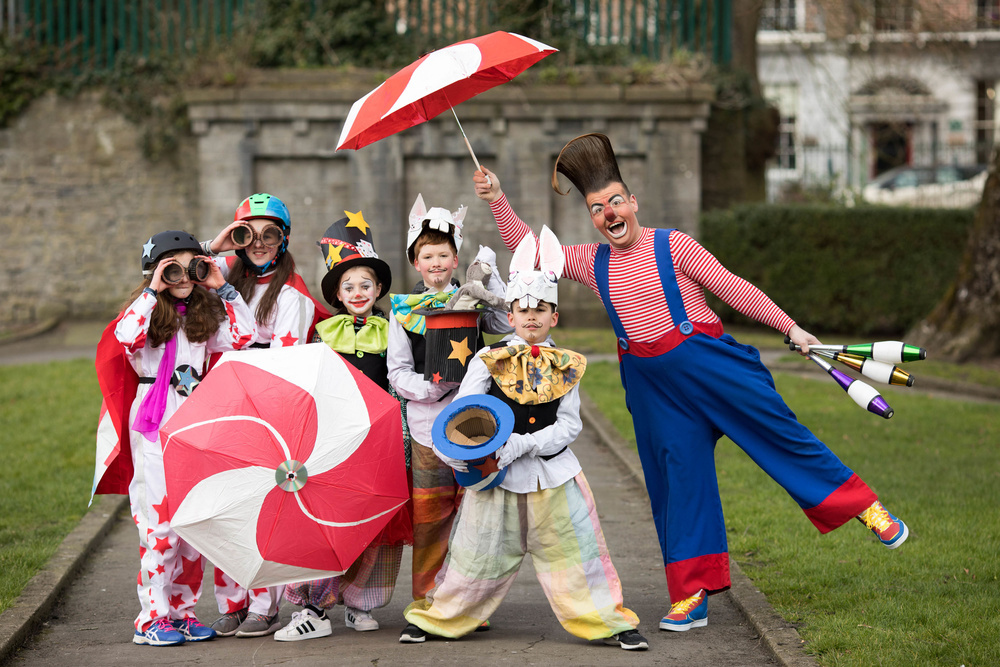 The Queen of the Circus Marion Fossett to lead this year's Limerick St Patricks Festival 2018
27/02/18 REPRO FREE
The legendary ringmaster of Fossett's Circus, Marion Fossett will lead this year's spectacular Limerick St Patricks Festival 2018 as the city celebrates 250 years of the Circus. Suzanne Freeman, Katie Collins, Lucy Grace Griffin Grant, Luca Rosendahl Morrissey, Yasser Mansoer and Edward Fossett, aka OTTO the clown of Fossett's Circus at the launch of Limerick's St Patrick's Festival at Culture House, Limerick. Photo: Sean Curtin/True Media
The Queen of the Circus Marion Fossett to lead this year's Limerick St Patricks Festival 018
The legendary ringmaster of Fossett's Circus, Marion Fossett will lead this year's spectacular Limerick St Patricks Festival 2018 as the city celebrates 250 years of the Circus.
Details of the Limerick's St Patricks Day Parade 2018 were announced today (Tuesday 26 Feb 2018) including the colourful and energetic Parade, Ireland's only international Band Championship featuring almost 2,000 international musicians and a dazzling fireworks display over King John's Castle.
The parade is celebrating the 250 years since the art-form of the Circus was born. The two-kilometer route of the parade will be filled by participants from all parts of Limerick and across the country, including schools, sports clubs, industry and the new communities that now call Limerick home.
The expected tens of thousands of spectators will be thrilled by colourful and high energy entries as they wind their way down O'Connell Street from Roden Street all the way down to Rutland Street.
Among the highlights are:
LUXe who are presenting their award-winning 'Cirque de Lune'
Macnas will appear on foot with the Macnas brass ensemble!
Cloughjordan Youth Circus will bring stilt walkers, jugglers, and clowns onto Limerick's premier street
Lumen will be accompanied by the School of Spectacle participants as they entertain the crowds in their unique way. The School of Spectacle is a partnership project funded by Creative Europe and will have 25 creative practitioners from five different countries in Limerick working hard on their entry for eight days before the parade.
As always, local artist Giggles the Clown and her children's characters will be out in force.
Parade Grand Marshall Marion Fossett said: "On behalf of my family I'm honoured and thrilled to have been invited to be the Grand Marshal for the 2018 Limerick St. Patrick's Day Parade. In addition to this commemorating the birth of Circus, this fabulous parade will mark Fossett's Circus 130th Anniversary, making us the world's oldest continuously touring circus!"
"I am so delighted to be marking this milestone in Limerick….a city we have entertained on so many happy visits over that time."
Speaking at the launch of this year's Limerick St Patrick's Festival, Mayor of the City and County of Limerick, Cllr Stephen Keary said: "St Patrick's Day is always a special time for families. It is so heartening to see so many people travel into the city year after year to watch the parade and enjoy all the other the festivities that Limerick has to offer during what has now become a weekend of celebrations."
Creative Director of this year's parade Aidan Phelan said: "This year's line-up is looking fantastic with more local groups, clubs, and companies participating than ever before. Local street arts company Lumen will join in the fun with a traditional circus themed entry and the award-winning dancers from Spotlight Stage School will return for another energetic performance."
"Expect to see some fantastic work from Limerick based aerial dancers Fidget Feet who are set to wow the crowds with their incredible airborne antics. On top of all that the students from Limericks International School of Spectacle, with support from Limerick City and County Council's Culture and Arts Office, have a lovely surprise in the works."
The traditional St Patrick's Day Parade is just one of a number of events taking place across Limerick as part of Limerick's St Patrick's Festival.
Limerick is in a unique position of having the country's only International Band Championship, now in its 48th year.
Sheila Deegan, Culture and Arts Officer with Limerick City and County Council said: "I am so excited about the rich offering and range of events that are planned for Limerick St. Patrick's Festival. On St. Patrick's Day itself a parade of riches along the route will see a procession of participants from all parts of Limerick. Expect colour and spectacle with the visiting LUXe show Cirque de Lune and some surprises."
"This year 19 bands, including American High School and University Bands from Ohio, Texas, Minnesota, and California will join some of Limerick's favourites including the Redemptorist Centre of Music, St. Marys Fife and Drum Band and Boherbuoy Band as they parade down O'Connell Street on Sunday 18 March from 12 noon set to warm the hearts of spectators rain or shine! That evening the long-awaited fireworks and video projection mapping on King John's Castle promising to captive young and old."
Even on the coldest day the spectacular arrangements of music promise to warm the heart and you can enjoy a free concert in Arthur's Quay Park following the parade and applaud the winners.
St Patricks Day Festival Extravaganza will see King John's Castle provide the stunning backdrop for a dramatic lights and fireworks show on Sunday 18 March.
There will be musical entertainment from 9 pm as dramatic illuminations are projected onto Limerick's historic King John's Castle, followed by a spectacular fireworks display which will transform the city's skies into an explosion of colour! This promises to be a tremendous treat for the whole family and a truly dazzling end to the festival celebrations.
St Patrick's Festival 2018 Extravaganza at King John's Castle event is a collaboration between King John's Castle and Limerick School of Art and Design LIT, with grant funding from Limerick City and County Council.
The best viewing points are Clancy's Strand and Sarsfield Bridge.
Among the other events taking place for Limerick St Patrick's Festival include:
Panoramic Wheel & Traditional Carousel 10 March – 15 April at Arthur's Quay Park
Fossett's Circus 130th Anniversary Tour of Ireland 15 – 19 March at Cleeve's Car Park, O'Callaghan Strand
John McCarthy's Circus Bar Exhibition 16 – 18 March at Limerick Museum
St Patrick's Weekend Unlocked 17 – 18 March at Limerick Milk Market
Grooveyard is producing this year's parade on behalf of Limerick City and County Council. Limerick St Patrick's Festival is kindly sponsored by Analog Devices, King John's Castle, Limerick Strand Hotel, Crescent Shopping Centre, Limerick Institute of Technology, Mr. Binman, ishka and Limerick's Live95fm.
More information on St Patricks Festival 2018
For a listing of all events about Limerick St Patrick's Festival 2018 go here.
For more stories on St Patrick's Day, go here.