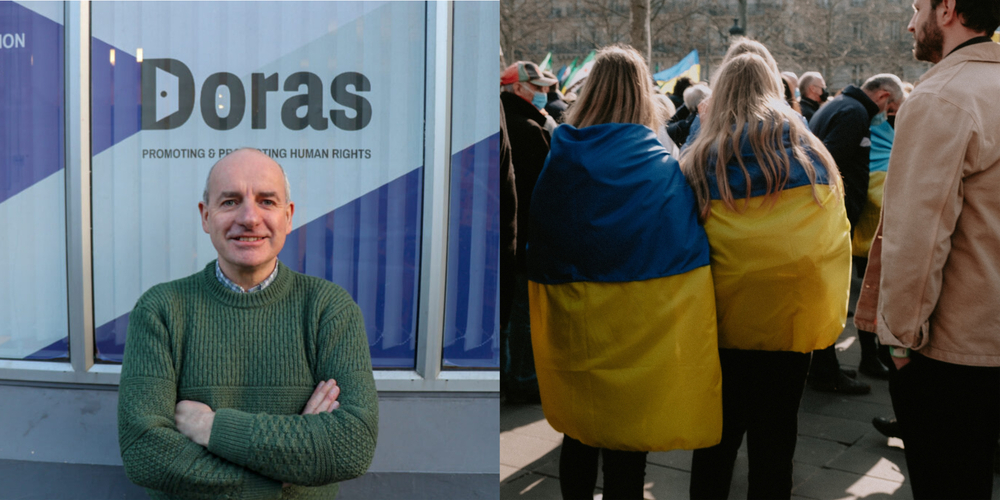 Limerick migrant rights group asks politicians to stop 'unfair rhetoric' on Refugee Crisis In Ireland
Refugee Crisis In Ireland – John Lannon, Doras CEO emphasises the importance of respecting and helping vulnerable refugees that arrive in Ireland.
Doras welcomes the government's intention to move from an emergency response to a more mainstream approach for Ukrainians
Limerick-based refugee and migrant rights organisation Doras are concerned with increasing levels of unhelpful and misleading rhetoric about refugees from public representatives. It calls on all party leaders to ensure their members avoid populist rhetoric that unfairly demonises and scapegoats refugees, asylum seekers, and migrants when referring to the Refugee Crisis In Ireland.
"Communities the length and breadth of Ireland have been extremely welcoming of people from Ukraine. As the war continues, we need to ensure that Ukrainians feel safe and welcome in the communities they are living in. The same goes for people from other parts of the world who seek asylum here," says John Lannon, Doras CEO.
"Ireland has an obligation to consider and process all asylum applications, and to provide a basic standard of accommodation, food, clothing, and healthcare. It is vital that the suffering of refugees and migrants isn't added to by being victimised and wrongfully scapegoated for failures in the political system, both nationally and internationally."
"Particular attention needs to be paid to vulnerable persons who arrive in Ireland seeking protection, especially unaccompanied minors, and victims of torture. People who have been traumatised by their experiences of war and persecution should not be further traumatised by having to live in unsuitable or unsafe conditions such as tented accommodations and cramped and isolated Direct Provision centres."
According to the UNHCR, over 100 million people have been forced to flee their homes globally. The causes include wars in Ukraine and elsewhere, humanitarian and human rights crises in places like Afghanistan, worldwide food insecurity, the climate crisis, and other emergencies.
"We must do what we can to help address the root causes of these displacements, but we also have a responsibility to provide protection for people who arrive here seeking it. The Irish people have welcomed close to 60,000 people from Ukraine, and while the State has struggled to find accommodation for them amid the refugee crisis, Doras welcomes the government's stated intention on Friday to move from an emergency response to a more mainstream approach. We also welcome the programme of support for local communities that was announced. However political parties must play their part in ensuring this is not undermined by ill-advised statements from its members."
"Equally the government must do more to provide sustainable longer-term accommodation, not just for Ukrainians and asylum seekers but for everyone in the country. And while we recognise the huge challenge faced when it comes to finding accommodation, it is vitally important that requests from beneficiaries of temporary protection and asylum seekers for alternative accommodation are considered and acted upon when there are compelling reasons to do so."
Doras is actively working to support Ukrainians and other refugees and migrants to access safety, shelter and support in Ireland. Their website offers detailed information and resources to Ukrainian nationals seeking to come to Ireland, and staff at Doras hold frequent events, providing information and advocating for the rights of refugees.
Find out more about Doras Ukraine Refugee Appeal
Read more related stories