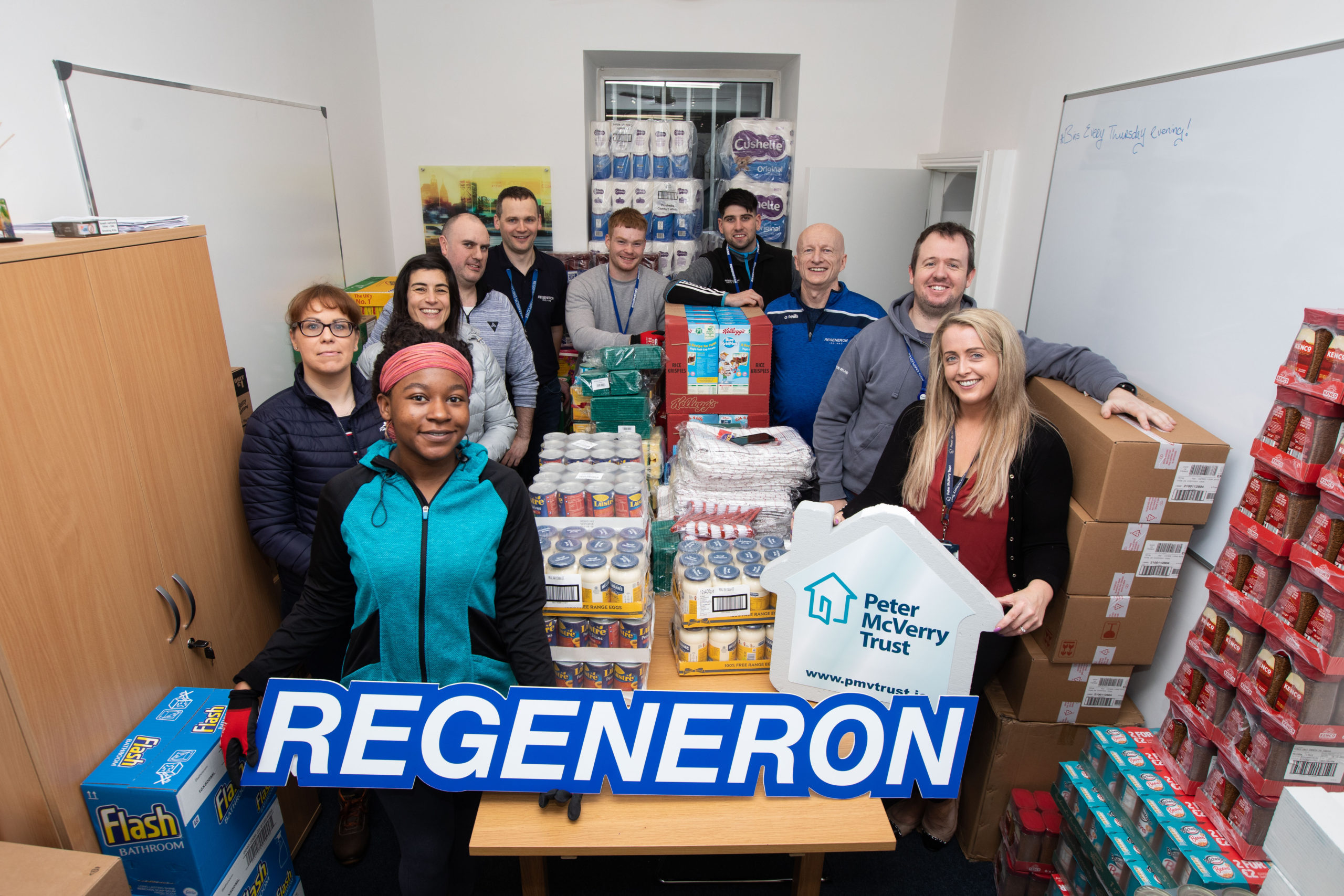 Regeneron donated €20,000 worth of food and household goods to four local Limerick charities   
regeneron donated
(Clockwise from left) Theresa Shanahan, Peter McVerry Trust, Catriona Collins, Simona Coppola, John Tornsley, Pat Wixted, Robert Healy, Shane O'Grady, Pat O'Donnell, Jack Kissane, Regeneron and Marie O'Mahoney, Peter McVerry Trust.
Regeneron donated €20,000 worth of food and household goods to four local Limerick charities
Regeneron donated €20,000 worth of food and household goods this week to four Limerick-based non-profit organisations – Novas, Peter McVerry Trust, Mid-West Simon Community and Focus Ireland as part of their community outreach.
The much-needed supplies were purchased by Regeneron and delivered by employee volunteers on Friday, January 31, to help the charities at a time of year when donations are traditionally at their lowest.
Regeneron donated the goods based on the specific needs of each charity.
Peter McVerry Trust and Mid-West Simon Community received both food and supplies of cleaning goods and hygiene products. Peter McVerry Trust will use the goods to support their recently housed service users and the donation to the Mid-West Simon Community will be distributed via their weekly food bank to their community clients and to families currently living in their emergency family hub.
Novas received a month's supply of meat for its kitchen staff to prepare nutritious meals for 40 clients living in Novas' McGarry House and 30 clients living in their night shelter. Regeneron also provided non-perishable and frozen food that will be distributed through Novas' family service.
In December, Regeneron supported Focus Ireland's annual Christmas lunch event, which catered for 60 people, and has in this instance provided over 40 different household items to be used at the organisation's family emergency hub, ranging from 128 bottles of washing-up liquid to 108 tubs of baby formula.
Speaking about the charitable donations, Niall O'Leary, Vice President and Site Head IOPS, Regeneron, said; "Regeneron donated these goods as we are committed to the local communities in the region. In addition to our company's financial contributions,
our people work tirelessly throughout the year volunteering for local charities, schools and community programmes."
About Regeneron
Regeneron is a leading innovator in biotech that invents life-transforming medicines for people with serious diseases. The Industrial and Operational Product Supply facility in Raheen, Limerick is the largest biotech facility in Ireland. Their medicines and pipeline are designed to help patients with a range of conditions and illnesses including eye disease, cardiovascular and metabolic diseases, allergic and inflammatory diseases, infectious and rare diseases, pain, and cancer.
For more information about Regeneron please click here.
For more stories on Regeneron please click here.