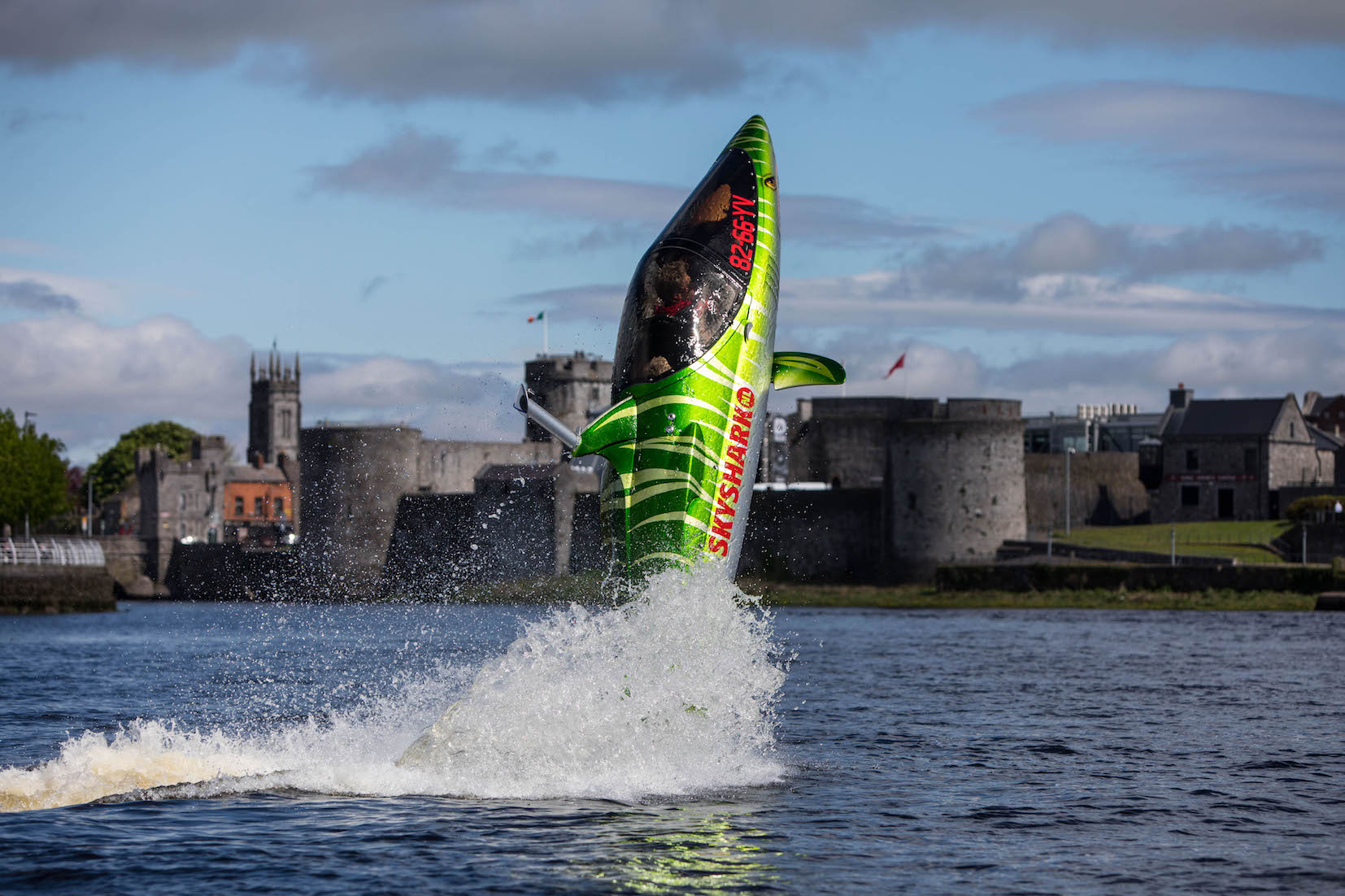 PHOTO & VIDEO – Riverfest Limerick 2018 brings over 100,000 people to city for four-day festival
Riverfest Limerick 2018: Jurg van der Vlies with his Seabreacher Shark – a dare-devil aquatic spectacle in an 18ft 'shark-craft' that can travel at speeds of up to 80km per hour. Picture: Sean Curtin/True Media.
PHOTO & VIDEO – Riverfest Limerick 2018 brings over 100,000 people to city for four-day festival
Riverfest Limerick 2018 has been described as 'the most successful yet' with more than 100,000 people enjoying Limerick's largest four-day summer festival worth an estimated €5m-€7m to the Mid-West.
Bright sunshine, warm temperatures and a host of new visitor experiences drew the crowds to Limerick for Riverfest Limerick 2018 which was a carnival of activity and variety, with thrilling new attractions that wowed the crowds including the Seabreacher Shark – a dare-devil aquatic spectacle in an 18ft 'shark-craft' that travelled at speeds of up to 80km per hour across the river Shannon.
The water-based activities for the Limerick Strand Hotel Riverfest on the Shannon also saw huge numbers enjoying the popular double zip line across the water while zorbing, kayaking, and a social swim had many getting a different perspective of the great river.
One of the most popular attractions at the festival was the LE Eithne naval vessel where many families enjoyed a tour of the Irish ship, almost two thousand visited on Saturday and Sunday afternoon alone.
Some 20 cooking teams from across Limerick took part in the Barbecue on the Boardwalk on Howley's Quay. This year's competition was all about community, family and fun as participants barbequed a traditional dish from their country, family or inspired by their healthy lifestyle. Limerick Pride and Pharmacia Bar were the overall joint winners, while Leader Feeders and Limerick Suicide Watch were the joint runner-up winners. Limerick Fire and Rescue took home Best Dressed Stand while Limerick Feeders were also named Most Entertaining.
Another successful new addition to the festival was the Limerick Food Experience in the garden of the Hunt Museum which showcased the best quality local produce. At quayside, there were annual favourites such as Fashion Friday and The Riverfestival Village, at Arthur's Quay Park – a weekend-long cacophony of foods, crafts, vintage amusements, street performers and live musical entertainment.
The four-day celebration also included the country's biggest fireworks display of the summer last night (Sunday) which was watched by 25,000 people after an outdoor concert by Bell X1 at King John's Castle. Earlier in the day, more than 12,000 participants braved the heat to participate in the Bon Secours Hospital Great Limerick Run while on Saturday, the UL Sport Children's Run for Fun saw children of all ages enjoy their own fun run.
Deputy Mayor of the City and County of Limerick Cllr Marian Hurley said: "Limerick looked absolutely amazing in glorious sunshine all weekend. There was just so much happening and plenty of free activities and events to keep all ages happy. I was particularly delighted to see so many people turn out to support all the participants in the Bon Secours Great Limerick Run and what a fantastic fireworks display to round off a wonderful weekend in the city."
Said Sheila Deegan, Culture and Arts Officer with Limerick City and County Council; "Wow, what a memorable few days in Limerick, basking in the glorious summer weather and utilising all the open spaces along the majestic River Shannon. This year is the European Year of Cultural Heritage and to celebrate Limerick's rich riverine heritage during Riverfest 2018, we programmed a diverse range of activities from the Limerick Docks to King John's Castle with a meeting point in the middle at the Riverfest Village in Arthur's Quay Park. It was there, that families and friends met and enjoyed live music by local performers, bringing a carnival atmosphere to the festivities. I am still in awe of the swimmers who took part in the two social swims in the River Shannon, getting into the river at the exact spot where the Vikings landed in Limerick. The investment by Limerick City and County Council into large-scale civic events has given Limerick a cultural confidence for citizens and visitors alike to remember but also to re-present Limerick and all its possible futures."
Laura Ryan, Head of Marketing and Communications, Limerick City and County Council added: "The city was buzzing all weekend and so many people are going away with a fantastic impression of Limerick after a hugely successful Riverfest 2018. When you combine the economic impact of the festivities, the Bon Secours Great Limerick Run and the Munster match, the benefit to the city is conservatively estimated at between €5m-7m with the weekend now the most important of the year for accommodation providers. It's also a super showcase of Limerick life as the city grows and develops its visitor offering as the gateway to the Wild Atlantic Way."
Riverfest Limerick 2018 is delivered by Grooveyard Event Management on behalf of Limerick City and County Council and partners include The Limerick Strand Hotel, Mr Binman, Limerick's Live95FM, Arthur's Quay and Limerick.ie.
For more information on Riverfest, go here.
For more stories on Riverfest, go here.
Pictures by Sophie Goodwin and Zoe Conway/ilovelimerick