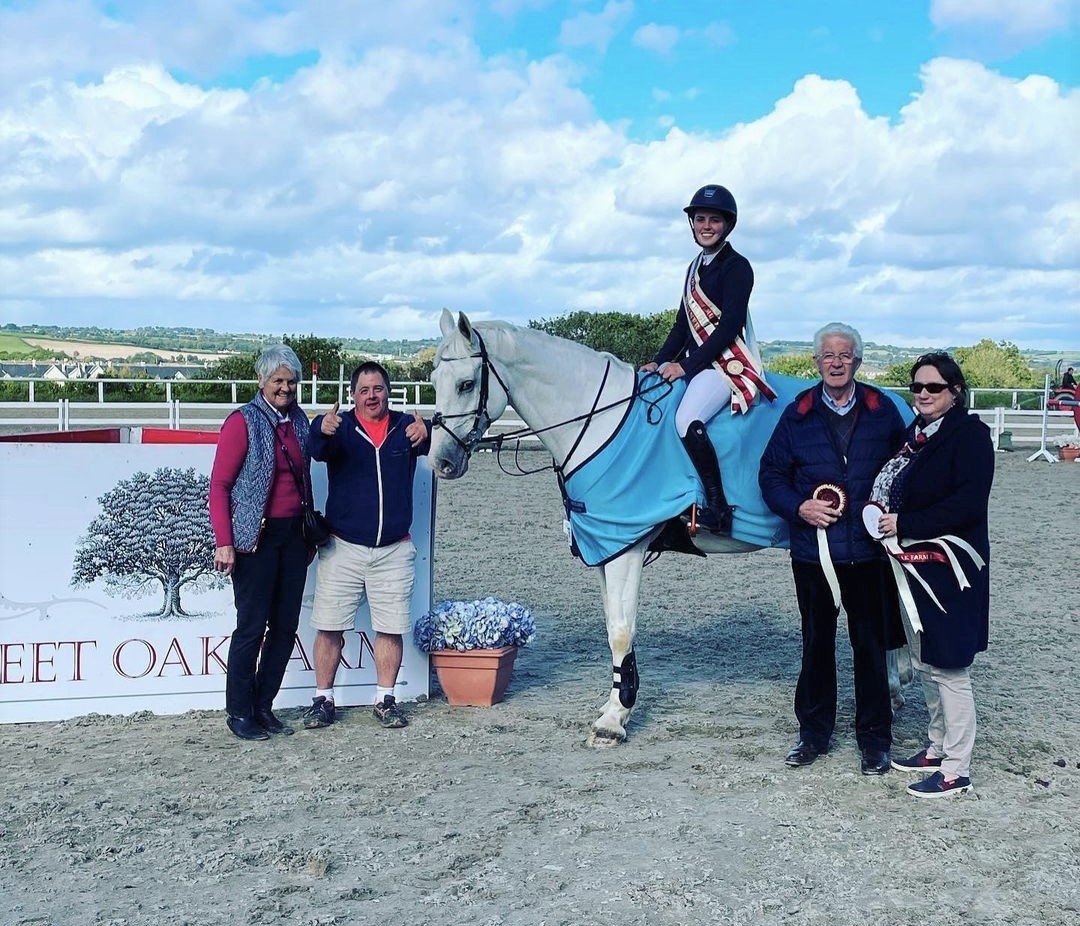 Askeaton showjumper Robyn Moran is Munster Grand Prix champion for second year in a row
Robyn Moran and the horse European Cruise after winning the Sweet Oak Farm 1.20 final and overall league winner
Askeaton showjumper Robyn Moran is Munster Grand Prix champion for second year in a row
By I Love Limerick Correspondent Ann Mc Donald
Talented Limerick showjumper Robyn Moran is continuing to make huge strides in the showjumping world after some top-class wins.
The 18-year-old wowed crowds when taking all three finals at the Munster Grand Prix Series final at Maryville in Cork, which is sponsored by Connolly's Red Mills.
Robyn won the 1.35m Grand Prix on Cushlas Friday, 1.10m and 1.20m on European Cruise, and was named National Young Rider champion last August at Cavan Equestrian.
The Askeaton native has also been crowned the Munster Grand Prix champion for the second year in a row. The series did not run in 2020 due to Covid-19.
"I was absolutely thrilled to win the title for the second year, I won it first when I was 16 on a horse called Coolminga Inspector Royal. This year I won it on a horse called Cushlas Friday," Robyn told I Love Limerick.
"I am a very proud Munster girl and this competition has always meant a lot to me, so to win twice is just amazing. I used to look up to the likes of Francis Connors, who won it many times, and it was always an ambition of mine to follow in his footsteps and win the title."
It was a hard-fought battle this year as she was behind on points coming into the final.
"I knew I had to go clear to be in with a winning chance, so the pressure was really on to get around with no poles on the ground. I was first into the jump-off too, and I really had to stay focused, so I went for a nice steady round to set the pace early. Thankfully, my tactics paid off!" she explained.
Robyn has won many national competitions but said that there is something about the Munster Grand Prix series that excites her every year as it is run so well and there have been many great horses through the years that have won and gone on to do great things nationally and internationally.
She said, "It is also a great experience to be competing against some very successful riders such as Francis Connors, Robert Splane, Paul Bleecher among many others."
The wins have finished up an amazing season for the talented young Limerick rider.
Robyn won her first international Grand Prix in Fontainebleau in France at just 15 years old riding Moore's Pride. In the same year, she took the honours at the RDS winning the 6 and 7-year-old pony final riding Colesgrove Cavalier.
Once she turned 16, she began taking the reins of horses instead and has established herself on the national circuit in many competitions.
"My family have been involved in horses for many generations. My late grandad, Michael Moran, was well-known across the country for producing young horses and competed many times himself in the RDS Dublin Horse Show. Sadly, he passed away from a riding accident before I was born, but I always feel so proud when people tell me that they knew him and tell me different stories about him through the years," Robyn said.
Robyn's grandmother, Jill, competed both nationally and internationally on her horse, Clover Bishop. She now has her own tack shop and runs a successful business in Askeaton.
"My dad, Brian, has many strings to his bow, he competed himself on the showjumping circuit for many years and also won the RDS Dublin Horse Show before he hung up his showjumping boots and went race riding. He had a successful career up until 2002 when he had a bad fall and decided to retire from racing," Robyn said.
Up until this year, Brian held the record to be the only Irish man and fasted time to win the prestigious Maryland Hunt Cup in the USA where he raced for many years, winning on an Irish bred horse called the Young Dubliner in 2002.
He returned to the showjumping world in 2019 when he qualified Cushlas Friday for the RDS Dublin Show.
Robyn said, "I was riding myself that year in the RDS, so there was great competition between the both of us. These days, his focus is on producing young horses along with myself for the Show Jumping Circuit."
The young showjumper currently has a yard of young horses to work with and produce up the ranks which is keeping her busy.
"I am hoping to go away for a few months to improve my riding skills and learn more about the industry. Next year, I will continue to jump on the national circuit and, all going well, have a very successful year," she said.
Robyn has proven herself to be a force to be reckoned with from a young age and is showing no signs of slowing down.
For more about Robyn Moran go HERE
For more stories about sport go HERE