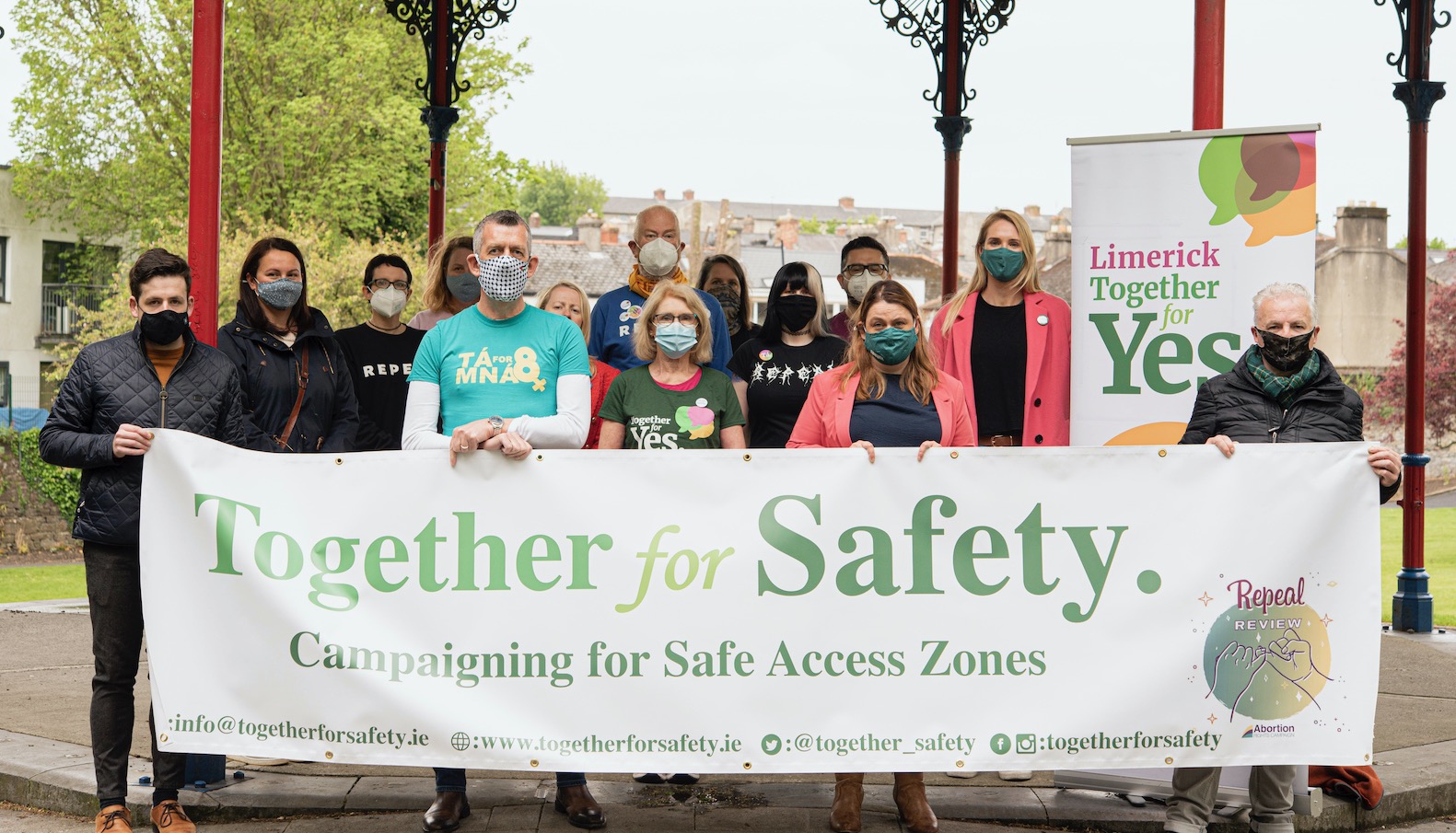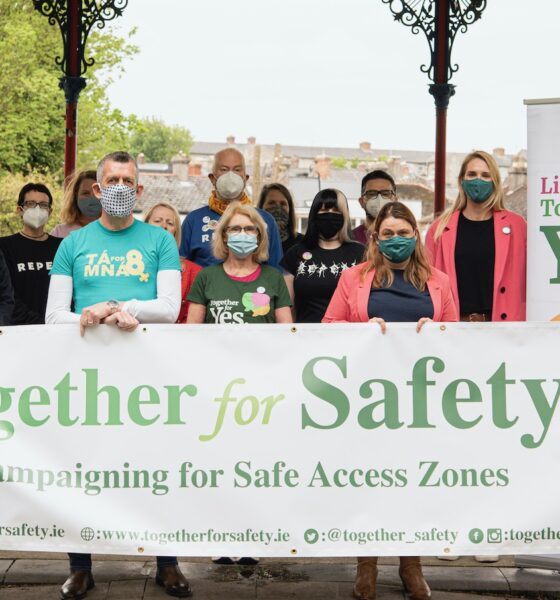 Safe Access Zones – Limerick City and County Council Call for Legislation from Minister for Health
Safe Access Zones – Front row: Councillor Connor Sheehan, The Labour Party, TD Maurice Quinlivan, Sinn Fein, Former TD Jan O'Sullivan, The Labour Party, Councillor Sharon Benson, Sinn Féin, John Costelloe, Sinn Féin. Second Row: Councillor Saša Novak, Green Party, Karen Sugrue, Together for Safety, Anna Pearson, Anne Cronin, Tadhg Ferriter, Theresa Storey, Yvie Murphy, Together for Safety, Dave Tobin, Councillor Elisa O'Donovan, independent. Photo: Geoffrey Carmody.
Safe Access Zones – Limerick City and County Council Call for Legislation from Minister for Health
On Monday, July 5th, Limerick City and County Councillors voted in favour of a motion that will see Limerick Council write to Minister for Health, Stephen Donnelly, calling on him to urgently bring in legislation to create Safe Access Zones around healthcare centres, including Limerick Maternity Hospital, in light of ongoing protests taking place there.
The protests have been highlighted by Together for Safety, who are campaigning for Safe Access Zone Legislation in response to anti-abortion protesting continuously taking place outside Limerick Maternity Hospital and Family Planning Clinic.
The motion, put forward by Councillor Conor Sheehan, was seconded by Councillor Elena Secas. Councillors Secas, Benson, O'Sullivan, Novak, & Kiely all spoke passionately in support of women and pregnant people being able to access their healthcare appointments in dignity, safety, and privacy. Other Councillors who contributed shared that while they voted 'no' in 2018, they could not allow their constituents to be harassed and intimidated as they tried to attend healthcare appointments, and so they also called for Safe Access Zones and voted in favour of the motion.
🎉🎉🎉
Limerick council calls for safe access zones around abortion providers, following protests https://t.co/cY9JUVdq85

— Together for Safety (@together_safety) July 6, 2021
Together for Safety Co-Convener, Karen Sugrue, who was present for the meeting in the public gallery said, "it was wonderful to see almost unanimous support in Limerick council for Safe Access Zones with representatives from Labour, Sinn Fein, The Green Party, Fine Gael, and Fianna Fail all speaking passionately and giving full cross-party support for measures to allow people to attend medical appointments in privacy and safety."
Yvie Murphy, Together for Safety Co-Convener, added, "We are delighted with this outcome and wish to express thanks to Limerick City and County Council for passing this motion. Legislation for Safe Access Zones was promised to us in 2018 and is in the current Programme for Government, we hope the passing of this motion demonstrates to the Minister for Health that Safe Access Zones are a necessary and proportionate response to the reality faced by people having to walk past protesters on their way to access healthcare."
Together for Safety was initiated by the Limerick Feminist Network with the aim of raising awareness and campaigning for legislation to enforce the instalment of safe access zones at all family planning clinics and female health care facilities in Ireland. They encourage and invite Councillors from across the country who might wish to put forward a similar motion to their Local Authority to get in contact with them to answer any questions they might have and to discuss the campaign further.
Sign and share the petition HERE
For other stories on Together for Safety go HERE
For other stories on Health go HERE