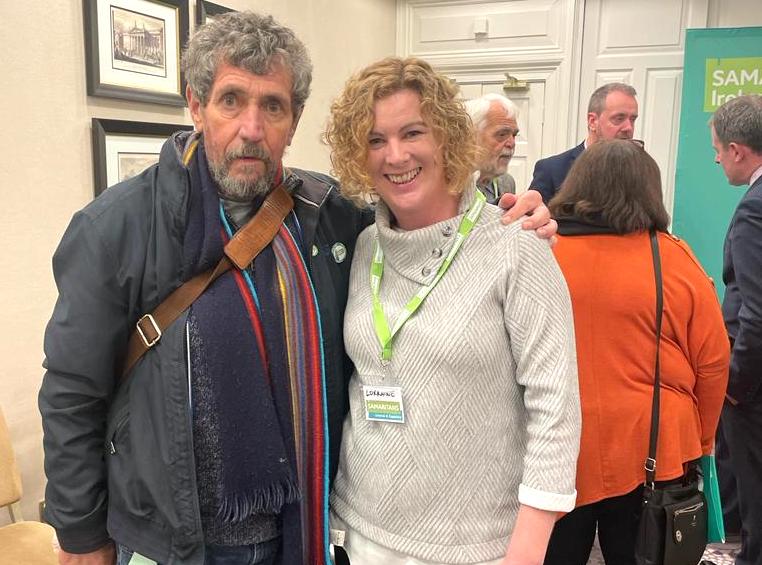 Samaritans Ireland Impact Report shows volunteers spent almost 70,000 hours on the phone giving support
Samaritans Ireland Impact Report – Charlie Bird and Limerick/Tipp branch director Lorraine Tournbury.
Samaritans volunteers show power of human connection answering almost 1,000 calls a day
Samaritans volunteers in Ireland answered almost 1,000 calls a day last year as people continued to struggle with the impact of COVID and the lifting of restrictions, annual figures show
The Samaritans Ireland Impact Report for 2021, launched by Minister for Mental Health and Older People, Mary Butler TD, showed volunteers spent almost 70,000 hours on the phone giving support to callers. Samaritans is the only 24-hour emotional support helpline which covers the island of Ireland, with over 2,000 volunteers in 21 branches nationwide (13 in RoI and 8 in NI).
The Limerick/Tipperary branch sent representatives and would like to thank our great supporter Charlie Bird, local politicians for attending the event, Brian Leddin, Maria Byrne, Niall Collins, Patrick O'Donovan, Jackie Cahill and Mattie McGrath.
Executive Director for Samaritans Ireland, Niall Mulligan said the pandemic had a profound effect on people's emotional wellbeing and highlighted the importance of human connection.
"During the year, one in five calls for help to Samaritans was from someone worried about the impact of the pandemic, and over a third of callers felt isolated or lonely. Others faced new anxieties as restrictions were lifted," he said.
"As an organisation we were challenged by the continuation of the pandemic and ongoing restrictions, however our amazing volunteers ensured that we were available to talk to our callers and provide them with emotional support.
"Their resilience, determination, and undeterred passion for our work shone through and their level of commitment made sure our freephone helpline number, 116 123, remained open 24 hours a day, seven days a week despite the challenges of the past few years. For that we thank them."
Highlights from the 2021 Impact Report include:
· Volunteers answered almost half a million contacts (Ire: 365,322 & NI: 126,657), answering a call for help every *64 seconds. (*All-Ireland).
· The most frequently raised concerns related to mental health or illness (40%), isolation and loneliness (35%), family (32%), relationship problems (20%), and COVID (20%). (Multiple issues can be raised in one call)
· A third of all calls were answered between 6pm and midnight.
· A call needing emotional support lasted an average 33 minutes.
· Over 19,000 calls were taken from prisoners in Irish prisons.
Minister for Mental Health and Older People, Mary Butler TD, launched the Impact Report and paid tribute to the commitment of Samaritans volunteers.
"I am delighted to launch Samaritans Ireland Impact Report which shows volunteers answered almost half a million calls and emails last year, with volunteers supporting others who were living in isolation or struggling to cope," she said.
"The scope of Samaritans work in this report clearly shows the support it had given to some of the most marginalised in society, through training, awareness and emotional support. I want to thank the volunteers for being there for others during their darkest hours.
"The work of Samaritans also complements the Government policy, as outlined in Sharing the Vision and Connecting for Life and I am confident the organisation will continue to support us in achieving our shared goals of enhancing our mental health services and ensuring fewer lives are lost to suicide in Ireland."
Anyone can contact Samaritans FREE anytime from any phone on 116 123, even a mobile without credit. This number won't show up on your phone bill. Or you can email [email protected] or go HERE  
Donate here to Samaritans 
Read more related articles