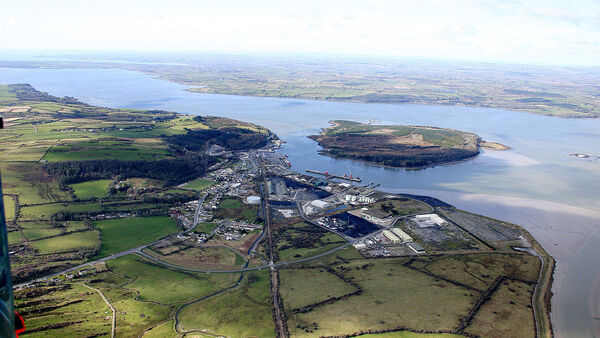 Business Community welcomes Tánaiste Announcement on Shannon Estuary Economic Taskforce Interim Report
Shannon Estuary Economic Taskforce Interim Report – A recent study estimates upwards of 5,000 jobs would be directly supported through the design, construction, operation and maintenance of offshore wind projects from Foynes and the Shannon estuary. Picture: Liam Burke/Press 22
Shannon Estuary Economic Taskforce Interim Report sets out how the Region can play a leading role in the switch to renewable energy
The Shannon Estuary has the potential to be the premier location in Ireland for offshore renewable energy as well as a transport hub for Ireland, Tánaiste Leo Varadkar said as he published the Interim Report of the Shannon Estuary Economic Taskforce.
The Taskforce's Interim Report sets out how the Region can play a leading role in the switch to renewable energy and more climate friendly ways of living and doing business. The Estuary would also become a hub for Sustainable Transport Technologies and a western "Digital Gateway" to Europe.
It proposes significant investment in the ports at Foynes and Moneypoint, a new auction for floating wind generation in 2024, and identifying industrial sites for clean energy industries like hydrogen.
The Report sets out the Taskforce's ambition to begin supplying Atlantic Offshore Wind Energy through the Estuary by 2030, with the intention to significantly accelerating it up to 2050.
There is also big potential in onshore energy generation by installing solar panels, and new anaerobic digestion facilities.
The Estuary Region has the potential to double tourist numbers by becoming a destination for outdoor sports and adventure, business and leisure events, and cruise ship arrivals.
The Shannon Estuary Economic Taskforce was set up by the Tánaiste and Minister for Enterprise, Trade and Employment last April on foot of a Programme for Government commitment to develop an economic action plan for the area. This Interim Report is an important milestone, outlining a vision for the Estuary area and how to achieve it.
It follows extensive consultation with regional, national, and international stakeholders across industry, Government, Local Authorities, elected officials, and members of the public.
Commenting on the publication of the report, Taskforce member and Limerick Chamber CEO Dee Ryan said, "Government support for the vision and ambition of the Shannon Estuary Region is very welcome and indeed will be critical for the overall implementation and success of the final report.
Prior to the interim report floating offshore renewable energy was a distant target. Today's announcement of a new auction for floating wind generation in 2024 will send positive signals to the market.
As a member of the Taskforce I look forward the full report with recommendations and actions being published in the coming months and the Mid-West taking a leadership role in our nation's economic evolution".
The collective intent of region and State must be deployed to capitalize on the unprecedented environmental and economic opportunity of the Shannon Estuary, Mayor of the City and County of Limerick Frances Foley has stated.
Welcoming the publication of the Interim Report of the Shannon Estuary Economic Taskforce, Cllr Foley said that a clear picture is emerging of the Shannon Estuary as a green energy hub on a global scale. This would, he said, see this region and State become a global leader in the fight against climate change and deliver an unprecedented economic dividend in the process.
"The government's adoption of and welcome for the Interim Report of the Shannon Estuary Economic Taskforce is a very significant moment for this region and, indeed, country. Perhaps Ireland's greatest every opportunity sits off the west coast by virtue of the best winds in Europe that can now finally be harvested through floating wind technology.
"The giant turbines needed to do that can only be assembled in sheltered estuary waters of huge depths and the Shannon Estuary is not just one of few water courses in Europe with those depths. Our proximity here to those winds means that we simply have no choice but to go after this opportunity.
"Add in the fact that Europe has to diversify from Russian oil and gas to renewables, as well as climate change targets and it's not just a case of if but when we are going to start accelerating this opportunity," Mayor Foley said.
"It's not too bold to say that we are in a similar position today that the Middle East was in over 80 years ago when oil was first struck there. But ours is a green fuel that is going to renew rather than damage the environment. It's a remarkable confluence of events and we need to do all in our power as a region and state to make sure this opportunity is realised."
Said Chief Executive of Limerick City and County Council Dr. Pat Daly: "We can be grateful to the Shannon Estuary Economic Taskforce members for their tireless work in setting out a roadmap that has the capacity to have the Shannon Estuary, with Limerick city as its main urban centre, on a global map of world energy leaders. Better still that we will be a green energy player. Limerick City and County Council is delighted to play its part in this.
"What we have here is an opportunity at a scale that we've never experience before in the region or, indeed, State. The onus is on all key stakeholders, from local authorities to universities and industry to promotional agencies, to work closely together to make sure we make the most of this. It's an investment in future generations that we just have to make."