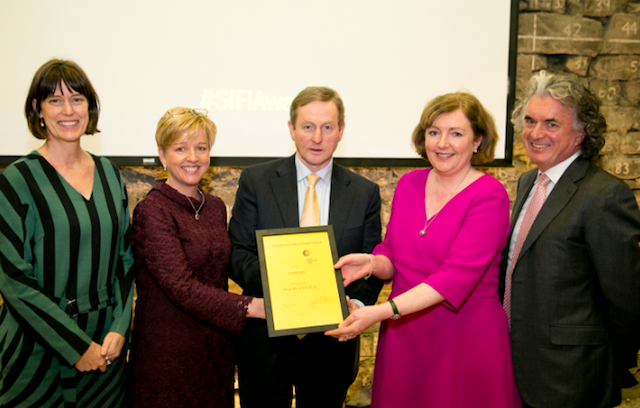 An Taoiseach Enda Kenny TD Announces Limerick Based Carebright Winner of the Social Innovation Fund Ireland Awards 2016
Social Innovation Fund Ireland Awards 2016
Social Innovation Fund Ireland Awards 2016, February 1 2016, a non-profit organisation catalyzed by the Government in order to establish a fund of significant size and impact to aid the development of social innovation in Ireland, announced Limerick based Carebright one of the four winners of the Animate Programme. The awards were presented by An Taoiseach, Enda Kenny T.D on Wednesday, 27th January in Dublin, at a prestigious awards ceremony held in Wood Quay, Dublin on Wednesday 27th of January.
Carebright is a social enterprise developing a new model of care for people with dementia called Dementia Hub. Carebright is the first organisation in Ireland to work towards 'living with dementia' not 'suffering from dementia' through the Hub which will be built by September 2017 in Bruff, Co Limerick. Over the past 18 years Carebright has demonstrated that a social enterprise can meet local need, provide local employment and make a surplus.
Majella Murphy, Business Developer Manager of Carebright, said: 'The vision for our Dementia Hub, was born out of a belief that people with dementia can live a happy and independent life in a community environment. The Social Innovation Fund Ireland will help us raise the profile for this unique model of care by providing us with access to leadership, mentoring and networking."
In December 2015, Social Innovation Fund Ireland opened the inaugural Animate Programme, Ireland's first 'non-profit accelerator'. The Animate Programme supports early stage innovations, projects and organisations to get to the next stage of their development. The award consists of a package of financial and non-financial supports that target growth. A grant of up to €10,000 supplements the non-financial support includes: growth planning supports from a business consultant; a mentor; technical supports; and access to Social Innovation Fund Ireland's networks. Since launching, the programme has received over 55 high quality applications for all over the country. 
Deirdre Mortell, Social Innovation Fund Ireland CEO, said: "The Government's challenge fund of €5 million to Social Innovation Fund Ireland means that for every Euro of funds donated, we can match it with a Euro from Government, enabling us to double the impact of our donations. These four projects illustrate the power and impact of philanthropy when it partners with Government, creating 80 jobs while meeting local social needs."
You can find more information on the Social Innovation Fund website, click here.
Follow the Social Innovation Fund on Twitter and Facebook
For more stories by I Love Limerick, click here