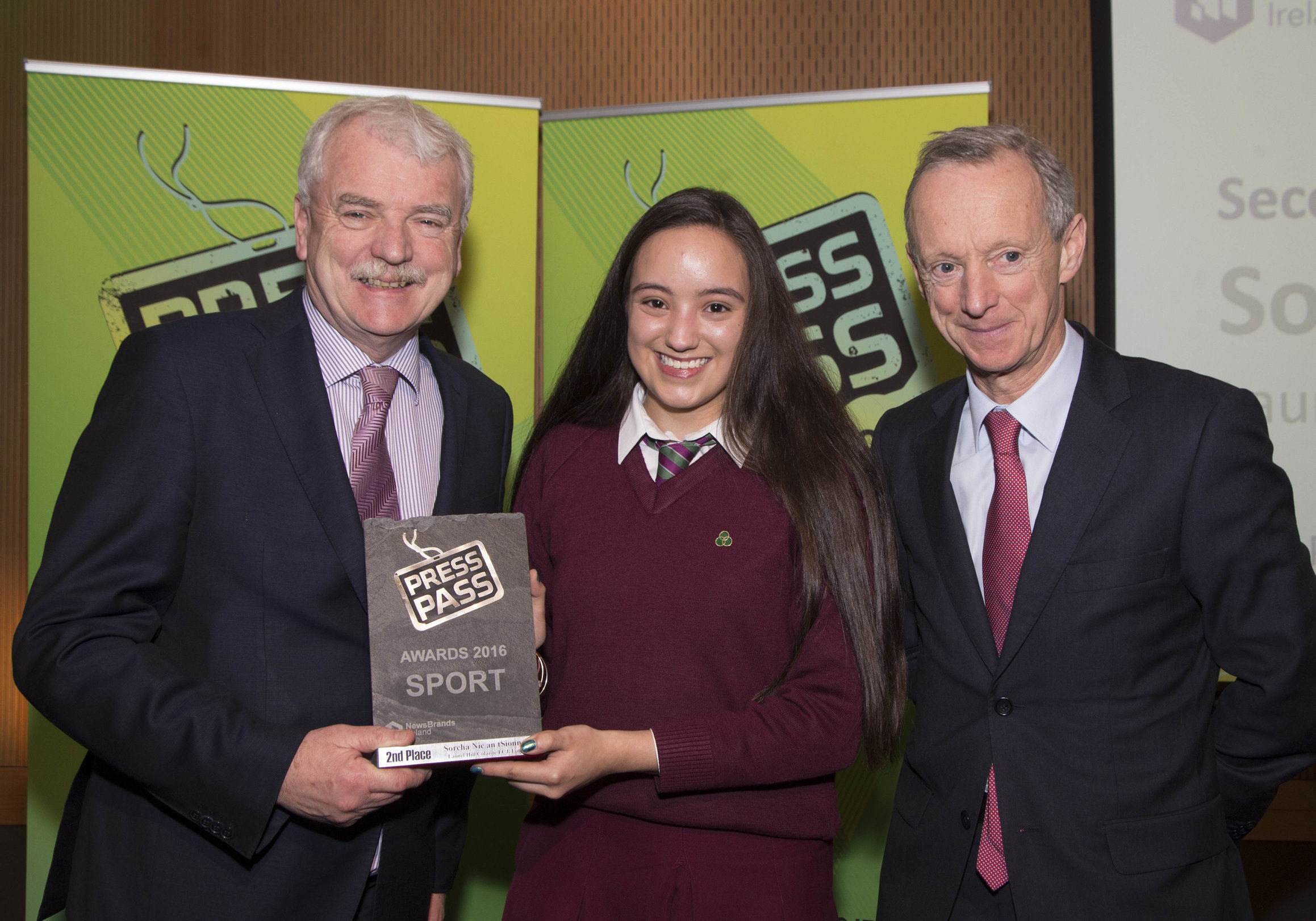 Limerick TY student Sorcha Nic an tSionnaigh wins sports journalism award at annual Press Pass Awards
Pictured: Finian McGrath TD, Minister of State with special responsibility for Disabilities, Sorcha Nic an tSionnaigh, Laurel Hill Coláiste FCJ, Limerick 2nd place winner in the Sports category in the NewsBrands Ireland Press Pass awards and Vincent Crowley, Chairman NewsBrands Ireland. Photo: Colm Mahady/Fennells
Sorcha Nic an tSionnaigh, a talented Transition Year student from Laurel Hill Coláiste FCJ has been awarded a prestigious prize for sports journalism at the annual NewsBrands Ireland Press Pass Awards which took place in Dublin's Convention Centre on Friday, 10 March 2017.
The awards, which are now in their fifth year, seek to improve literacy and critical thinking skills while helping students to develop a deeper understanding of news media and how it communicates with the world around them. The national competition seeks original journalism entries in 5 categories: Features, Opinion, News, Sport and Photojournalism.
8,000 Transition Year students took part in this year's initiative and 16 of those students were awarded for their original journalism, created as part of the NewsBrands Ireland Newspapers-in-Education programme.
Sorcha Nic an tSionnaigh was awarded the 2nd prize for her piece, 'Ballyea in Shock Win', her report on the Munster club senior hurling semi-final between Ballyea of Clare and Thurles Sarsfields of Tipperary.
Speaking about the article, the judging panel said: "It has been a year that the hurling faithful of little Ballyea will never forget – and next week's All-Ireland senior club hurling final may bring an even bigger reason to remember. Along the way, the club that only won their first Clare county title this year had to see off the might of Tipperary champions Thurles Sarsfields in the Munster semi-final – and they did just that in an epic battle which was wonderfully captured by our Sorcha Nic an tSionnaigh. A good match report paints pictures, captures the emotion and significance of the occasion and transports readers through words to witness history in the making."
Finian McGrath T.D., Minister of State with special responsibility for Disabilities, attended the awards and presented students with their awards. Speaking at the awards in the Convention Centre he said: "Newspapers have a vital role to play in any free society. They are watchdogs, chroniclers and the eyes and ears that go where most cannot be. Press Pass is a wonderful initiative that promotes literacy and critical thinking skills by bringing newspapers into classrooms and encouraging students to study them in depth.
"When you engage with newspapers you engage with society. When young people engage with society, that society benefits enormously from their input and their energy. I am delighted that 70,000 Transition Year students have had the opportunity to study newspapers in their classrooms through the Press Pass programme and I am certain that each and every one of them is a more engaged and better-informed citizen as a result." Mr McGrath commented.
NewsBrands Ireland Chairman, Vincent Crowley recognised the quality of journalism produced by the winning students and said: "We are consistently impressed by the standard of work that the young people of this country produce. This year is no exception. It bodes well for the future of journalism in this country and for Ireland more generally."
The audience made up of nominated students, their teachers and families also heard from Michael Clifford of the Irish Examiner, who was the NewsBrands Ireland Journalist of the Year 2016. Mr Clifford highlighted the value of quality, professional journalism and the importance of a trusted media.
Since the Press Pass programme launched five years ago, approximately 70,000 students have benefited from it. The programme has had the full support of the
Department of Education since it began. It seeks to improve literacy and critical thinking skills while helping students to develop a deeper understanding of news media and how it communicates with the world around them.
Participating schools receive newspapers and a specially created workbook free of charge. Students are encouraged to engage with the newspapers in the classroom, to analyse them and then to create their own original journalism, the best of which was entered into a national competition.
The winners were selected by a panel of newspaper editors and journalists, chaired by Professor John Horgan, the former Press Ombudsman.
For more information on The Press Pass Awards click here
To read more stories awards in Limerick click here