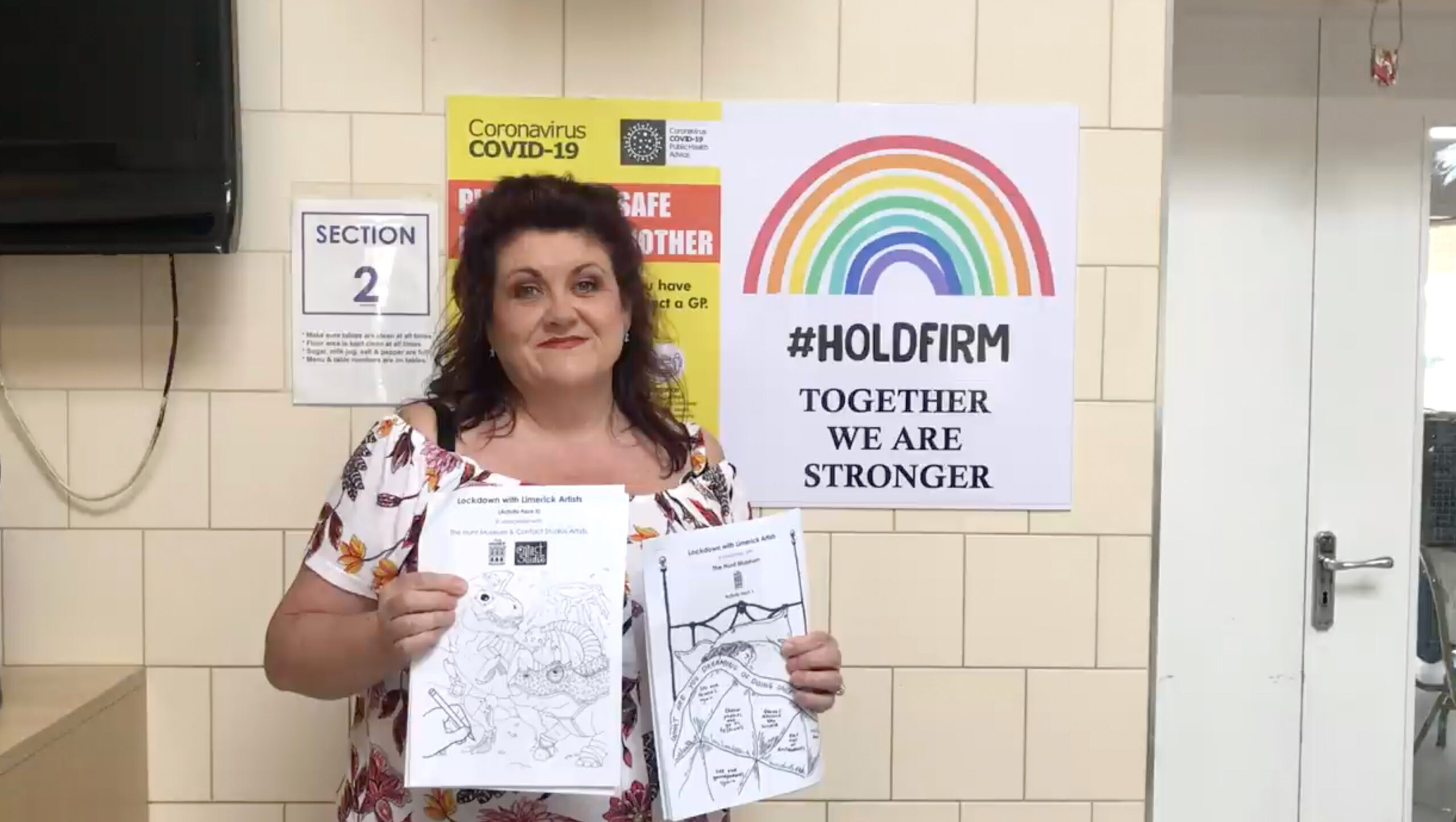 St Munchins Community Centre organise a colouring competition for the children of Limerick, in collaboration with the Hunt Museum 
St Munchins colouring competition
Linda Ledger, Manager of St Munchin's Community Centre, announces a kid's colouring competition in collaboration with the Hunt Museum
St Munchins Community Centre organise a colouring competition for the children of Limerick, in collaboration with the Hunt Museum
By I Love Limerick Correspondent Mary Doyle
St Munchins Community Centre have organised a colouring competition for the children of Limerick, in collaboration with the Hunt Museum. Primary school students across
Limerick could be in with the chance of winning a voucher for Smyths toy store by getting creative and colouring in any picture from the 'Lockdown with Limerick Artists' activity pack, available for print HERE, or by getting in touch with St Munchins Centre.
St Munchins are delighted to be working with The Hunt Museum, Limerick artists and Limerick primary schools, to organise these activity packs for the children to complete during this time away from school, giving them the opportunity to be creative, develop an appreciation for art, and learn outside of their school work. To enter the competition, all the child has to do is choose a picture from one of the activity packs available from St Munchins, colour it in to the best of their ability, and send a photo of it along with their name, age and school to the St Munchins Facebook page via the Messenger app. The closing date for entries is Monday, June 15, 2020.
Also this week, St Munchins delivered 300 of the activity packs to students of CBS and Presentation Primary Schools, which all include the 'Lockdown with Limerick Artists' activity pack mentioned to enter the competition.
First, Second and Third Place will be chosen soon after the closing date, and the prizes for these winners are as follows:
First Place: €50 voucher for Smyths Toys
Second Place: €30 voucher for Smyths Toys
Third Place: €20 voucher for Smyths Toys
Linda Ledger, Manager of St Munchins Community Centre, said, "I'm delighted to say that we have partnered up with the Hunt Museum, and the artists who made the most fantastic packs. The kids of CBS and Presentation schools will have gotten them in their care packs from us, but anybody else who wants them please get in contact with the centre and we can get them printed out. But today there's a competition; a €50 voucher for Smyths Toys for the best coloured-in picture from any of the packs. We would love to see them. Please keep the entries coming in, and a big thanks to the Hunt Museum, it's fantastic."
For more stories on St Munchins, click here.