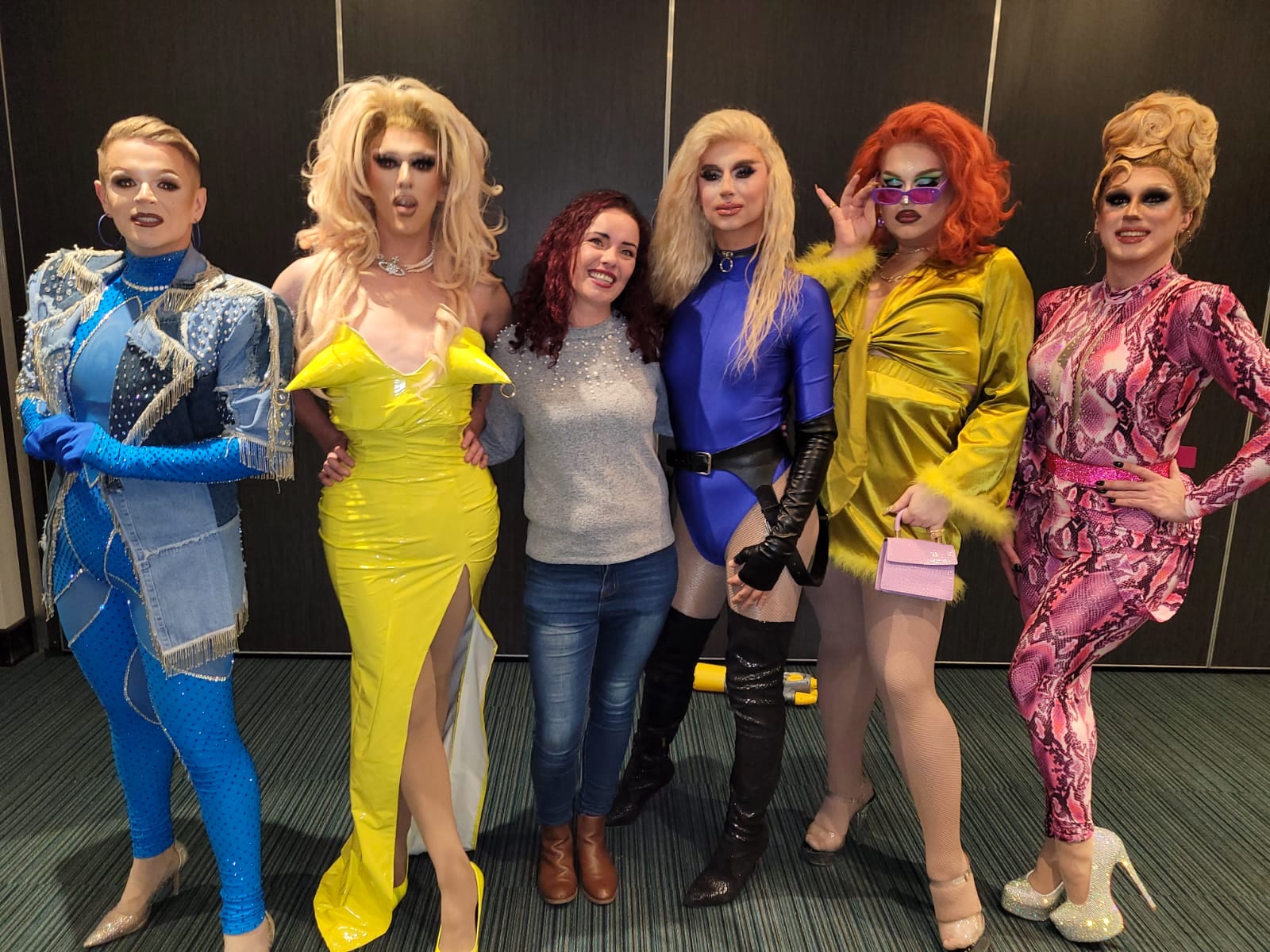 UL host iconic drag night featuring Paul Ryder as part of Stand Up Awareness Week with proceeds going to GOSHH
Stand Up Awareness Week – Pictured above are Paul Ryder, Pixie Woo, Lisa Daly, Chairperson of Limerick Pride, Regina Gorj, Dylatrix, and Elle Uminati.
Alternative Miss UL was then followed by Paul Ryder's drag show
By I Love Limerick correspondent Ellie McCarthy
The sounds of fabulous drag queens could be heard all over the University of Limerick campus on the night of Tuesday, November 15 as the infamous Alternative Miss UL returned bigger and better than ever!
Alternative Miss UL has taken place every year in the university semester since 2011, with a two-year hiatus due to the covid-19 pandemic. This year, it was hosted in UL restaurant The Pavillion. It is part of UL's Pride Week which is running from November 14 – 18.
The night began the Alternative Miss UL competition which featured iconic drag queens Pixie Woo, Regina Gorj, Dylatrix, and Elle Uminati, partaking in lip sync battles, as well as dancing and singing. It was a show no one could possibly forget as the queens put on an electric performance.
Alternative Miss UL was not the only treat the audience had in store as this was followed by Paul Ryder's drag show, one of the most infamous queens in Ireland. It was a magical night with over 180 students in attendance. The roof was blown off with the highly interactive show fronted by Paul.
Paul Ryder said, "Myself and all the performers were so thrilled to be asked to be part of this event with the fantastic team at UL for so many reasons. As part of the LGBTQ+ community bullying was so prevalent in most of our upbringing in some way or another and also in that of our found family that we were lucky to make over the years so be able to stamp our heels down and say 'NO! We don't stand for bullying in any shape, way or form' is really empowering in today's world and I was thrilled to be able to entertain the brilliant crowd of diverse faces all while bringing a really strong message to the forefront."
Lisa Daly, festival director and chairperson of Limerick Pride, who was in attendance said, "It was great to attend this year's sold-out Alternative Miss UL which was organised by Student Life and Out in UL for Stand Up Awareness Week. The event has grown so much over the years. There was lots of talent and professionalism from everyone involved, who should be all very proud. Stand Up Awareness Week is a time for schools, colleges, youth services, in Ireland to take a stand against homophobic, biphobic and transphobic bullying. Stand Up Awareness Week is an opportunity to take steps to make spaces safe and supportive for LGBTQ+ young people. To provide resources, tools, and knowledge. One in five young LGBTQ+ people face bullying and that 73% of young LGBTQ+ students feel unsafe at school. Together we can create spaces where LGBTQ+ young people feel safe, equal, and valued. The queens couldn't escape after the show with people looking for pictures and autographs. Out in UL wanted a charity element to their Alternative Miss UL, as a result proceeded from the event are going to GOSHH."
GOSHH is a charity that works with LGBTQIA+ youth, and young adults. It stands for Gender Orientation Sexual Health HIV. The organisation is located on 18 Davis Street, and GOSHH's vision is to create an environment where the mental, emotional, physical, and social well-being of everyone is promoted and sexual rights are respected, protected, and fulfilled.
UL purposely aligned this week to coincide with BelongTo's Stand Up Awareness Week.
BelongTo's Stand Up Awareness Week is a time for post-primary schools, and youth services in Ireland to join in and take a stand against homophobic, biphobic and transphobic bullying.
While the BelongTo campaign doesn't run across universities, UL Student Life wanted to harness the messaging and good work BelongTo are doing and reiterate that to the students in UL.
Pride month falls outside of the UL academic calendar, so they felt that aligning the universities pride week with this national campaign really strengthens the message. The pride flag has been flying strong on the iconic flag poles at the main entrance to UL, outside the White House and in the Student Courtyard, to signify the role the University is playing in standing with the LGBTQ+ community and its allies.
Dara Fahy, Events Coordinator at UL Student Life said, "We wanted to create a safe space for the community but also for those that may be questioning who they were, that was the aim of our events."
Overall, this year's Alternative Miss UL was indeed a night to remember, and the next year of the competition is sure to be highly anticipated!
Find out more information on how you can get involved in BelongTo's Stand Up Awareness Week
Related stories on LGBTQIA+ Pride