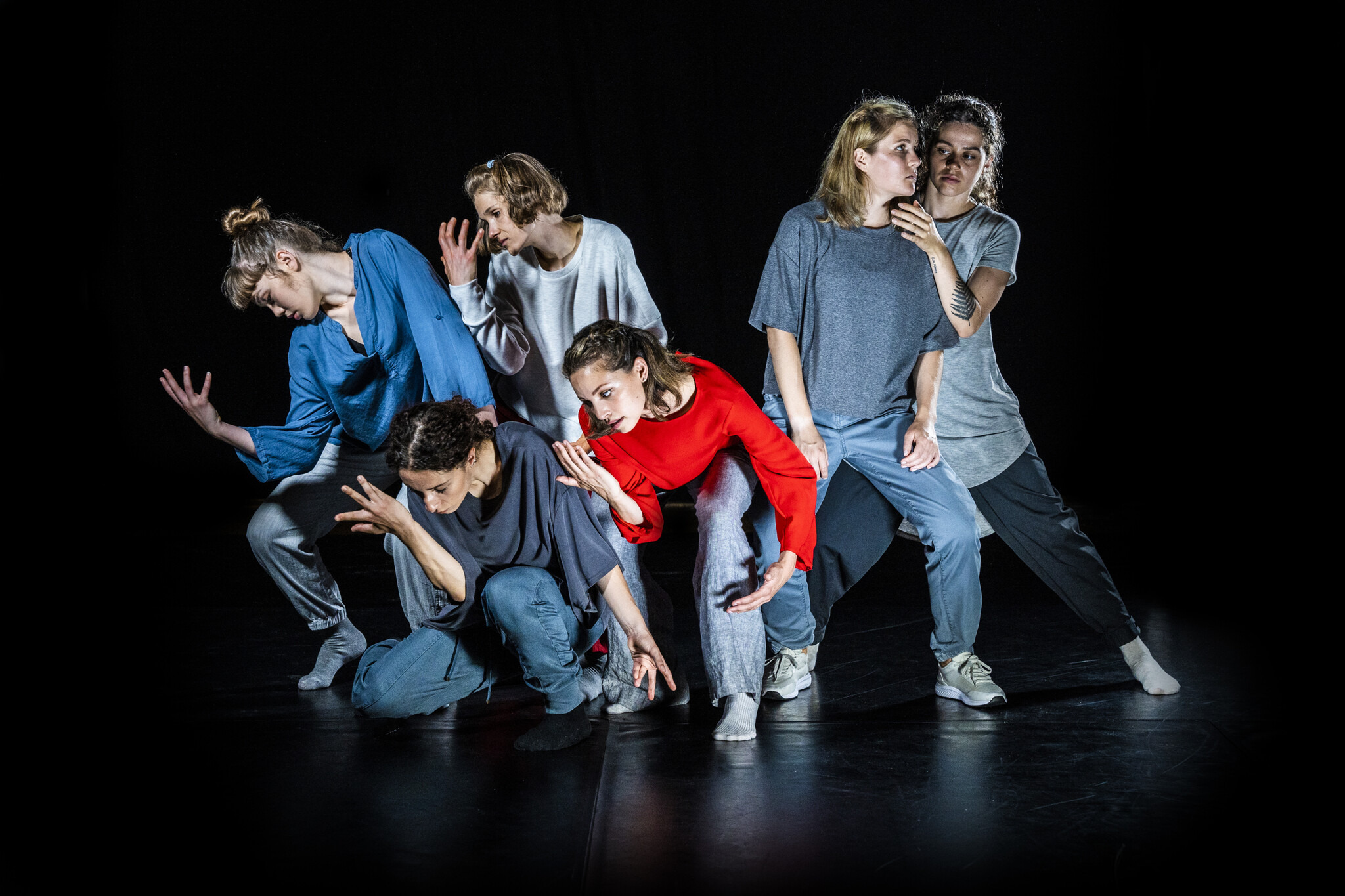 Dance Limerick Invites Audiences to Experience the Joy of Live Dance Once Again, with a Double Bill of New Works
STEP UP 2021 Irish tour features the works of David Bolger and Lucyna Zwolinska. Picture: Shane Serrano
Dance Limerick Invites Audiences to Experience the Joy of Live Dance Once Again, with a Double Bill of New Works
Dance Limerick is proud to present They Started Chanting Too by David Bolger (IRL), and Gafa Cois Farraige by Lucyna Zwolinska (PL/DE) as part of the STEP UP 2021 Irish Tour.
During the tour, STEP UP 2021 will premiere the dance film Amergin by Luke Murphy, created with the 2020 project participants on location in West Cork. Amergin will be screened prior to the Project Arts Centre performances in Dublin, more information on this below.
About the Performances
They Started Chanting Too by David Bolger. As the world reopens and our right to gather is reinstated, we ask what are our hopes for the future? What will our dance be about? Six bright young dance artists explore personal narratives, articulating their stories as images of protest emerge. The answers transform into a physical score that drives the narrative forward and emerges into a kaleidoscope of hope, dreams, and an energetic future.
Gafa Cois Farraige is a new contemporary dance piece by Lucyna Zwolinska. The work is inspired by the lighthouse as a symbol of loneliness, but also hope, something that follows us during the ebb and flow of our lifetime. In the Buddhist tradition, all things are considered as either evolving from, or dissolving into, nothingness. This "nothingness" is not empty space. It is rather a space of potentiality. 'If the seas represent potential, then each thing is like a wave arising from it and returning to it. There are no permanent waves. There are no perfect waves. At no point is a wave complete, even at its peak. Nature is seen as a dynamic whole that is to be admired and appreciated.'
The Dance Double Bill will tour the following locations: Dance Limerick on Wednesday 25 August, Backstage Theatre, Longford on Thursday 26 August, and Project Arts Centre, Dublin on Saturday 28 August.
Jenny Traynor, director of Dance Limerick says about this year's tour: 'This is Dance Limerick's first tour since 2019, and we are excited to move forward in presenting live dance once again. Supporting us in the return in-person performances are our fantastic venue partners: Backstage Theatre, Longford and Project Arts Centre, Dublin. This is your chance to experience the magic of live dance once again.'
Dance Limerick is proud to present the live STEP UP Dance Double Bill!

'They Started Chanting Too' by @_DavidBolger, & 'Gafa Cois Farraige' by Lucyna Zwolinska, premiere at #DanceLimerick on 25 Aug, before touring @backstageIRL & @projectarts.

?Info https://t.co/RzHTs5Moa8 pic.twitter.com/WBYXp0vvlD

— Dance Limerick (@DanceLimerick) August 11, 2021
Artist Biographies
David Bolger is the Artistic Director and co-founder of CoisCéim Dance Theatre. His work has been seen by millions of people worldwide and has received prestigious awards for its innovation, performance, and choreography. Over the last two decades, David has directed and choreographed over 20 original productions for CoisCéim, including the acclaimed Swimming with my Mother, Agnes, The Wolf and Peter and Body Language. David's recent work In The Magic Hour, was a durational dance installation taking place in handball alleys across the country during the magic hour at dusk.
Lucyna Zwolinska was born in Poland and began her training at Ballet School in Bytom. From 2003 she continued her dance education on scholarship at High School of Music & Performing Arts in Frankfurt am Main (Germany), where she also danced in works by Georg Balanchine, William Forsythe and Marguerite Donlon. In 2019 she created reflexio, and in 2020 she received the cultural prize of Zonta-Club Saarlouis and started to work on new collaborative project B&Z PRODUCTIONS with musician Gabriele Basilico.
Step Up 2021 Dance Project, now in its eleventh year, is a partnership between the Arts Council, Dance Ireland, Dance Limerick and the Irish World Academy for Music and Dance at the University of Limerick. The project has featured 64 Emerging Artists, 20 Professional Choreographers, 39 Teachers and Coaches, and 28 Public Performances since it began in 2011.
For more information and booking details, please see HERE
For more stories on Dance Limerick, see HERE