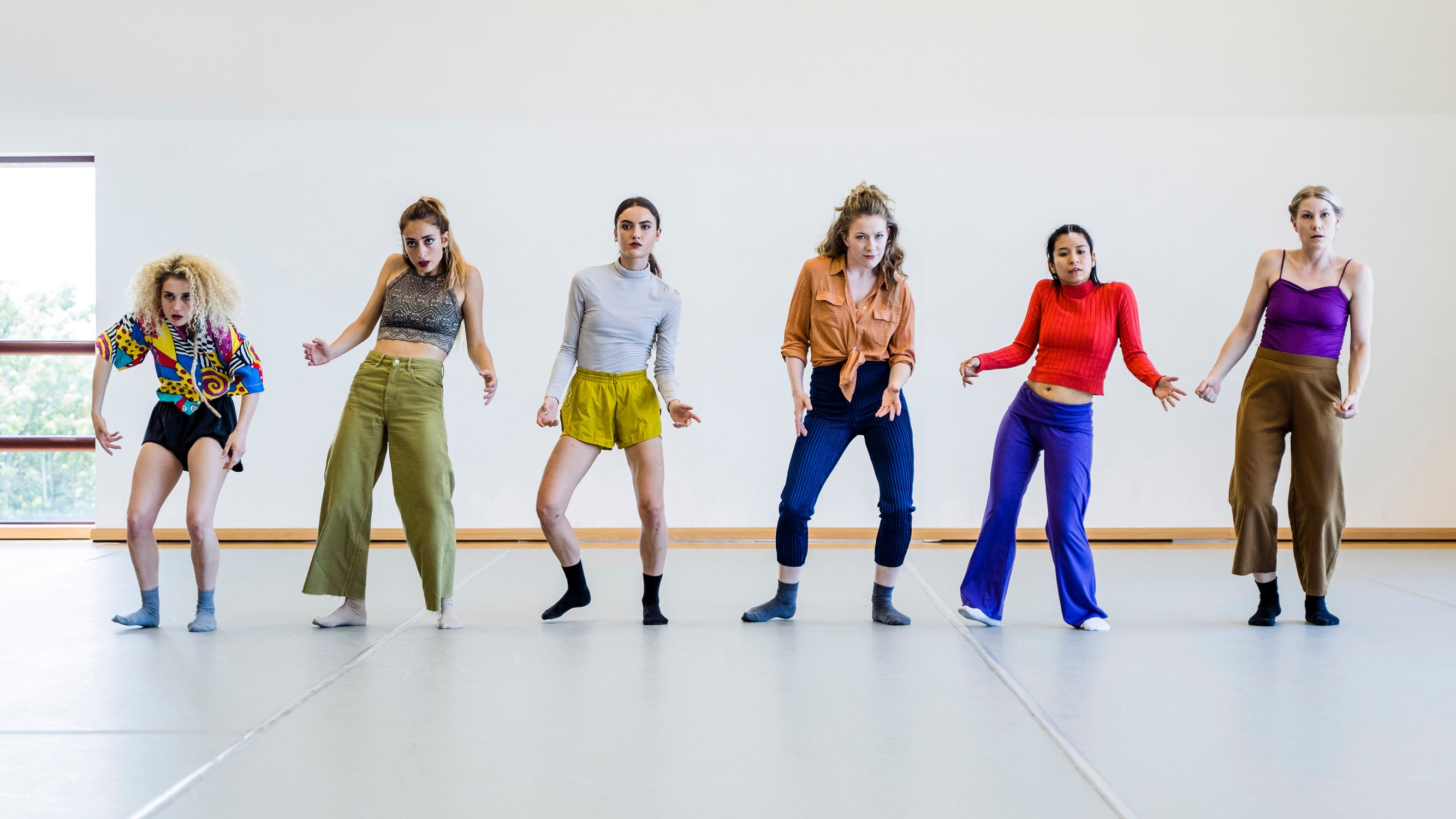 Six Promising Young Dancers to work with International Choreographers as part of Step Up Dance Project 2019
Step Up Dance Project 2019 plays host to some of Ireland's most promising contemporary dance graduates. Pictured (L-R) at the Irish World Academy of Music and Dance at The University of Limerick are Aliina Lindroos, Ambre Twardowski, Juliana Tarumoto, Ginevra Cecere, Rosie Mullin and Claudia Gesmundo. Picture: Don Moloney
Six Promising Young Dancers to work with International Choreographers as part of Step Up Dance Project 2019
Step Up Dance Project, now in its ninth year, once again plays host to some of the most promising recent contemporary dance graduates. Curated by International Choreographer and Director of Donlon Dance Collective Marguerite Donlon, Step Up 2019 brings a new outlook.
The six promising young dancers were chosen following a competitive open call and audition process. They are Aliina Lindroos (Finland), Claudia Gesmundo (Italy), Ginvera Cecere (Italy), Juliana Tarumoto (Brazil) Ambre Twardowski (France) and Rosie Mullin (Ireland).
The dancers will train with ballet master and rehearsal director Eoin Mac Donnacha (Ireland) Rivca Rubin (UK), Tanztheater Wuppertal Pina Bausch artist Rainer Behr (Germany) and professor of contemporary dance at the HfMDK Frankfurt am Main Deiter Heitkamp (Germany) and will create new dance works with international choreographer and director of Donlon Dance Collective Marguerite Donlon, Emanuele Soavi (Germany / Italy) and Francesco Vecchione (Italy/Spain), over a period of ten weeks at University Limerick culminating with an Irish tour in August 2019.
Jenny Traynor, Director of Dance Limerick said, "We are now in our ninth year of the Step Up Dance Project and we are delighted to have Choreographer Marguerite Donlon with us to curate a new and fresh programme for our chosen dancers. The talent during the audition process was exceptional and it wasn't an easy decision to choose our final six dancers. I'm very much looking forward to seeing the tour at the end of August."
The programme combines creating three brand new works with International choreographers, working on specific technical skills, from a renowned improvisation teacher (Deiter Heitkamp), learning repertoire from one of the greatest masters-in-dance (Rainer Behr for Pina Bausch) and personal coaching (Rivca Rubin) followed by a performance tour. Step Up will enhance young dancers' professional networks by connecting them to the Irish and international contemporary dance community, thereby improving their professional opportunities for the young dancers.
Step Up Dance Programme is a partnership between the Arts Council, Dance Ireland, Dance Limerick and the Irish World Academy of Music and Dance at the University of Limerick, which aims to bridge the gap between dance education and professional contemporary dance practice in Ireland. It is an annual intensive programme of training, rehearsals, performance and development for selected dancers who have completed their professional training within the last three years. The specific elements of the programme include working with high profile choreographers to create new work, working with Professional Dance Artists to enable the dancers in the reconstruction/setting of existing choreography and Development Workshops and Information Sessions
Dance Limerick tour will take place on Monday, 26 August. Tickets are €10 and can be bought at www.dancelimerick.ie For further information on Step Up Dance Programme please contact Emer Casey, Communications and Programme Manager at Dance Limerick | [email protected].ie | 061 400 994.
For more information on the Step Up Dance Projects, click here
For more stories featuring Dance Limerick, click here