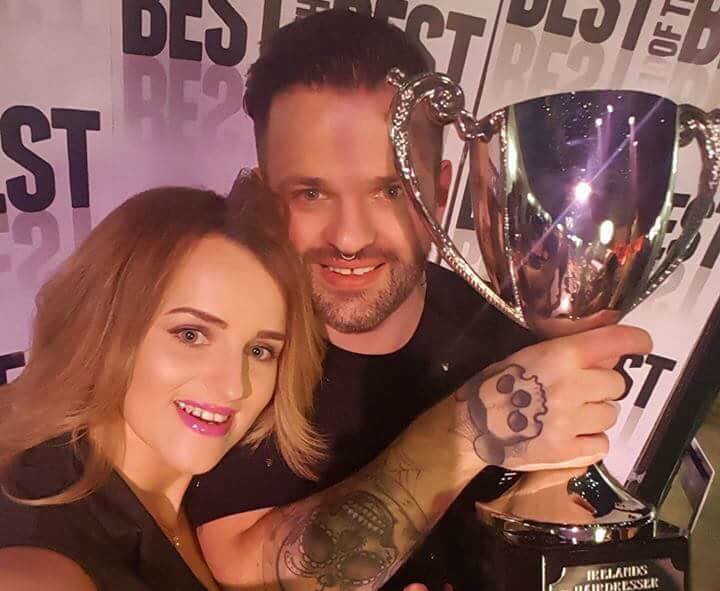 Stephen O Driscoll of Hugh Campbell Hair Group announced Best Irish Hairdresser of the Year 2017
Picture: Stephen O Driscoll with his sister Breeda at the Awards.
Stephen O Driscoll of Hugh Campbell Hair Group announced Best Irish Hairdresser of the Year 2017
What could possibly be better than being nominated for an award and bringing home the trophy? Maybe multiple nominations, multiple awards and an overall national title.
Stephen O Driscoll, Artistic Director in Marbles Castletroy Town Centre, swept the boards at the Best of the Best Irish Hair Photographic Awards 2017 in Dublin's Mansion House last Sunday. Amid fierce industry competition, Stephen was nominated for an incredible eight categories. Armed with an unrivalled ability to push boundaries and mix genres, Stephen won Best Men's Fashion Image and Best Fantasy Image, which served as great warm-ups for the main event – being crowned Best Irish Hairdresser of the Year 2017.
Stephen embodies the style, perfection and innovation that is synonymous with the Hugh Campbell Hair Group brand and is exemplified on all five salon floors. What makes Stephen's artistry really stand out is the fact that, in addition to the amazing hair creations, he also styled and photographed the entries himself. You wouldn't find an executive producer who could also direct his own movie!
Stephen O Driscoll who is the Artistic Director of Marbles Castletroy Town Centre which is one of the Hugh Campbell Hair Group salons. Hugh Campbell Hair Group comprised of five prestigious hair salons in Limerick; Marbles Hair & Beauty Cruises St, Cats Hair Studio, Melo Yelo, The River and Marbles Castletroy. Their award-winning hair salons in Limerick offer highly skilled and talented stylists, all with a proven passion for hairdressing.
Stephen expressed his delight at his win saying, "I'm over the moon to have walked away with the individual awards, but especially having won the overall title for 'Ireland's Best Hairstylist 2017'. It's a great achievement and a fantastic platform to showcase the standard of the work we do every day."
The Best of the Best Awards are hosted by Irish Hairdresser Magazine and have become a prolific platform for stylists and colourists to showcase their talent and compete against heavyweight industry peers. In their twentieth year, these awards encompass all that is the best in Irish hairdressing. With standards at an all-time high, the judges faced a mammoth task in choosing the Best Irish Hairdresser of the Year. For his very loyal client base and colleagues, however, Stephen was a natural choice. Known for his artistic flair, creative cutting and colouring, and unwavering attention to detail, in Stephen's case the crown really does fit.
To book Stephen O Driscoll an appointment call MARBLES Castletroy (061) 33 16 33
or click here
For related stories click here
Picture Stephen O Driscoll & his sister Breeda at the Awards.