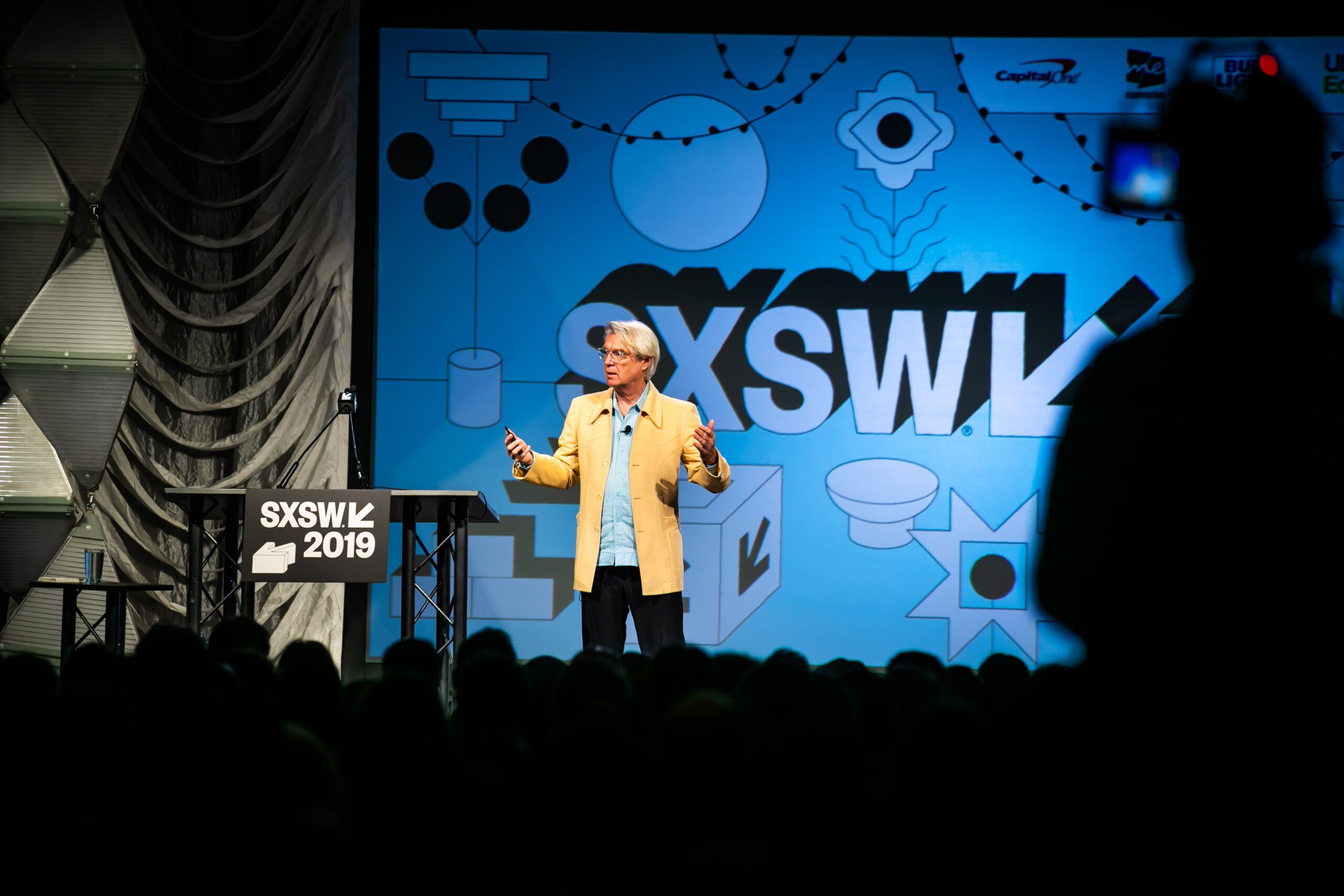 LEO Limerick and Innovate Limerick looking for 20 locals to attend SXSW Conference in Austin, Texas
SXSW Conference in Austin, Texas will be attended by 20 lucky Limerick creatives and entrepreneurs. Pictured above is David Byrne from Talking Heads pictured at the 2019 event. Picture: Aaron Rogosin
LEO Limerick and Innovate Limerick looking for 20 locals to attend SXSW Conference in Austin, Texas
Calling all local creatives, entrepreneurs, and anyone ready to reimagine the future and what's next for the worlds of technology, film, culture and music.
Innovate Limerick through Film in Limerick is joining forces with Local Enterprise Office (LEO) Limerick to send 10 local film and 10 local tech sector leaders to this year's virtual SXSW Festival in Austin, Texas.
Founded in 1987, South by Southwest (SXSW) is an annual convergence of the interactive, film, and music industries and an essential meeting place for global visionaries. The event exhibits and highlights the integrations and overlaps between the digital and creative industries and connects attendees with some of the world's most innovative companies.
This year the festival is holding a fully online event from 16-20 March, and we are looking for individuals to join Limerick's virtual delegation.
The full lineup for the 28th edition of the #SXSWFilm Festival is here! Explore 75 Features, 84 Short Films, 5 Episodic Premieres, 6 Episodic Pilots, 20 Virtual Cinema projects, 30 Special Events, and more just announced for #SXSW Online. https://t.co/gC8thhzlkz

— SXSW (@sxsw) February 10, 2021
Delegates will have the opportunity to attend keynote and conference sessions, music showcases, film screenings, and online exhibitions and be able to take part in a variety of networking events with creatives across interactive, film, and music industries.
Key themes for this year's events include Challenging Tech's Path Forward (harnessing the tech industry's power to be a positive factor), Cultural Resilience in the Arts (how creative communities evolve in times of crisis), and Transforming the Entertainment Landscape (metamorphoses in the music, film, television, sports, and gaming industries).
This year's event features an extensive mix of speakers including Head of Amazon Studios, Jennifer Salke; filmmakers James Cameron and Barry Jenkins; Director of NASA's Jet propulsion Lab Dr. Michael Watkins and American politician and Nobel Peace Prize nominee Stacey Abrams.
Alongside the main festival, a Creative Industries Exhibition digital expo will serve as the epicentre of business for this year's SXSW experience. Top creative organisations, innovative industry leaders, small businesses, and emerging start-ups from all over the world will come together during the four-day event. SXSW Conference
Calling all local creatives, entrepreneurs & anyone ready to reimagine what's next for the worlds of technology, film, culture and music! @innovatelmk & @leo_limerick are sending 10 local film & 10 local tech sector leaders to this year's virtual SXSW Festival in Texas #SXSW

— Limerick Council (@LimerickCouncil) February 18, 2021
As part of the opportunity to join the Limerick Delegation, Film in Limerick and Local Enterprise Office Limerick will hold a warm-up online event for the delegation to help you plan and make the most out of the experience. SXSW Conference
Staff from the SXSW team will be on hand to help you understand and make the most of the platform and there will be a chance to network with the other delegates.
Mike Cantwell, Head of Enterprise LEO Limerick and Innovate Limerick said "Any SME wanting to explore new opportunities should apply to participate in the Limerick delegation to find out about the latest in technology and innovation. Technology groups can network and attend the Innovation awards to examine collaboration and export opportunities; film groups will represent our growing mid-west filming sector. The virtual event is an opportunity to participate on a world stage."
Paul C. Ryan, Regional Film Manager at Film in Limerick, said, "South by South West is probably the most exciting and innovative film event anywhere in the world right now. It's the heart and soul of independent filmmaking and it has helped launch the careers of many successful independents including; Lena Dunham, Joe Swanberg, and the Duplass Brothers."
"Its crossover with the technology sector and its eye on the future is where SXSW really shines and it's an essential event on the calendar for current and emerging film and tech professionals."
Paul Ryan, Director at WP Engine, the global leading WordPress Digital Experience Platform, an Austin company with a base in Limerick said, "SXSW is one of the best-known conferences in the US celebrating the convergence of the interactive, film, technology, and music industries. Over the years, the event has hosted a broad spectrum of high profile speakers from astronauts to musicians, including WP Engine's Chairwoman and CEO Heather Brunner."
"In 2021 SXSW goes virtual, where it will draw thousands of fans, technologists, musicians, filmmakers, press, and industry leaders from around the world to immerse themselves in the incredible content, discussion, films, music and thought leadership that has become SXSW's trademark."
The deadline to apply is Friday, February 16, 2021, at 12 noon.
To apply to join the delegation, simply visit the Local Enterprise Office Limerick website HERE
For more stories on LEO Limerick go HERE