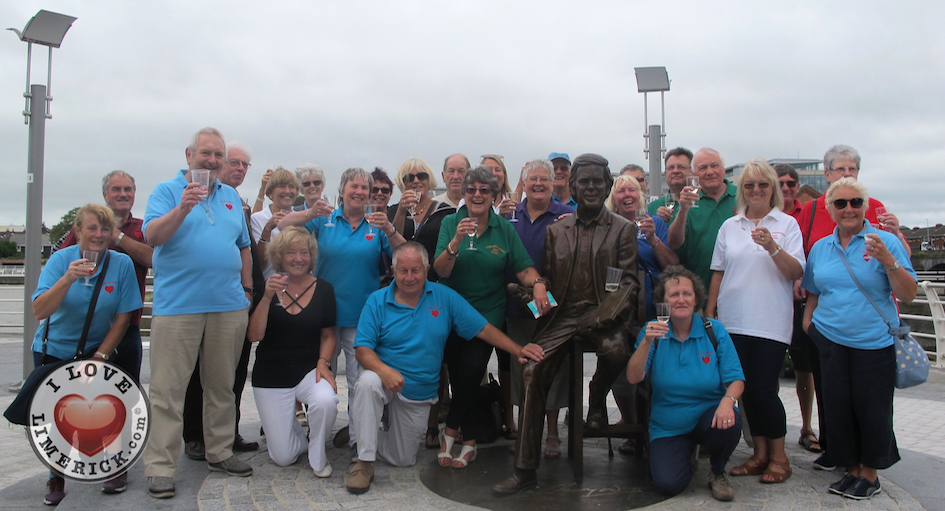 Happy 80th Birthday Terry Wogan – Loyal fans of T.O.Gs travel to Limerick in memory of the legend
Terry Wogan birthday celebration in Limerick is organised by Terry Wogan's Old Geezer and Gals (T.O.Gs.) who gathered at his statue to mark what would have been Terry's 80th birthday. Picture: Baoyan Zhang/ilovelimerick

Happy 80th Birthday Terry Wogan – 32 loyal fans of T.O.Gs travel to Limerick in memory of the legend
By ilovelimerick Correspondent Baoyan Zhang
Terry Wogan birthday celebration to mark his 80th in Limerick is organized by T.O.Gs. Terry's Old Geezers or Gals, the veteran broadcasters loyal band travelled from England to Terry Wogan's hometown Limerick to celebrate his 80th birthday on August 3.
They gathered together and had a picnic by the statue of Sir Wogan at Harvey's Quay. Seagulls were singing, with pigeons flying above the cloudy sky. The picnic with snacks and prosecco started in a relaxing and joyful atmosphere.
Councillor Kieran O' Hanlon attended the picnic and gave a speech in memorial of the great legend from Limerick. " I hope at some stage to organise a festival in memory of the life of Sir Terry and what he meant to Limerick."
"I could still remember the time when Terry spoke on the radio at 7 am in the morning. He was full of life element and he enjoyed life." Councillor O' Hanlon added.
Terry Wogan, a presenter who was born in Limerick in 1938 and began his career at RTÉ, first in radio and later as presenter of shows such as Jackpot, a light entertainment quiz show. Terry started to work with BBC in Great Britain later and took over the breakfast show on BBC Radio 2 in April 1972. He then became popular among the general public and fellow comedians and presenters.
With his charm and his positivity, Sir Terry Wogan influenced so many people. "He has great influence in our lives for the last 20 years," said Helen Bach, from the T.O.Gs Forever group, "He told us to love life and music and have fun."
Terry Wogan was a beloved figure in both Ireland and England. The Irish President, Michael D. Higgins praised Terry's progress and paid his respects to the "true national treasure" while David Cameron, the previous British Prime Minister, remarked the death of the veteran broadcaster as "Britain has lost a huge talent."
Another member from the T.O.Gs group, Norman Macintosh said that Terry has been very supportive of Norman's career as a presenter. Norman said, "We knew each other well and we would often go for lunch after Sunday's show. His humour and his joy are always impacting everyone who knows him."
Talking about the journey to Limerick, Mr Macintosh said: "We are here for Terry's 80th birthday, in sadness but also in celebration for this true gentleman."
Terry acquired British citizenship in 2005, in addition to his Irish nationality and was awarded a knighthood in the same year. Thus, he was entitled to use 'Sir' in front of his name for the title.
T.O.Gs group gathered at the Strand Hotel in the evening. A simple ceremony commemorating the Limerick-born legend began with a large chocolate cake and a chorus of the song Happy Birthday led by Richard Lynch, founder of ilovelimerick.com.
"He was the most magical person and he had a massive inspiration to me," said Richard, when recalling the interview he had with Terry Wogan for I Love Limerick in 2012.
Happy Birthday, Terry. We are proud of you. We love you and we miss you.
For more information on T.O.Gs (Terry's Old Geezers or Gals), go here
For more stories on Terry Wogan, go here