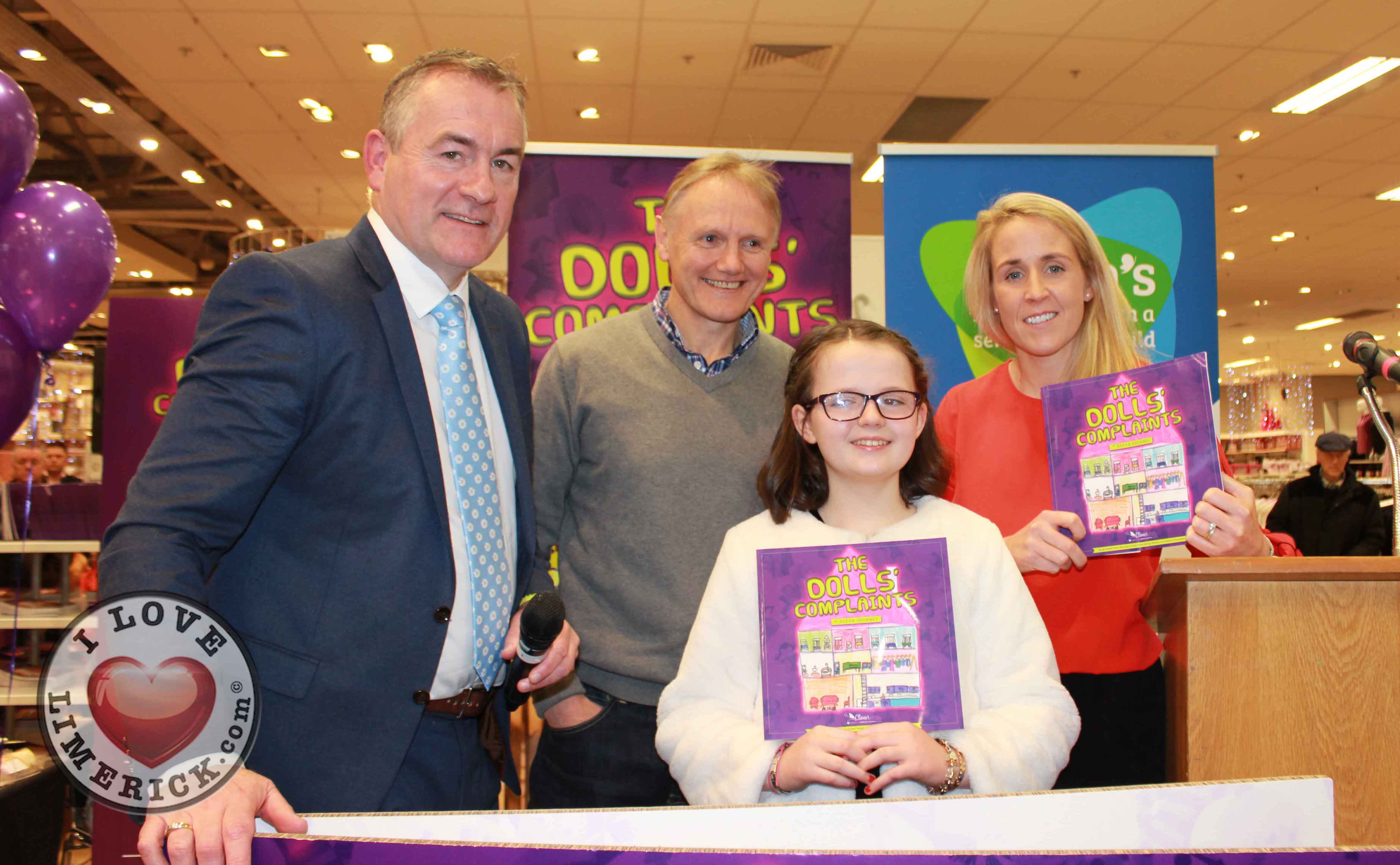 PHOTOS: Book signing for the 'The Dolls' Complaints', supporting Cliona's Foundation hosted by Rugby coach Joe Schmidt
'The Dolls Complaints' book signing is held in Dunnes Store on Childers Road. The book is written by the 11-year-old Keeva Delaney from Co. Carlow. Priced at €8, all proceeds of the bookselling will go to Cliona's Foundation. Pictured are Brendan Ring, Cliona's Foundation CEO, Joe Schmidt, Irish Rugby head coach with Keeva Delaney and Joy Neville, Rugby Union Referee and Cliona's Foundation Ambassador. Picture: Simran Kapur/ilovelimerick
Book signing for the ' The Dolls' Complaints', supporting Cliona's Foundation hosted by Rugby coach Joe Schmidt
The book signing for the ' The Dolls Complaints' by 11-year-old Keeva Delaney took place on Monday, December 10 at the Dunnes Store on Childers Road. The event was hosted the head coach of the Ireland Rugby Team, Joe Schmidt.
The book was written by the talented 11-year-old, Keeva Delaney from Co. Carlow and is currently on the shelves at Dunnes Stores nationwide at a reasonable price at €8.
What makes the book extra special is that all proceeds from the sale will go directly towards the national charity, Cliona's Foundation which provides financial support to families of children with a life-limiting condition.
Talented 11-year-old Keeva Delaney is having the signing for her book Dolls' Complaints supporting @ClionasFDN . #ilovelimerick #lovelimerick #lovinlimerick pic.twitter.com/KIWfD9AxZ3

— #LimerickTilliDie (@ilovelimerick) December 10, 2018

Keeva began writing her book with a really simple thought behind it: "Adults usually needs a reason to write a book but children do not. One night when I was on a holiday in Spain, I had an idea, why couldn't I write a book? I decided on a title and I went to bed. By the next afternoon, I had written most of the book!"
Later, the book bursting with imagination telling the stories of a little girl's dolls' daily life came to become a reality for the 11-year-old.
The illustrated storybook tells the story through the letters of dolls to their owner, an 8-year-old girl, Melissa. Eight-year-old Melissa falls extremely sick and needs to be taken to the hospital. She talks to her sister about which doll to bring with her to the hospital and decides to leave her sister in charge while she is gone.
We are here at @dunnesstores at the book signing for 'The Doll's Complaints' by 11-year-old Keeva Delaney and Joe Schmidt. All proceeds will go to @ClionasFDN #ilovelimerick #lovelimerick #lovinlimerick pic.twitter.com/8RA00cGuFu

— #LimerickTilliDie (@ilovelimerick) December 10, 2018

Asked about her decision to send on proceeds to charity the little writer said: "I thought it would be a good idea to print the book and give the money to a charity, for a greater cause. My mom suggested a few charities and the one I loved the best was Cliona's Foundation based in Limerick. I really like that the money goes to help the whole family.
"I am really happy that Cliona's Foundation will be able to help more families around Ireland if people buy this book." she continued.
By now, Delaney is preparing for her next book. In her next book, she would like to ask the children of Ireland to create their own dolls. Keeva would then pick 12 lucky dolls for the story and bring them to life through her next book.
For more information on Cliona's Foundation, go here
For more stories on Cliona's Foundation, go here
Picture: Simran Kapur/ilovelimerick