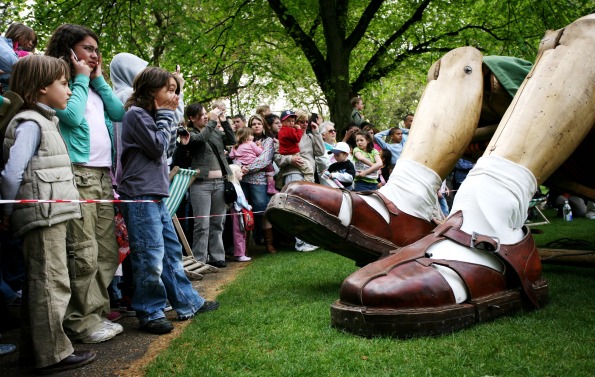 World's Best Street Theatre Company Royal de Luxe set for Irish Premiere of The Giant's Journey
World's Best Street Theatre Company Royal de Luxe set for Irish Premiere of The Giant's Journey
As part of Limerick City of Culture: 5, 6, 7 of September 2014.
'Look at the faces of the audience and you see wonder.' 5* – The Guardian
Limerick City will achieve a climactic cultural high when it's headline event of the year Royal de Luxe presents ' The Giant's Journey ' for three whole days and nights on the 5, 6 and 7 September.
World theatre sensations Royal de Luxe is bringing its Giant Saga spectacular to Ireland for the first time ever, as part of Limerick National City of Culture 2014 celebrations. The world renowned company will unleash the Giant Saga – an original tale, developed and specially scripted for the city on the unsuspecting public. Limerick will be transformed as the massive giant rambles through the streets, transfixing audiences for 72 hours of free entertainment. Young and old will rub shoulders as they follow the Giant's progress on its epic three day journey.
Limerick City of Culture CEO Mike Fitzpatrick, "Royal De Luxe has been wowing millions of people across the world with its Giant's Saga and has garnered a reputation as being the best street theatre in the world. We are extremely privileged that Royal de Luxe has chosen to come to Limerick as one of only three shows this year. This is set to be an extraordinary experience for people of all ages and a once in a lifetime experience where Irish people can expect to be part of an urban fairy tale showcasing a history and legacy of the city".
Minister Deenihan welcomed the announcement today "I am delighted that Limerick has secured a unique performance from Royal De Luxe as part of the City of Culture celebrations. In what is a truly memorable year for Limerick, this show promises to be a real show-stopping highlight. I would like to commend the organisers for securing such a prestigious performance for Limerick, and I would encourage everyone who can, to come to Limerick in September for what will surely be one of the most spectacular performances anywhere in Ireland this year."
Also commenting was Jean-Luc Courcoult, founder, author-director and creator of Royal de Luxe "Royal de Luxe are truly delighted that Ireland is one of the chosen stages for this year's performances. The Giant and storyline that you will experience this September were created using Ireland, and more specifically Limerick, as the inspiration. It will be a very special time when we land on your green isle with our Giant and Lilliputians to perform what may be the biggest street performance Ireland will ever see!"
Already more than 18 million spectators have been moved by the universal sagas of the Giant's stories and the 'Limerick Story' will soon be part of this international saga and make a mark on the collective memory of the city for future generations.
Royal de Luxe has played to huge crowds in far flung locations such as Mexico, Chile, New Zealand also closer to home in London and Liverpool. Despite demand for performances worldwide, Royal de Luxe will only perform in 3 countries this year; France (Nantes), England (Liverpool) and Ireland (Limerick). Each territory where the troupe has performed, has reported a huge influx of visitors resulting in major economic benefits. According to a report commissioned by the Liverpool City Council in 2012, the troupe performed to over 800,000 people and earned in excess of €35 million in associated revenue. According to the report over 80% of the visitors that came to Liverpool travelled specially to see the Giant. The Limerick version will expect to see in excess of 200, 000 visitors making it the largest public event ever hosted in the streets of the city. The Royal de Luxe event is expected to generate a pro rata spend similar to its UK counterpart.
This project is partnering with local cultural organisations, local artists, technical crews and other Irish suppliers, partners such as The Crescent Shopping Centre, STL Logistics, Tourism Ireland, Irish Public Bodies, the French Embassy in Ireland and more sponsors to realise this inspiring vision of Royal De Luxe.
For more stories, click HERE
For more information visit HERE