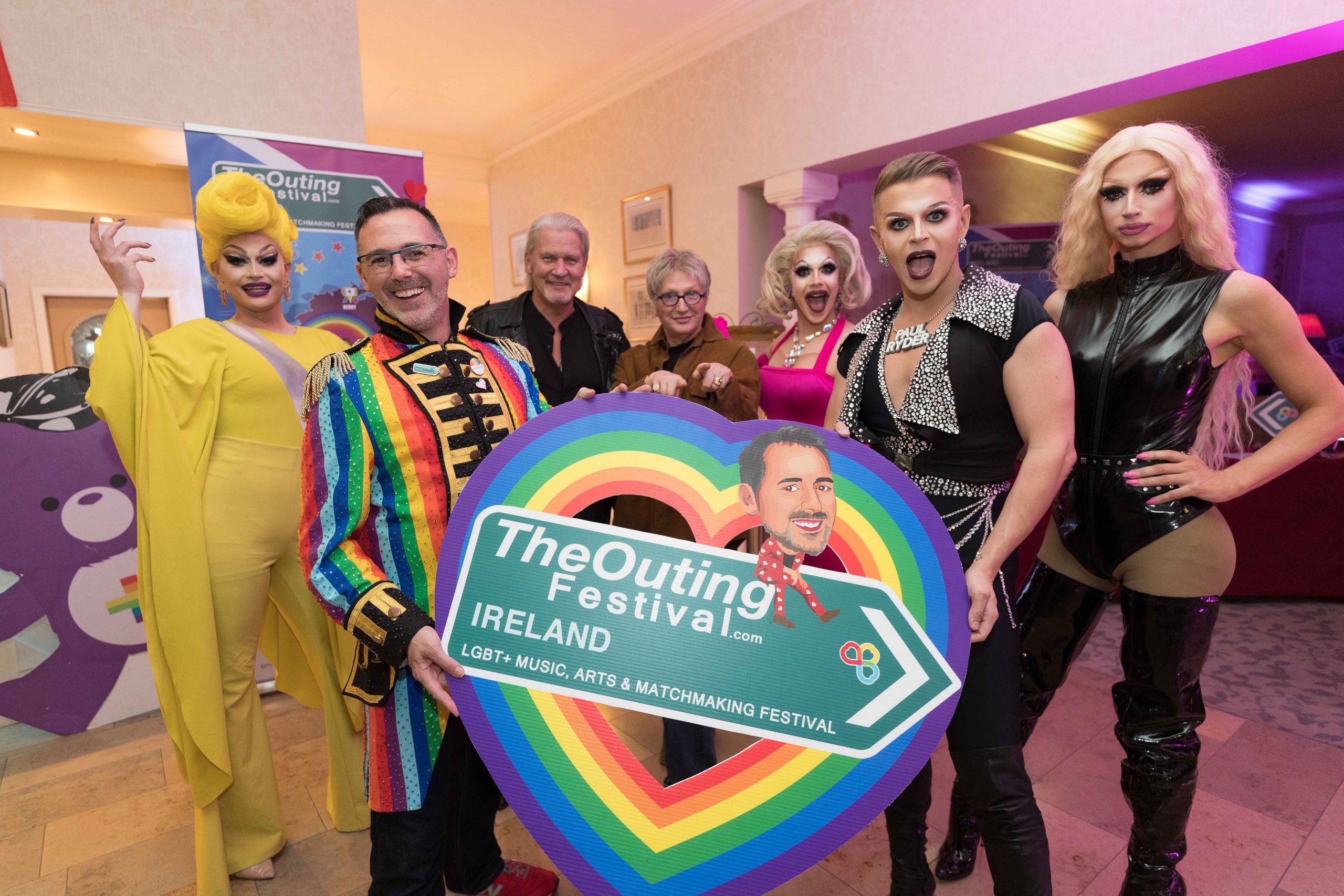 Time to find love and friendship at The Outing Festival 2023, the world's only LGBTQ+ Matchmaking Festival
The Outing Festival 2023 – Festival Director Eddie McGuinness (2nd from left) pictured above with Eurovision star Johnny Logan (3rd from left) and co-host Paul Ryder (2nd from right) at the launch of the 2023 festival.
The Outing Festival 2023 takes place Valentine's Weekend at The Inn at Dromoland
We have had a breakup with life in the last few years. Now it's time to get back out there and find that passion or even love again and The Outing Festival is here to help you find your perfect match!
The Outing Festival, the world's only Queer (LGBTQ+) Matchmaking Festival returns on Valentine's Weekend in February 2023 in its new home on the grounds of Dromoland Castle at The Inn at Dromoland, for the second time since 2019.
After 10 Years of bringing people together the festival has grown from its 1st year in 2013 at Lisdoonvarna and with same-sex marriage equality in 2015 the festival has brought together hundreds of couples and even a few marriages too!
The Outing Festival has now developed into an even bigger festival by bringing the LGBTQ+ plus community and friends together in the areas of arts, music, film, comedy plus outdoor activities (hiking, surfing, watersports to horse riding, golf and more) with at the heart of the festival been matchmaking, the art of bringing people together.
Organiser Eddie McGuinness said, "Going into our 10th year as a festival we never stop bringing people together even in covid happening with going online and showcasing amazing singer-songwriters to artists and bit of Fabulous Drag from Panti to Ru Paul Ryder to Carrie Deweyy even bring in international drag artists with an Irish connection.
This is a new twist on an old tradition with an extra Rainbow put in to make things happen. It's not easy to find someone of like-mindedness out there online or offline before covid and since covid but this is what we do here at The Outing Festival."
The Outing Festival's love for Eurovision will keep growing with Irish and international winners performing at the festival including Johnny Logan, UK winner Katrina (Katrina & The Waves), Irish winners Paul Harrington and Niamh Kavanagh alongside Linda Martin as a special guest for 2023.
Some of the hosts over the ten years have been Panti Bliss, Brendan Courtney, Alan Hughes and the last few years Paul Ryder (Ireland AM Virgin Media) has co-hosted alongside the Queen of Matchmaking Eddie McGuinness.
The Outing Festival 2023 is a fusion of queer arts and culture plus that safe space you know you can chat and meet someone from the LGBTQ+ community in a beautiful part of West Ireland in Co. Clare.