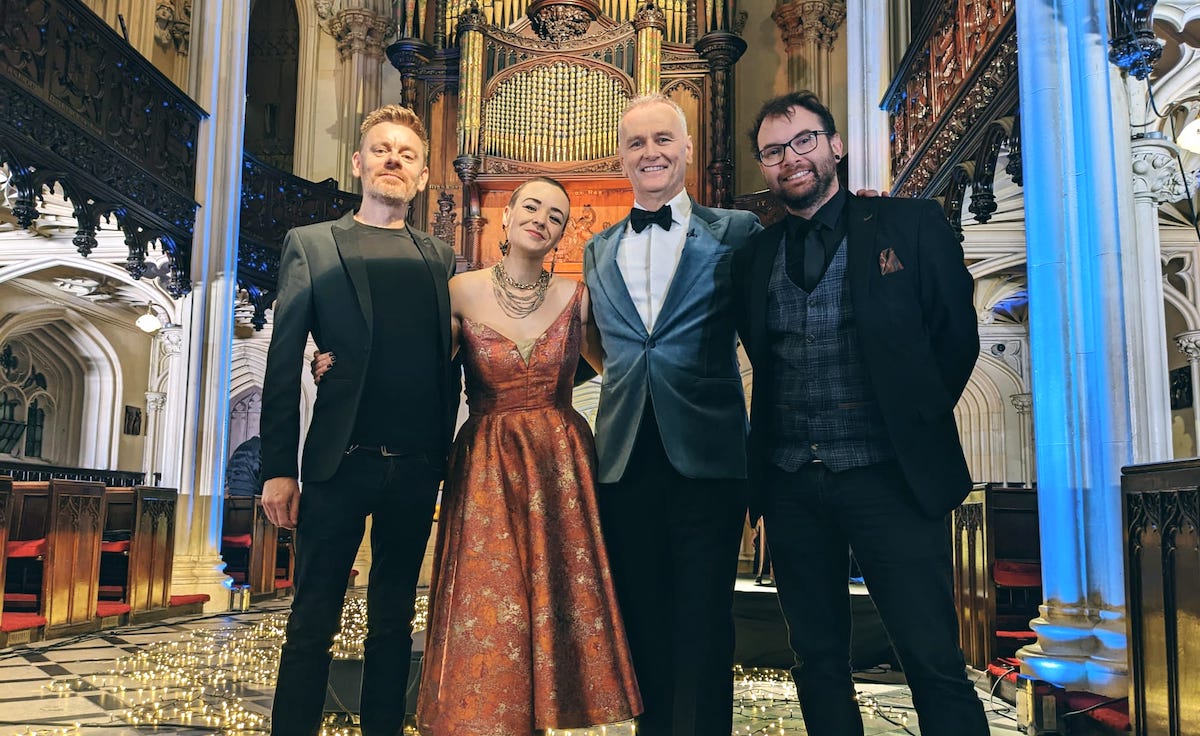 Emma Langford and Friends release ancient song The Wexford Carol for the festive season
The Wexford Carol performers Emma, Graham, Alec & Daithí pictured above
Emma Langford, Graham Murphy and Alec Brown have created a perfect marriage of tradition and modern production on their arrangement of beloved Irish song
Emma Langford and friends are releasing the beloved Irish song "The Wexford Carol" just in time for Christmas.
The Wexford Carol is thought to be one of the oldest surviving carols at over 300 years old, dating back to 1684 and Limerick singer songwriter Emma Langford Graham Murphy and Alec Brown have created a perfect marriage of tradition and modern production on their arrangement of the beloved Irish song.
The song formed part of Bishop Waddings of Ferns' famous Kilmore Carols collection, and while it would traditionally have been sung by an all-male choir, in recent years artists such as Loreena McKennitt, Alison Krauss, and Cara Dillon have all recorded versions of it, with Emma Langford now adding her name to the roster.
The folk artist was approached by RTÉ to devise a version of the song for broadcast as part of this year's "Christmas At The Castle", an annual celebration of much-loved Christmas songs recorded for TV in the beautiful surrounds of Dublin Castle.
Langford first encountered The Wexford Carol during her time with Limerick-based vocal trio "Sionna", with whom she performed for several years following her undergraduate degree at the Irish World Academy of Music and Dance in Limerick.
During this time, she developed a fondness for the song which shines through on this warm, intimate recording.
"I was asked to create a bi-lingual spin on the old Irish classic, so I got to work figuring out how best to combine English and Irish without distracting too much from the song itself. Graham Murphy joined me on keys then, creating an atmosphere that is just hauntingly beautiful. I can only describe him as a musical genius – he forms one half of The Production Suite, who have produced most of my releases. Together we came up with the sound you'll hear on this release – a perfect marriage of ancient tradition and modern production."
Emma is also joined by her long-time collaborator Dr. Alec Brown who moved to Ireland from Arkansas to study traditional Irish music. Brown's understated cello adds its own touch of magic to the track.
Langford drew inspiration for this recording from musical forerunners Sinéad O'Connor, Enya and Eimear Quinn.
"It's a beautiful re-telling of the nativity, and I wanted to capture the sensitivity, emotion and purity of voice I love in so many other vocal performances along these lines"
You can watch Emma, Alec and Graham perform The Wexford Carol live in The Chapel Royal in Dublin Castle on RTÉ on Christmas Eve and Christmas Day. "Christmas At The Castle" is produced by award-winning film producer Roger Childs and promises to be a spectacular showcase of festive favourites and Irish talent. Langford says however that the arrangement was "too beautiful not to record and release as a single", so the trio recruited the help of recording engineer Ben Wanders and met in his studio in Limerick City to re-capture the magic. The track was then mixed and produced by Graham Murphy & Chris O'Brien of The Production Suite, Dublin.
The Wexford Carol will be released on Bandcamp on Thursday, December 8, 2022.
Listen on Spotify
More info on Emma